OPINION: 'The Graduate' perfectly displays post-grad crisis
Graduation time has reared its head yet again and while this can be an exciting time, graduating is a fundamentally challenging and daunting experience.
This liminal crisis is the catalyst for Mike Nicols' 1967 romantic satire "The Graduate."
Ben Braddock, the titular graduate played by Dustin Hoffman, is back home after receiving his undergrad degree from an East Coast school and he is utterly directionless.
He tries to find direction in an affair with an older woman (Anne Bancroft) but when her daughter (Katharine Ross) returns from college, Ben falls deeply in love with her instead.
Hoffman, Bancroft and Ross are so deeply invested in their characters and their psychology.
Bancroft as the old seductress Mrs. Robinson is intense and oddly comforting until she absolutely loses it. Hoffman plays innocent in such a way that only a freshly graduated college student could make cocky.
Ross is a rock star in this. "The Graduate" is her breakout role and for a good reason. The script asks her to ride an emotional rollercoaster with her feet in the air and Ross does it without a hitch.
Its humor is buried in the absurd and the uncomfortable. On his 21st birthday, Ben flaps out of his house in a head-to-toe scuba suit that he is expected to demonstrate in his parents' six-foot-deep pool.
While it is a funny moment, the genius of this moment is in a deep-cut metaphor for being thrown into a situation that you are overtrained for.
When he is sitting at the bottom of this pool with flippers and a harpoon, I wanted to laugh but I also wanted to cry. This is just an overwhelming sense of doom about Ben in the beginning of this movie.
Set to the somber sounds of Simon and Garfunkel, the combination of Nichols and Robert Surtees execute a quiet image that screams into a void.
At multiple points in the film, Hoffman's dead face sinks into a black void of his bed while "The Sound of Silence" echoed off in the background.
Growing up in the Apatow-era of comedy, the structure and technical skill used in "The Graduate" is making me reevaluate what comedy can be.
"The Graduate" is essential viewing for any and all graduates whether you know what happens next or not. And Ben, I'm so sorry you had to work for a college paper.
Leave a Comment
About the Contributor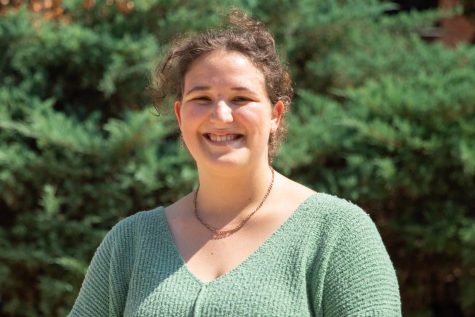 Trinity Ramm, Managing Editor
Trinity Ramm is the managing editor and former sports editor for The Sunflower. This is her second year on staff. Ramm is a senior English Lit major and...