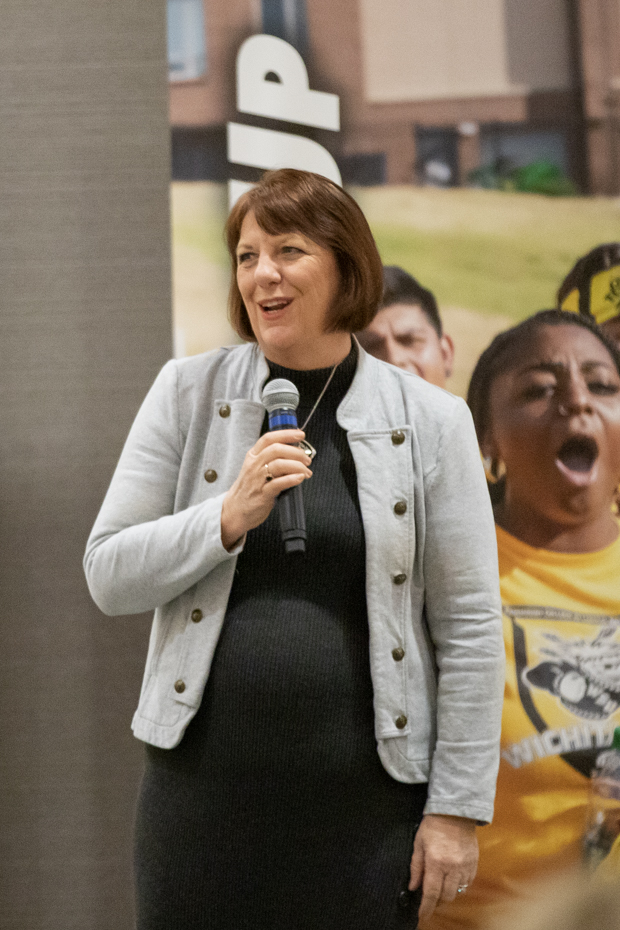 Welcome back, Shockers! Or if you're new to Wichita State University, welcome to Shocker Nation! 
Crisp new notebooks, a fresh start and a campus alive with energy — I love this time of year. It's always a great day to be a Shocker! 
I'm Dr. Shirley Lefever, and I've been a Shocker for 18 years. I serve as the provost of this institution. "What's a provost?" you might ask. I certainly didn't know when I was an undergraduate student. 
As provost, I am privileged to lead the academic endeavors that shape your educational journey. Those responsibilities are multifaceted, but they all converge with the goal of supporting every single one of you in academics and your growth as thoughtful, engaged citizens of the world.
From our offices in 107 Morrison Hall, where you're always welcome to come by and see me, my dedicated team and I are committed to enhancing your overall university experience in several ways.  
Academic excellence:

One of my core responsibilities is to work closely with our faculty to develop innovative courses and degree programming. We work to foster collaborations among faculty and ensure that the courses you take are intellectually stimulating and aligned with the demands of an ever-evolving world.

Diversity, equity and inclusion:

As Kansas' most diverse campus, I believe wholeheartedly that the rich tapestry that defines Wichita State is our greatest strength. We strive to create a space where everyone flourishes.

Beyond the classroom:

Education is not confined to the classroom. Your emotional and physical well-being are paramount to your success. I collaborate with departments and offices across campus to ensure that support systems are in place to address your holistic needs. From counseling services to health and wellness programs to tutoring services and applied learning experiences, we are dedicated to helping you thrive in all aspects of your life.

Research and innovation

: Wichita State is a hub for innovation and discovery, and we've built a solid reputation around solving problems for our community and our state. One way we do that is through the applied research happening all across our campus. From first-year undergraduate students to Ph.D. candidates, Shockers are participating in research projects that build a brighter tomorrow for all Kansans. 

Applied learning:

A well-rounded education bridges classroom education with practical application. Through Wichita State's applied learning programs, you'll have the opportunity to work and learn in real-world offices, manufacturing floors and institutions. You'll work alongside seasoned professionals in your chosen field of study to learn the ropes of your industry, ensuring that — upon your graduation — you'll be career ready and have a competitive resume to your name.

Other duties as assigned:

That's a pretty comprehensive list of my job duties, but sometimes it's the intangible aspects of my job that make the difference. My team and I are dedicated to fostering a vibrant academic community — whatever that might entail. On any given day, you might find us in the RSC, chatting with students over a latte or working with our faculty and staff to ensure that our students are living their best Shocker lives. 
I'm honored to be a leader at Wichita State, and everyone in my office and across campus is dedicated to ensuring that your educational experience is transformative, inspiring and empowering. 
I'm privileged to work alongside our talented faculty and staff to make this journey exceptional for each student. Our doors are always open, and your voices are heard. 
Here's to a year of growth, learning and endless possibilities.
Go Shockers!