After receiving large funding cuts, several student organizations went to the Student Government Association to request additional funding.
Right before the Student Senate meeting on Wednesday, the body said it couldn't comment or decide on the issue after a restriction was placed on Organizations Appropriations Bill, which will determine the operating budget for student organizations for the 2023-2024 school year.
"The bill is prohibited to be discussed tonight until the court decides on the case submitted," Student Body President Iris Okere said.
Members from Shocker Racing Baja, Shocker Racing Formula SAE, Model United Nations, SHPE: Leading Hispanics in STEM and Phi Alpha Honor Society spoke before the Senate to share how the reduced funding would impact their respective organizations. 
Shocker Racing Baja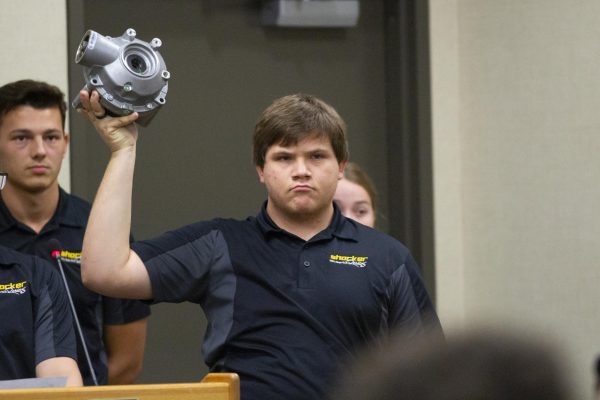 Shocker Racing Baja members design, build and race off-road style cars. Ashley Colette, the team captain, said the group fell apart in 2020 due to COVID-19 and "some poor leadership decisions," but she and three students rebuilt the club.
"I think we've made tremendous progress considering the state of the team four years ago," Colette said. "Without proper funding, there's a very high and very real chance this team will not survive this year."
Colette said Baja cannot build their car and compete with the $5,000 they received from Student Government Association (SGA); Baja had requested $42,343.60. Last year, they received $27,000. Colette said this would lead to "little motivation" for members to stay and potentially impact other sources of support due to the team underperforming.
Speaker of the Student Senate Kylee Hower said it wasn't "as bad to give them less money" so SGA could give more to organizations with a wider and more diverse impact on campus; she also noted Shocker Racing Baja comes from "the richest college on campus" and that alumni could provide donations during the appropriations deliberation on Aug. 6.
Shocker Racing Formula SAE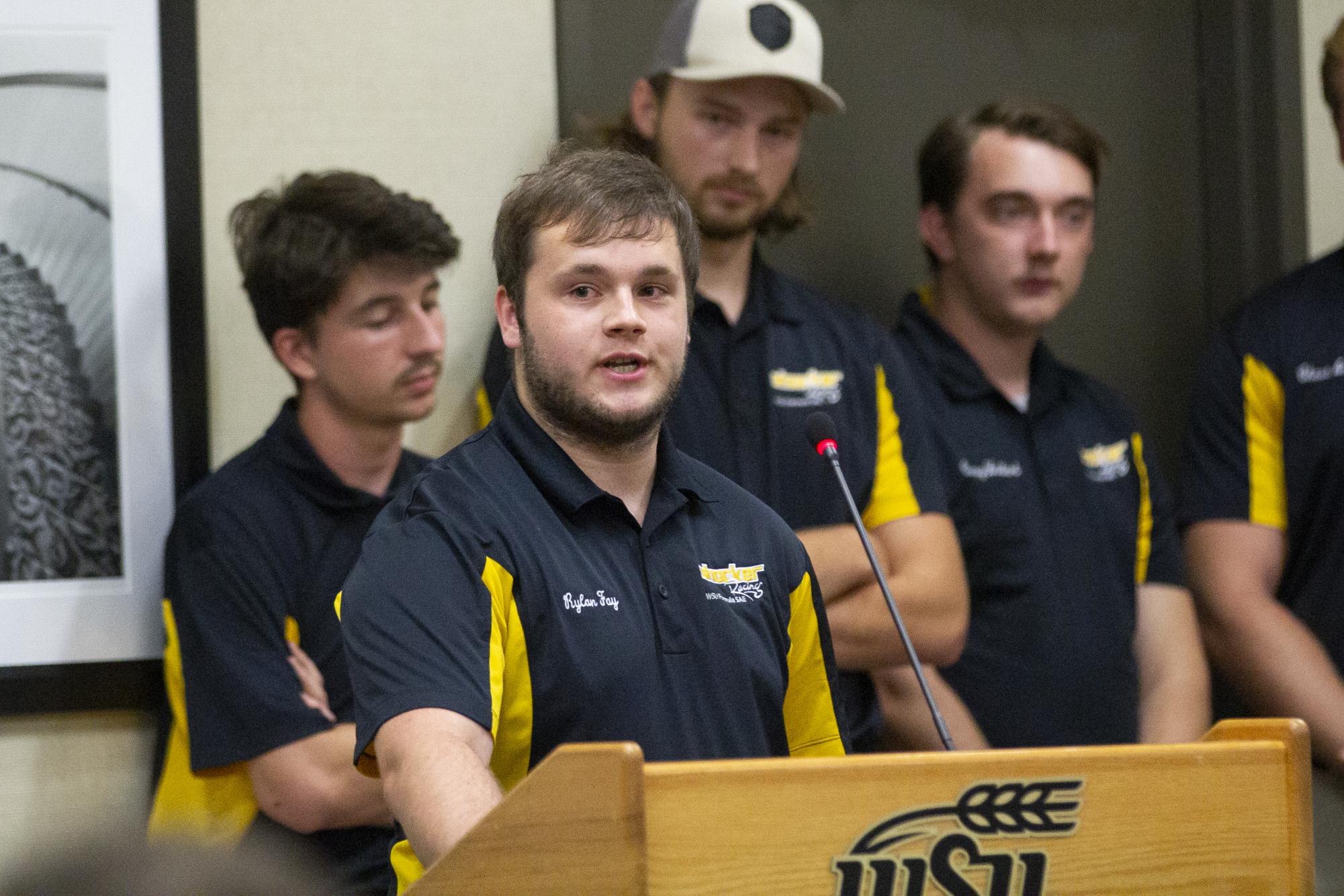 Shocker Racing Formula SAE is similar to Baja, but the group instead builds a "road-type of vehicle."
Formula SAE requested $75,000 and received $3,500. The team's chief engineer Corey Hubbard said that while they already practice cost-effective measures, he estimated the club still needs roughly $40,000-$60,000 to attend their competition, depending on their sponsors.
Formula SAE treasurer Chase Anderson said there is a "historical precedent" of SGA funding their organization "over the past nine or so years."
According to Anderson, Formula SAE received $27,000 last year. He said the funds go toward contest registration fees, travel and hotel costs and buying parts to build their car.
"Each year, (SGA's) support in terms of funding directly correlates to us being able to build a new car each year," Anderson said. "And in order for us to go to competition, we have to have a new car each year."
Formula SAE Captain Beau Rodriguez said Formula SAE placed high in their competition last year and can draw more engineering students to Wichita State.
"This is a direct reflection on WSU and on the engineering college, and so this is able to bring in more people,'" Rodriguez said.
According to Rodriguez, Formula SAE currently receives no funding from the College of Engineering. 
Model UN
Model United Nations members also asked SGA senators to increase their funding. The organization requested $42,000 and received $5,000. Faculty adviser Alexandra Middlewood told The Sunflower in an interview that Model UN received $17,000 last year.  
In 2020, Model UN's funding was reduced from $20,000 to $18,000—the largest cut percentage-wise among other student organizations that year.
Ayleen Escobedo, the Model UN deputy secretary general and an SGA underserved senator, said that Model UN collected letters from 36 alumni, spanning from five decades, who shared how the organization benefited them; Middlewood handed out copies to SGA senators during the Senate meeting.
Andrew Bobbitt, Model UN secretary general and SGA at-large senator, highlighted Model UN's 60-year-plus history and its accomplishments.
"No matter where we go, we recognize Wichita State and we are often celebrated for our contributions to the field," Bobbitt said.
Escobedo said Model UN has 29 members, ranging from all colleges. She emphasized that Wichita State's Model UN was one of the "most diverse teams" at their conferences and that the club created a safe space for her as a woman of color.
"We pride ourselves on our diversity, but most importantly, our inclusivity," Escobedo said.
Escobedo emphasized Model UN's accessibility, stating members aren't required to pay travel costs for conferences, which they attend twice a year. The conferences can also lead to internship opportunities and meetings with public officials, like when they met a representative from Bulgaria.
Bobbitt said Model UN will return when the Appropriations Bill returns to the floor because he didn't believe he could share certain details due to "conflicts with the court."
"Model UN programs … have been dying for years, and it would be heartbreaking and ashamed to have ours die as well," member Alva Thayer said. "But we are not as hell going down without a fight."
SHPE: Leading Hispanics in STEM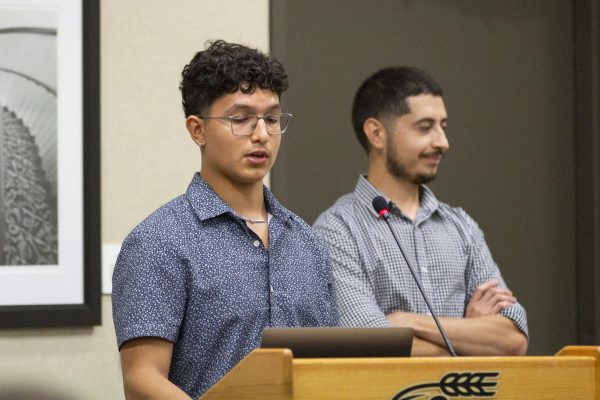 SHPE: Leading Hispanics in STEM requested $70,000 this year; they received $10,000. According to Student Body Treasurer Jia Wen Wang, SHPE asked for $16,840 last year and received $8,173.
Marcos Hinojosa, SHPE: Leading Hispanics in STEM treasurer, said they seek increased funding because their members have doubled, and they want to provide the same opportunities from past years.
SHPE Vice President Kenny Mendez said SHPE provides leadership and networking opportunities and hands-on experiences for underrepresented engineering students.
 "Diversity is a cornerstone of innovation," Mendez said. "SHPE brings a unique perspective to our university by celebrating the Hispanic heritage and fostering environmental inclusivity."
Mendez noted that increased funding would allow students with financial struggles to attend their conferences and programs. He also said that with Wichita State on track to become a Hispanic Serving Institution, increasing funding for SHPE would level the playing field.
Mendez explained that investing in engineering students would lead to them donating to WSU as alumni, "which will impact everyone."
"Allocating more funds from appropriation is not just an expenditure — it's an investment," Mendez said.
Phi Alpha Honor Society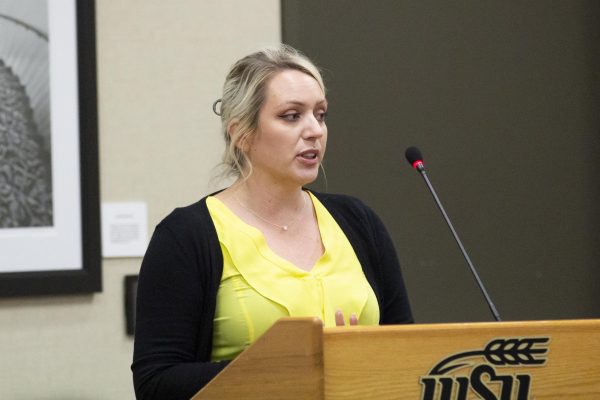 Phi Alpha Honor Society works to develop "a closer bond" among social work students and provide mentorship and networking opportunities. The organization requested $1,500 from SGA and received $0. During appropriations deliberations on Aug. 6, SGA Vice President Sophie Martins noted that their safekeeping has $2,013. 
Angela Steadman, the Phi Alpha Honor Society president, said that those safekeeping funds had been collected over a few years and that members would be at a "severe disadvantage" with no funding.
 "I personally do not find that honorable, courteous or equitable to spend the majority of those funds amongst the cabinet and leave the members next year with a depleted savings account," Steadman said.
Steadman said that fundraising for their organization is "not one of our objectives," and when Phi Alpha Honor Society does host fundraisers, they donate to non-profits and student needs, such as the Shocker Support Locker.
Steadman also noted that the social work program has a high number of low-income, single mothers, and first-generation students. Steadman said Phi Alpha Society planned to assist struggling students with membership fees, host social and learning events and launch a mentorship program.
"I believe Phi Alpha has a claim as a student organization to receive a small portion of those funds (student fees) to continue to serve students and the community," Steadman said.
With the SGA's Supreme Court's restriction on the Appropriations Bill, SGA senators could not vote on whether or not to adjust the funding for the student organizations present.
"We ask (SGA) to please look into your hearts and see that maybe there's something that you feel the same way about and see that it's the exact same for us," Thayer said.