*This story has been updated to include Iris Okere's statement on the matter.
Less than a week after a former Student Government Association senator asked the president and vice president to resign, posters appeared in various buildings around campus on Tuesday, calling for the Okere administration's impeachment.
Vishnu Avva, a former at-large senator, spoke at the Student Government Association (SGA) meeting last Wednesday, calling for the resignation of Student Body President Iris Okere and Vice President Sophie Martins. He spoke on the need to address "corruption happening behind the scenes by the student body president."
Avva said he was denied an interview after applying to be the legislative and policy affairs director under the Okere administration, which he said impacts Okere's ability to determine who is most qualified for the role. 
Avva also said that many others, including six members of the president's cabinet, did not apply for their nominated positions and were held to a different standard than other applicants.
The posters stating "Impeach the Okere Administration" echo Avva's sentiments, listing the following reasons the administration should be impeached:
"for corruption & defrauding of the student body" 

"violating their oath of office and the constitution of the Student Government"

"hiring friends and romantic partners who are paid with tens of thousands of dollars of your student fee money."
Another version of the posters states that "the Okere administration should resign," listing the same reasons as above. Both versions of posters also feature a QR code, where students can sign a petition to impeach Okere and share their reasons for doing so.
In May, there were concerns about Okere appointing Martins' partner Kyan Caudillo to the position of director of health and wellness. According to Gabriel Fonseca, who helps advise SGA, all leadership positions that hold office hours are compensated by the association.
On Tuesday, Avva posted on the Wichita State Class of 2024's public Snapchat a picture of one of the impeachment posters hanging in Lindquist. In a message to The Sunflower, Avva said he did not create posters or petitions, but he thought they were "awesome" and decided to share them.
"When you're defrauding the student body by going against the rules of SGA, you need to be held accountable," Avva said. "Choosing your friends for positions they never even applied for is disgusting. These illegitimate appointments are making decisions that affect the student body, and they should be stopped."
At the SGA meeting on Aug. 30, Okere left shortly after Avva's call for her resignation, and Martins didn't comment, stating that she and Okere needed to meet with Amy Nguyen, their public relations director. 
Response from Okere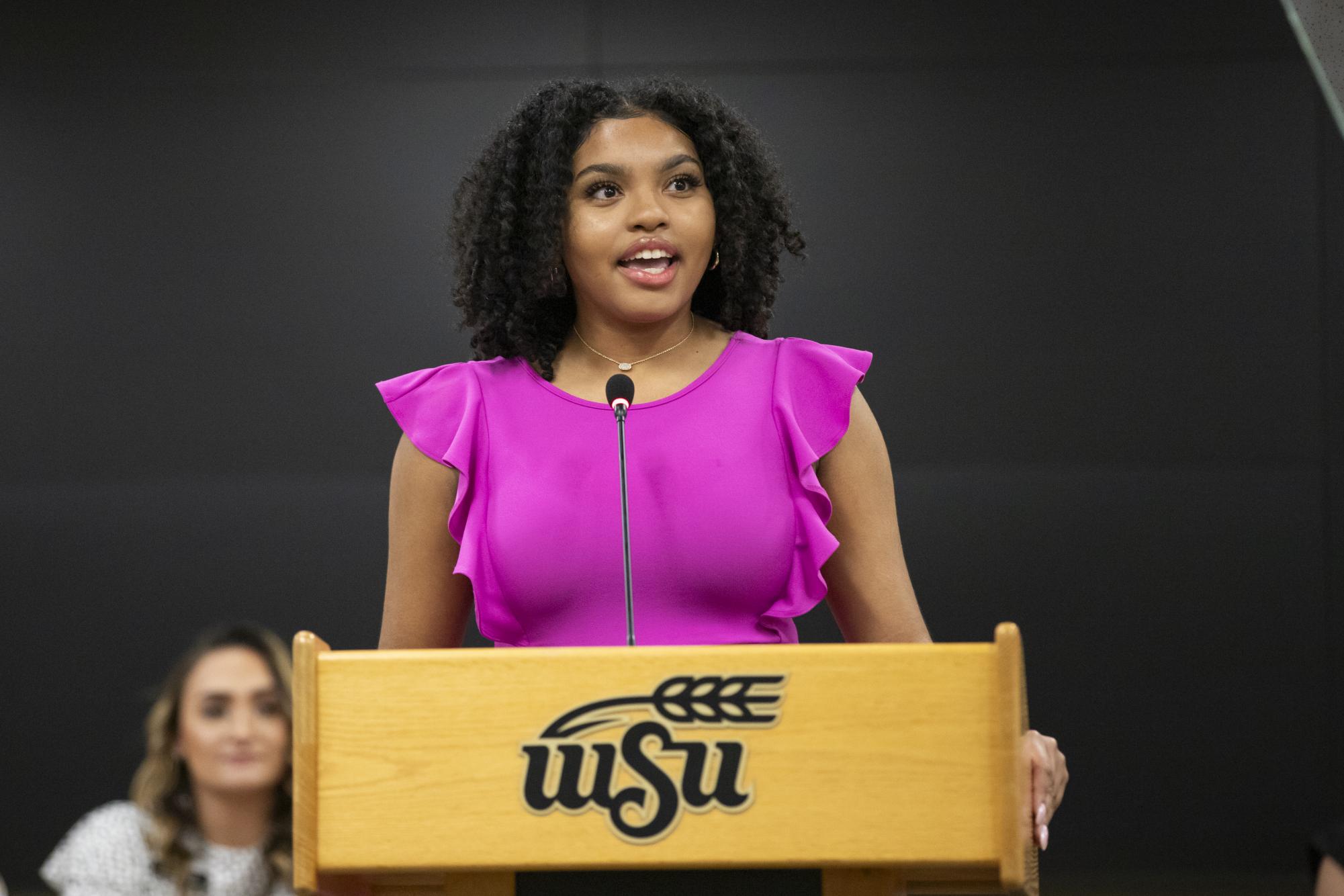 Okere responded to the calls for her impeachment at the State of the Student Body, calling them "accusations of falsehoods" and "manipulation by disgruntled individuals." She said she initially didn't want to respond and "give attention to the political and nasty games that people wanted to play in my name."
"(The accusations are) based on false information created by individuals who believe that they know what is best," Okere said. "They're painting a picture of someone that I'm not." 
Okere said she stands by every decision she has made, stating they were all "thoughtful and honest," and that she will not stand for attacks on her character.
"For far too long, this negative dark cloud was surrounding SGA because vulgar disagreements are because of deceptions that have been made up by people," Okere said. 
Okere said she does not plan to spend any more time responding to the allegations and will continue to serve the student body.
"I represent 17,000 Shockers, and a few will not deter me from accomplishing the commitment," Okere said. 
*A previous version of this story said that Okere represents 70,000 students when she said 17,000 students. This story has been updated to reflect her true statement.