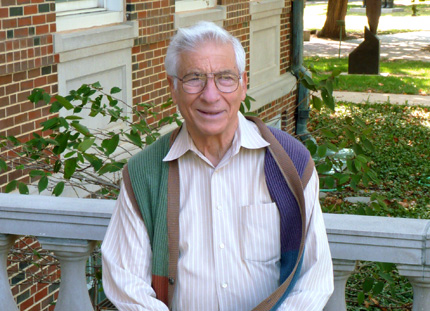 Wichita State Emeritus Professor Melvin Kahn died of natural causes at the age of 92 on Sept. 13. 
For over five decades, Kahn served as one of Wichita State's more highly acclaimed political science professors. He received the Regents' Award for Excellence in Teaching in 1982, the Carnegie Foundation Kansas Professor of the Year in 1989, the WSU Academy of Excellence Teaching Award in 2007 and the Marquis Who's Who Lifetime Achievement Award in 2018, among many other honors and accolades. 
Kahn is best known for dressing up as historical characters, like Alexander Hamilton and Plato, to engage students during lectures. Kahn and his late wife founded the Joan & Melvin Kahn Native American Indian Scholarship to support high-performing high school students of Native American descent. 
Kahn was also a delegate at the Democratic National Convention in 2000 and, since 1985, has been featured in over 190 newspaper articles and radio and TV interviews.
A graveside service for Kahn will be hosted on Monday at the Old Mission Cemetery. In place of flowers, Kahn will have a memorial established by the Circle of Friends at Larksfield Place Independent Living.