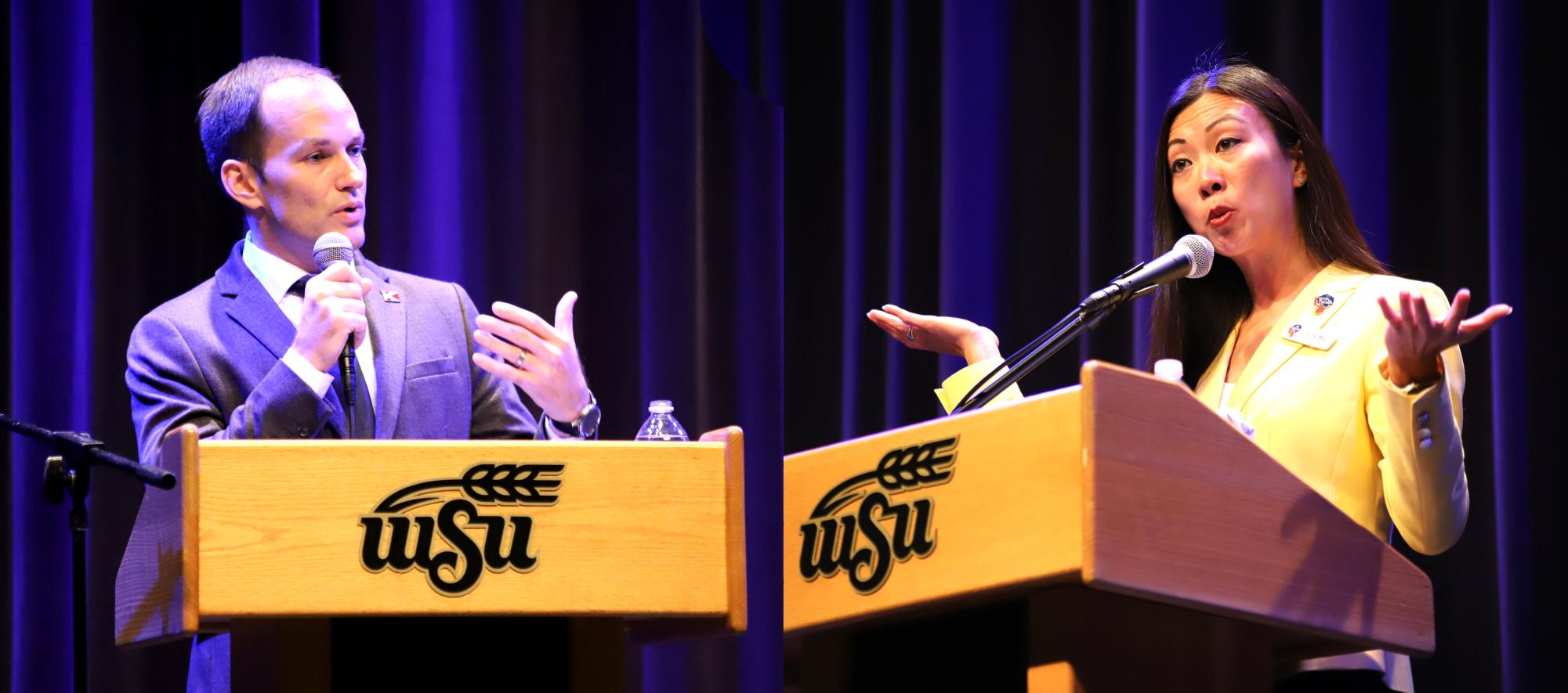 From inclusivity to food deserts, mayoral candidates Brandon Whipple and Lily Wu shared their stances on various issues and gave pointed remarks regarding each other's policies during a mayoral forum at Wichita State on Wednesday. 
The debate, hosted by Loud Light; The Wichita Beacon; League of Women Voters; Student Engagement, Advocacy, and Leadership; and Shockers Vote! Coalition, welcomed Wichita State students and other audience members to learn about Wu and Whipple's positions.
The three moderators were Neal Allen, an associate political science professor; Student Body Vice President Sophie Martins; and Jay Thompson, chair of student government's Government Oversight Committee.
 Questions were submitted through The Wichita Beacon's website and taken from the audience. 
Wu, who previously worked as a journalist at KWCH, spoke first in the opening statements, and Whipple, the incumbent mayor, went next. They alternated who answered each question first.
Inclusivity, civil rights
An audience member asked about how the candidates would make Wichita a "safe haven for minority groups," specifically LGBTQ+ people.
Whipple highlighted Wichita's nondiscrimination ordinance (NDO) and perfect equality score from the Human Rights Campaign. He also mentioned the NDO's CROWN Act amendment, which prohibits racial discrimination based on protective hairstyles and hair texture.
Wu emphasized her identity as an Asian American immigrant woman, stating that she supports any "nondiscrimination ordinances that protect all individuals."
"Discrimination has no place in our community," Wu said. "And I know because as a community that welcomes a young immigrant family 30 years ago, this community took us under their wing."
 Whipple called Wu out, saying she went on a "right-wing talk show" and pointing out how she previously called the NDO "divisive" at the Sept. 25 mayoral forum.
"That's the difference between us — I think it's divisive to let the civil rights and civil liberties of people fall through the cracks," Whipple said.
An audience member also asked about projects for serving the growing Hispanic community. According to The Beacon, 18% of Wichita residents are Hispanic. Wichita State was also named an emerging Hispanic Serving Institution in 2022, with 16% of enrolled students identified as Hispanic in fall 2022. 
Wu, who moved from Guatemala to Wichita at 8 years old, briefly showed off her "muy malo" (very bad) Spanish. 
Then she emphasized the need for translators in commonly spoken languages like Spanish and advocating for more opportunities in north Wichita and all Wichita neighborhoods. 
"I believe that it's important that we continue to meet people where they're at," Wu said. 
Whipple called Wu's strategies "good" but "basic," pointing out his partnerships with community organizations to help Hispanic communities.
He said while he was in office, the city used America's Rescue Act Plan funds to create economic development opportunities in communities, such as giving over a million dollars for a community kitchen in the north side to support Hispanic entrepreneurs.
"We didn't just translate it — we actually invested in it, and we're going to continue to invest in people, particularly people and communities that haven't seen enough investment in the past," Whipple said.
Affordable housing for young adults
Wu and Whipple were also asked about their plans to address affordable housing for young adults looking to rent and buy their first homes.
Both candidates spoke last week at a mayoral forum on affordable housing hosted by the Wichita Journalism Collaborative and Wichita Habitat for Humanity.
Wu stated the need to increase the supply of diverse options for housing.
"We need to encourage development of housing at all multiple levels, from townhouses to multi-complex buildings," Wu said.
Whipple said that as mayor, he has created better relationships with landlords, gave housing vouchers to those who needed them, and referenced the Housing First Program, which aims to get chronically homeless single adults into housing.
He also discussed giving grants to the community so that elderly people can get their homes fixed and stay where they live.
"We got to go beyond the basics and make sure that we're actually addressing the problem," Whipple said.
Whipple also said he has a $9.5 million dollar plan to reallocate funds that came from the federal government to create a multi-agency campus, which would help people who are homeless or experiencing a crisis. The plan was approved in August.
"To help homelessness, you got to actually attack the variables that cause homelessness, and you got to get people into housing," Whipple said.
Wu said that she supports the multi-agency center, but she emphasized the need for better leadership.
"What we need is new leadership that is more collaborative, trying to bring together nonprofit, the government sector, as well as industry to help with funding some of these resources that will help our homeless population," Wu said.
Attracting, retaining talent
Whipple said that to retain and attract young talent in Wichita, they need to focus on affordability and closing the opportunity gap, investing in programs and listening to what young people need 
"We got to make sure that we're also listening to you …  What type of city do you want here? When you get off campus, and you start going out into the other parts of our city?" Whipple said. "And to do that, you got to have someone who understands policy, you got to have someone who's been doing this."
Wu said that the Wichita community needs to "connect the dots" for people regarding job opportunities and help high school students know their options upon graduating.
She referred to how, at KWCH, she started a series called "Building You," which connected job seekers with job opportunities.
"Over the last four years, what we've seen is affordability continues to decrease, so we need to correct that," Wu said. 
An audience member also asked Wu and Whipple how college students could get involved in advocacy work under the candidates.
Wu started off by not answering the question, instead saying that "as much as labels have been thrown, such as right or left, this is a nonpartisan race." 
She then discussed public safety before encouraging college students to engage in district advisory boards, neighborhood associations or in local school organizations.
"I'm here to listen, and I'm here to serve. And that is the role of being a mayor, especially one who's supposed to be nonpartisan," Wu said.
Whipple pointed out Wu's campaign is supported by a conservative group. 
 "It's tough to be lectured about partisanship by someone whose campaign is completely run by American's Prosperity (Americans for Prosperity), which is a DC-based dark money group that is dedicated to alter conservatism," Whipple said.
According to KMUW, Wu has received support from Americans for Prosperity, a conservative political action given funding from the Koch family; previously, the organization has not participated in the Wichita mayor's election.
Whipple then stated that he has brought student interns into his office, saying "there is a gap in privilege" for those who cannot intern in Topeka or Washington, D.C. He said he talked with WSU about getting students internship credit at a local level.
"I want to make sure that those folks who can't afford to move to Topeka have that same opportunity here in Wichita," Whipple said.
Food insecurity
Both candidates touched on addressing food deserts. Wichita State campus is located inside of and around several food deserts. To address food insecurity, the Shocker Support Locker provides food and toiletries to students. 
Whipple said in addition to attracting more grocery stores, the city should utilize fresh farming methods as well as technology, such as delivering grocery orders to community centers.
"There is more to this complex issue than just grocery stores … we can actually solve it using multiple ways," Whipple said.
Wu said that the private sector should alleviate food deserts, with the government supporting those businesses.
 "We need to make sure that it is safe for them to take that risk," Wu said. 
She then pivoted to discussing the need to reduce crime.
Transportation
When asked about addressing city transportation and bus accessibility, Wu discussed the need to think of transit "in a more regional sense" and to form more collaborative partnerships.
"It needs to be thought of more comprehensively so that it can be not just a regional but also a workforce asset in our community," Wu said.
 Whipple said that as mayor, he is working on a new multimodal station which will encompass buses and connect to bike lanes and electric scooters. 
He stated that transit should go beyond "an economic vehicle" but also help people engage in other aspects of life.
"People actually do more than just that. In a thriving community, we got to make sure that the bus system isn't just a safety net system. It's one that people can actually enjoy and utilize," Whipple said.
After this question, Whipple was warned by moderator Allen about speaking over the 90-second time restrictions; Whipple went past the time limits at least three times during this debate.
Legalizing marijuana
The candidates were asked about their stances on legalizing and decriminalizing marijuana. The Wichita City Council repealed the city's marijuana laws in 2022.
Wu iterated the need to "move on" from a policy already voted on and prioritize public safety. 
"When it comes to issues like marijuana and other low-level crimes, we need to again focus our efforts back on police department shortages that we have right now, and not on issues that continue to further divide our community," Wu said.
Whipple said he was "not afraid to answer the question" and spoke on how decriminalizing marijuana prevents young people from ruining their futures. 
"What we did was follow the will of the public to make sure we're focusing on real crimes and not just harassing kids or making those kids have less economic opportunity in the future because of bad policy," Whipple said.
Reproductive rights
An audience member asked a question regarding NDOs, LGBTQ+ protections and pro-abortion stances. 
Whipple said he is "unapologetically pro-choice" and voted "no" in the state vote on abortion rights in 2022. He said that politicians shouldn't tell women what to do with their bodies. 
He said that he wouldn't let "some jackass in Topeka" determine if his wife can't access "life-saving surgery" in an emergency situation. 
"I'm never going to let myself or any of you be in that situation as mayor," Whipple said.
Wu said that she is "not here to regulate abortion" and that discussion is at the state level and not "the role of local government."
"For anyone that believes rhetoric that others have put out against me, I will tell you, I'm a woman, and I am for empowering women," Wu said. "So I want you to understand that local government needs to stay in its lane."
KWCH will also host a mayoral forum on Oct. 19 at 6:30 p.m. 
Shockers Vote! Coalition will host an Election Day Bash on Nov. 7. 
Early voting in the general election begins Oct. 23, and Election Day is on Nov. 7.