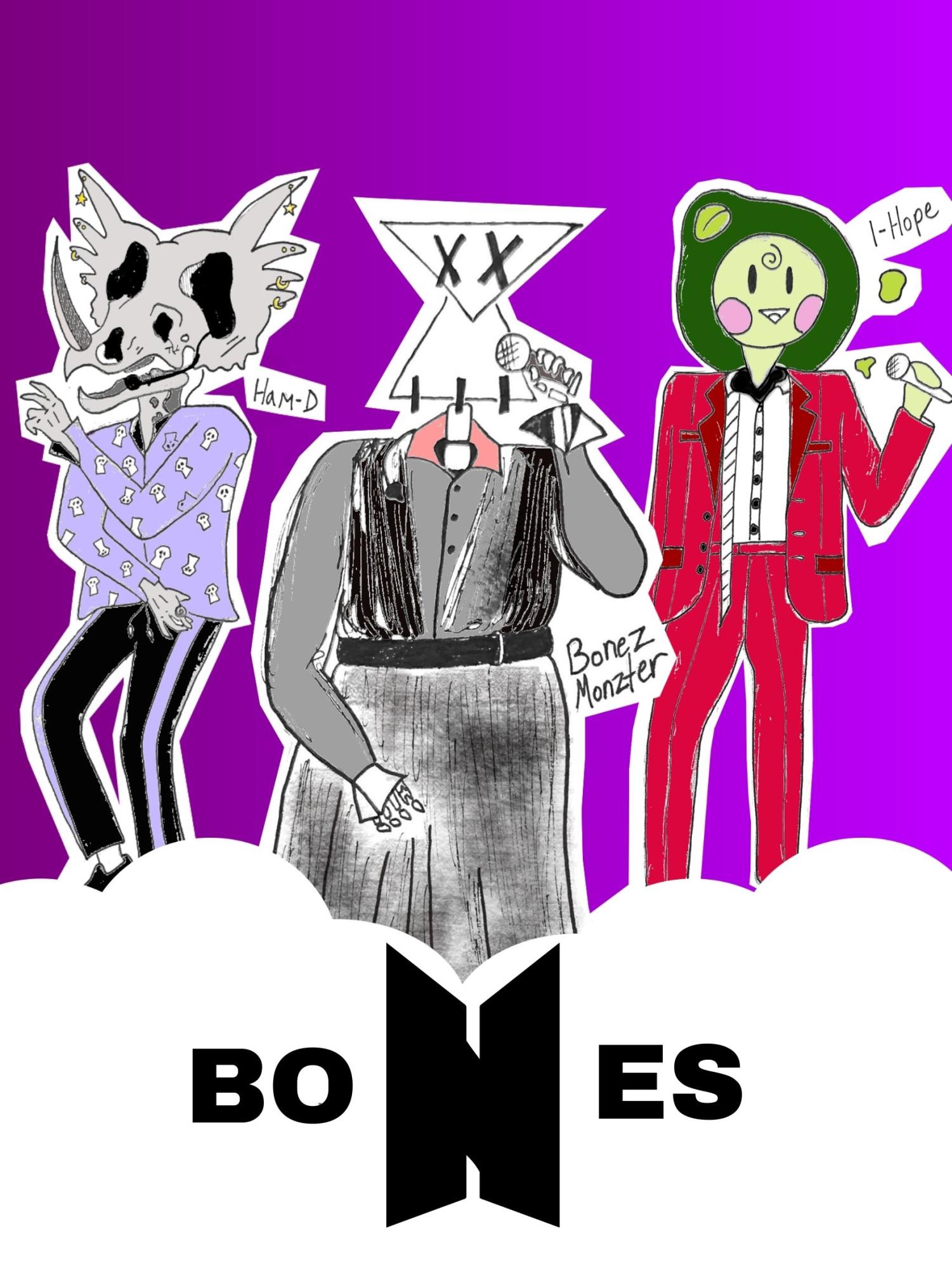 James Owsley, a sophomore journalism student that can't be found on campus without their chain and pin-covered leather jacket, is most passionate about one thing — their zine. A zine (as in magazine) is a publication that has a small circulation and is usually owned and run by one person or a small group. Owsley and two friends use the zine to share about past and contemporary punk bands, as well as news and opinions on political issues. 
"Oi! Bones! is a free, monthly, DIY punk zine, which features articles about punk news, world news, local news, comics, music reviews and societal issues," Owsley, who uses any pronouns, said.
Zines have been a part of music history, particularly in the punk genre, for decades. In the past, they were used to share information about bands pre-internet and this legacy has continued through the decades. But Owsley said, they may be having a resurgence now, at least in terms of mainstream awareness. 
"It did have a rise, but it's kind of always been there," Owsley said. "I think part of it now is the polarization of politics that we're seeing. You get these big catalysts like the Reagan administration that really sparked a lot of activism and then you had the most recent Trump and Biden administrations, which are furthering polarization. People are turning to these DIY, unconventional means of political activism and civic engagement."
The group first created Oi! Bones! In January of 2023 and release issues monthly. They all work under pseudonyms. Hamilton is the zine's illustrator, while Indigo writes articles along with Owsley, who goes by Bones. 
Owsley said the pseudonyms are mainly for fun, but they also serve a practical purpose.  
"We talk a lot about very sensitive topics such as queerness and our identities, and that can be scary for some people," Owsley said.
Owsley got the name Bones from the zine's mascot, a cartoon skeleton in a leather jacket named Mr. Bones who appears on each issue's cover.
Owsley said they'd been friends with both Indigo and Hamilton for a long time before bringing them in to work on the zine. 
"If you ask them, I swindled them into joining," Owsley said. 
For Owsley, the Oi! Bones! journey started in 2020, when they were first introduced to punk music and politics. 
"It just seemed really cool to be able to be politically active in a way that didn't require a suit and tie," Owsley said. "I had a friend who was into punk, and I talked to him, and he started recommending me bands and albums."
As Owsley dove into punk music and left-wing politics, they looked to zines as a possible way to express themself, share music with others and participate in the DIY ethos that partially defines the punk genre and subculture.
"I have been a punk for a few years now, and I can't really make music; I can't sing. And so I was like, 'I want to be able to participate in some way,'" Owsley said. "I had watched countless documentaries that featured the DIY journalism of zine." 
Owsley said, while they are passionate about their zine, there are challenges to publication.
"I have my friend's InDesign that I make the zine on," Owsley said. "Learning the intricacies of InDesign, after having a year of it in high school for yearbook, was and still is a learning curve."
In addition to honing their technical skills, Owsley said the team has to stay motivated and on schedule.
"I set all the deadlines for my staff," Owsley said. "They call me boss lady or boss man, and the deadlines are very arbitrary. We always have our solid deadline: a new release on the first of the month. Other than that, it's an honor system."
In September, Owsley got the opportunity to speak on a panel at Paper Plane Zine Fest, an event held in Lawrence, Kansas, that features workshops on making zines and an opportunity for artists to sell and trade their zines.  
"I got a lot of ideas from attending other panels and seeing other people," they said. "Lawrence has a huge community and it was like culture shock almost, seeing that zines are a popular art form."
When it comes to the zine, Owsley said they can't separate their music content from the political. 
"They are integral, and it goes back to the origins of punk music and the subculture," Owsley said. "It's a way to put your back on the mainstream, the parent culture, of what it deems is appropriate and not appropriate and you can really be your own self."
Oi! Bones! released its latest issue on Oct. 1.
"It was also our biggest one yet with our biggest interview with our biggest band, Cheap Perfume," Owsley said. "We had articles on the importance of alternative forms of civic engagement and advocacy. We had articles on Indigenous Peoples' Day."
The issue also featured an album review of "Noise Addiction" by Pure Hell, which Owsley said is considered one of the first Black punk bands.
"We also talked about an upcoming event that we have on Oct. 27, which is going to be our first vendor fair type event," they said. "We're making a lot of merch for that. It's going to be our widest distributed issue. I've been printing copies every day. I had to buy a brand new printer for this, 30 pages in total."
The event is Monster Mash, an annual drag, music and art event that's being held this year at WAVE, a venue in downtown Wichita on Oct. 27. In addition to the art vendors, the free event will also feature drag performances and three musicians: YAE, the Cavves and Hunter Gromala.
Owsley said Oi! Bones! hopes to continue increasing their audience, regardless of if they're punk.
"People hear the words punk zine and think it's only for punks, but while the zine is punk, we don't expect the readership to be," Owsley said. "It's open for anybody. We just encourage anybody who finds any amount of enjoyment to read it."