Wichita State basketball has a secret weapon this season — a fully renovated weight room.
Located in Charles Koch Arena, the Fred VanVleet Sports Performance Complex was finished in late July, and the 2023 season is the first to be impacted by it.
While most fans show up to see athletes on the court, during the season, players spend up to 20 hours a week training in addition to practices and games.
And, while athletes get a month off in the summer, it's a year-long commitment. During the off-season, athletes train eight hours a week.
The $1 million project was funded by Wichita State University alumni and supporters. Fred VanVleet, a prominent WSU alumnus and point guard for the Houston Rockets, initiated the process with a donation of $250,000, which was matched by Steve and Regine Feilmeier. Ricky and Jeanie Brotherton contributed an additional $100,000 to the project. After the announcement of the project, more donors stepped forward to reach the funding goal.
The newly refurbished weight room features custom WSU-themed weight sets and technology aimed at tracking individual athletes' progress and training programs. It is used primarily by men's and women's basketball, as well as volleyball.
Ashtin Meerpohl, director of sports performance, highlighted the facility's efficiency enhancements.
"It just allows us to, one, be more efficient in here, and then two, we've just got a lot more options as far as what we want to do with training because we've got a lot of new equipment and technology that helps us in here," Meerpohl said.
Each rack in the room has an EliteForm system equipped with cameras to monitor athlete performance, eliminating guesswork in programming. Coaches can now set specific bar speed targets and adjust weights based on the athletes' needs and limits instead of relying on percentages.
"I can give them a (verbal) cue, say 'Hey, I need you to drive your knees out' or 'I need you a little lower,'" Meerpohl said. "With this (technology), they can go back and rewatch that, and we can show them exactly what they need to do."
Through the integration of technology, athletes can now access their daily training regimens via tablets, giving them a level of independence while training. While training staff continues to oversee the process actively, this innovation provides more structure.
The room features custom height pull-up bars, lat pull downs and squat racks to ensure athletes are getting a full range of motion and preventing joint strain.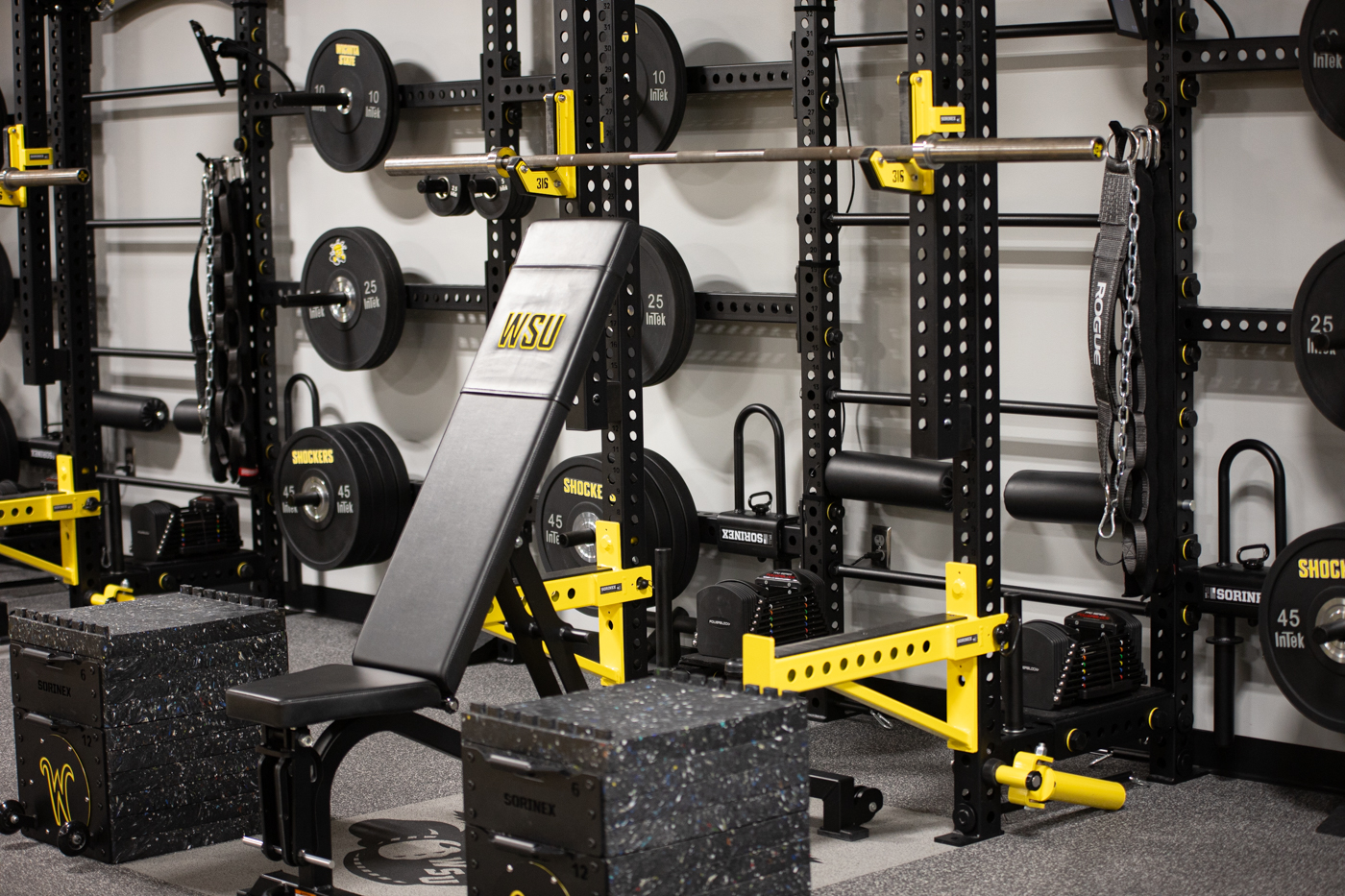 This technology also fosters a sense of friendly competition among athletes. Tablets track individual statistics, allowing coaches to set challenges and provide players with real-time insights into their teammates' performance.
"It creates that competition in the weight room that we're trying to create on the court as well," Meerpohl said.
Yanis Bamba, a freshman guard for the men's basketball team, mentioned the competitive spirit in the weight room.
"I feel like when I see other people lift, I just want to do as much as I can … to compete in the weight room," Bamba said.
Players also noted the Refuel Station in the room, stocked with protein drinks, snacks and smoothies.
Trevor McBride, a sophomore guard for the men's basketball team, said that almost everyone leaves with a snack or drink in hand.
The men's basketball team won their first preseason game against Rogers State University, 74-53. The season opener will be in Charles Koch Arena on Monday, Nov. 6, against Lipscomb University. Meerpohl said that the technology in the weight room will help players feel "fresher throughout the season."
"We don't feel limited by the equipment we have or the space we have," Meerpohl said. "We've got everything we need here. So hopefully, we see those results in the season."