Past interns in the Washington, D.C. and Topeka internship program recall their time living in D.C. and reflect on the world of politics. 
The internship is offered by the Political Science Department at Wichita State is open to students of any major looking to experience the world of politics first hand. 
It offers a broad list of potential positions, whether that's working in DC or Topeka, as an assistant to a legislator or as part of an interest group. It also gives students the chance to live in Washington DC. 
Nikky Bloomquist interned with the State Department as part of the D.C. program. She now works full-time as a recruitment event specialist with Wichita State's Office of Admissions.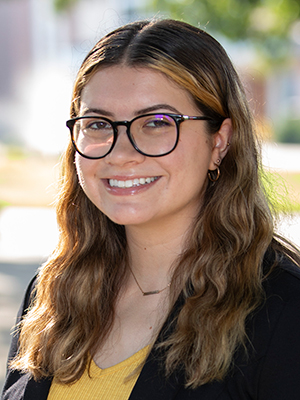 Bloomquist lived in D.C. and networked in person but did her internship work online due to the COVID-19 pandemic. 
Bloomquist explained that living in a big city was a new experience for her – and her first time living outside of Kansas. 
"I'm from Topeka, so Wichita was like a step up from that, and then D.C. is like five steps up from Wichita," she said.
Despite her initial hesitations, Bloomquist grew to enjoy D.C. 
"It's a big city, scary environment to be in, but I really liked it," she said. "I got used to it by the end, and you find your local communities in D.C. There are smaller neighborhoods you can get to know."
She also noted the variety of people and backgrounds in D.C. 
"I think in my apartment complex, like on our floor, we would hear three different languages every day, and I just thought that was so cool," Bloomquist said. "So it's just a very eclectic environment to live in."
According to Bloomquist, the Bureau of Legislative Affair serves as a liaison between Congress and the State Department. 
 "If Congress had any questions for the State Department about like, what was going on abroad, like if there was like unrest in another country, and they needed to know how the State Department was responding and how the embassy was doing, they would come to us, and then we would set up meetings between like the people who could answer those questions," Bloomquist said.
During her internship, Bloomquist also played a role in these meetings, taking notes so those in higher positions can remain informed  
Bloomquist's other roles included "behind-the-scenes work" to prepare for Senate confirmation hearings. She interned during the transition from Mike Pompeo to Antony Blinken becoming Secretary of State in January 2021, helping Blinken prepare for his confirmation.
"If someone was going to be confirmed in front of the Senate – like Antony Blinken had his Senate confirmation – we would draft up a bio of every single senator that would be there and research their foreign affairs stances, so that we would predict what questions they might ask and get Blinken ready for that confirmation," Bloomquist said.
Bloomquist expressed enjoyment for her State Department internship and amazement at everything she learned. 
"I thought it was so fun. I don't know. I just didn't realize how intricate it worked… and I fell in love with it," Bloomquist said. 
Bloomquist now works with WSU admissions because she wanted to stay in Kansas, at least for a little while, noting D.C.'s fast pace and how hard it was being away from her family.
She said  what she learned as a D.C. intern still applies to her current job recruiting students, like working in an office environment.
"Yes, it's a different career path, but I'm still so happy I did the State Department internship," Bloomquist said. 
Andruw Hoopes is a political science and history major graduating this coming May. He participated in the D.C. program during the spring of 2023 and worked for Congressman Ron Estes, the U.S. representative for Kansas's fourth district, doing administrative work and other tasks.
Hoopes was surprised at how closely he got to work with the congressman. 
"I really just thought I'd be here just answering phones and writing emails that are never going to  see anything," Hoopes said. "But I actually wrote memos the congressman got to see and bill vote recommendations that Congress got to see. The role may be an intern role, but it's actually a really pivotal role in the office because someone has to do it."
Hoopes said he learned that politics are accessible for people who don't necessarily grow up in places like D.C. 
"I learned that I could do the work," Hoopes said. "I'm from a little, little town in the middle of nowhere in Oklahoma. So I learned that I could work in the U.S. Capitol just as good as anyone else."
While interning, Hoopes found that D.C. wasn't for him. 
"I don't know if I'll ever go back to live there, but I really enjoyed my time doing so," Hoopes said. 
Hoopes explained that it is important for students to find an internship that fits the experiences they seek. 
"I would encourage people to seek out all your different options for various internships and go with what fits best for you.… Don't just go with your first offer because it was your first offer," Hoopes said. 
Bloomquist also recommends that students, especially political science majors, participate in this internship program, crediting Allen with helping her find housing and WSU's help with scholarships.
"I think any political science major just needs to do it and to see what's out there and to see if the career path that they want is actually the one that they want," Bloomquist said. "And you need an internship to do that."
More information about this program can be found on The Sunflower and WSU website.