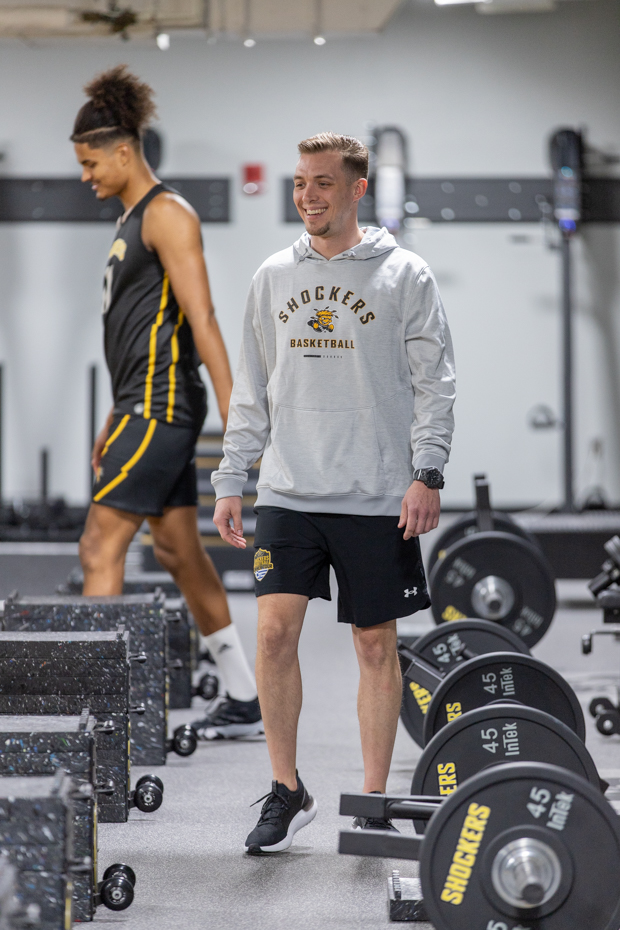 In March, Ashtin Meerpohl received a phone call from Paul Mills asking if he'd like to move to Wichita.
Meerpohl, a Kansas native, now works as director of sports performance for the Wichita State men's basketball team. Before coming to Wichita, he worked on Mills' staff at Oral Roberts. Meerpohl said the decision to follow Mills to Wichita State "didn't take any thinking."
"When (Mills) called about Wichita State, I was fired up," Meerpohl said. "Coming back to the state of Kansas where I'm from, getting to continue to work with him. And then just knowing that history, growing up in Kansas, of Wichita State basketball."
Meerpohl's job isn't just strength and conditioning. It involves every aspect of physical preparation, from injury mitigation to nutrition to sleep.
"This is the first time guys are getting away from home," Meerpohl said. "They don't have mom and dad cooking for them anymore. So it's just teaching them, making the right decisions."
Meerpohl received a Bachelor of Science in Education degree from the University of Kansas in 2015. While at Kansas, he interned with Andrea Hudy, the then-assistant athletic director of sports performance at KU.
From there, Meerpohl bounced around strength and conditioning jobs for "very minimal pay," from Ohio State, to Division II's Southwest Minnesota State University, to landing back at KU as a sports performance assistant.
It was there, in 2018, that Hudy recommended to Mills that Meerpohl should be his director of sports performance at Oral Roberts. From the beginning, Meerpohl said he knew he was fortunate to work for Mills.
"You hear stories from other strength coaches of coaches not letting them do their job and telling them they can or can't do this," Meerpohl said. "Coach Mills has been unbelievable. He lets me do my job, and he trusts what I'm doing. And that's really all you can ask for (in) a head coach."
Meerpohl said that Mills has allowed him to be involved in a variety of decisions, from scheduling flights for maximized recovery, to choosing meals, to lifting weights every day before practice. According to Meerpohl, these small factors can have an outsized impact on performance and recovery.
"I think your best ability is availability," Meerpohl said. "My job is to help mitigate injuries, lower the risk of them, and then if it does happen … hopefully based on the stuff we've done in the weight room, you can get back faster."
Meerpohl said he values the relationships he builds with players in the weight room throughout their time in college. Some basketball programs don't lift weights every day before practice, but Meerpohl's teams do, a habit that he says helps build good routines.
"It creates that culture of consistency where they get to see me every day," Meerpohl said. "Because I know these guys, if I have a guy who is usually high energy, and he kind of comes in shoulders slumped and head down, I can say, 'What's going on today? You're doing all right?'"
Meerpohl said that he's already noticed the passion the Wichita State fans have for their basketball teams. He also appreciates the facilities inside Charles Koch Arena, which are larger than what he had to work with at Oral Roberts.
"We were pretty confined," Meerpohl said. "We had a really small weight room, very basic stuff. So, we had to really get creative about how you're going to lay out your workouts. So here, because we've got more space, we can do some different stuff with the turf."
Even though the team conditions nearly year-round, they can only work with Meerpohl for 20 hours per week. Meerpohl said he views himself as a teacher to the players on how to handle themselves outside of the facility.
"That's one of the coolest parts about my job, is you get to see these freshmen come in, who have never trained in their lives, to see them graduate as grown men," Meerpohl said. "Seeing that development is awesome, not only in their physical development but as a human being."
Meerpohl said he hopes that athletes leave the university better than when they started.
"That's something we really take pride in as a staff," he said. "Just making sure that these guys are developing and ready for whatever's next in life, whether it's basketball or a career in something other than basketball."