To an untrained eye, both the cheer and dance teams that make up the Spirit Squad at Wichita State may look similar; they both carry pom poms and stand on the sideline at basketball games, yet they are two completely different teams that help enhance the game-day experience. 
The dance team almost exclusively dances at men's and women's basketball games, while the cheer team cheers at volleyball games in addition to basketball games. While both teams perform at games, they also make appearances at community events, parades, and competitions.
Both teams play a significant part in the game-day experience, filling empty moments with performances and entertainment for the crowd to achieve the full game-day experience.
"I'd say dance is a very crucial part of Shocker basketball games, not only for the game day atmosphere but just also because it's kind of a huge tradition here at Wichita State to uphold," Audrey Menzies, a dance member from Kansas City, said. "We've had a dance team for almost as long as we've had a basketball team."
According to Menzies, although the dance and cheer teams respect and work alongside each other a lot, the two are completely different teams, which is a common mistake people make. 
The differences between cheer and dance follow the National Dance Alliance (NDA) guidelines. Dance is not allowed to tumble, pass, or start yelling, among other things. On the other hand, cheer does not do turns, leaps, and jumps.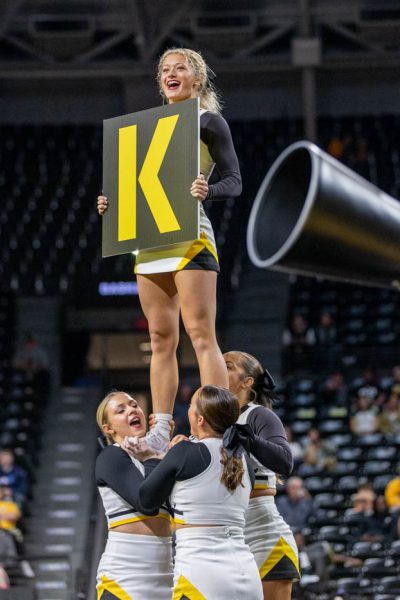 "We use a lot of strength, but we use it in different ways," Kennedy Willis, another dance team member, said. "(Cheer will) be more sharp, and you want to be more stiff, and you want to have clean motions and clean movement. Whereas with dance, you want to feel the music, you want to be able to shake your poms, and you want to be extra big."
The COVID-19 pandemic left the Spirit Squad with many restrictions, such as not being able to compete.
"We just kind of had to get used to it," Kale Lowery, a cheer squad member, said. "For what this team has had to go through, just mentally, physically, anything like that, I think it really was a win for us."
Winning awards and giving high-energy performances starts with intense practices and early mornings for Spirit Squad members.
"We wake up at 5:30 in the morning so we can cheer at games," LeGrand said.
According to Menzies and Willis, these early morning practices are more of a blessing than a curse, as they free up the rest of the day.
"We're really fortunate with our scheduling that we have those … practices that allow us so much flexibility within our schedule," Menzies said.
The positive attitude and smiles are some of the most iconic parts of cheerleaders and dancers, but both of these seemingly effortless traits take work.
"We're representing an entire university, and so it's a lot more mentally demanding," Lowery said. "It's so much different than a lot of other sports, and we have to do a lot of different things all the time."
Yet another difficulty the Spirit Squad faces is the stigma that cheer and dance are not sports, and they do not often feel respected as such.
"We are discredited a lot of what we do, and it just, it comes from people not knowing, and that's why we want to share with people," Lowery said.
Both teams have won awards at National Cheerleaders Association/National Dance Association Camps this summer and made it to their respective national competitions.
The cheer team won first place in Rally Routine for Division I, brought home the NCA Cheer Stick and won a superior rating for Game Day Performance and Rally Routine. They also won the Most Improved Award for all divisions, earning them a silver paid bid to the NCA Collegiate Cheer Championship in Daytona Beach, Florida. In addition to that, the cheer team was able to go to NCA Nationals this spring.
Elise LeGrand, a cheer squad member, said, "It was quite an accomplishment."
The dance team won first place championship of DI Team Performance and brought home the NDA Spirit Stick. They also received a superior rating in Game Day Performance and Team Dance performance. The dance team also won a silver bid to the 2024 NDA Collegiate Dance Championship in Daytona Beach and made it to NDA Nationals this year.
"We actually got seventh, which was a huge accomplishment for our team," Menzies said. "We're really lucky to work hard all year, and then achieve our goal."
Most of all, the cheer and dance members are grateful for the role they play in creating memorable game days.
"I'm very grateful to be one of the first steps in leaving a positive and lasting legacy on this university and for my team," Menzies said.