Beach: Hacksaw Ridge, best war film in years
"Hacksaw Ridge" is an unrelenting machine of a film. It is a ride from start to finish with few flaws.
Mel Gibson is back behind the camera directing his first film after 10 years and the results show. Gibson is best known for directing "Braveheart," a film that won best picture and best director at the Academy Awards in 1996.
There is never a dull moment in "Hacksaw Ridge." Andrew Garfield stars as Desmond Doss. He is a religious young man from Virginia who is ultra-committed to his religious convictions.
In the final years of World War II, Desmond enlists in the army, but when he arrives at boot camp he refuses to use a weapon. His fellow privates, sergeant and commanding officer continually question why Doss is even there. He eventually goes to battle as a medic who doesn't carry a weapon.
Another component of the first half of this film is the love story between Desmond and Dorothy, played by Teresa Palmer. Palmer does a stellar job. Garfield is the standout in this film, but other phenomenal performances come from Vince Vaughn as the sergeant of Doss's unit and Luke Bracey who plays a no-nonsense private in Doss's unit.
The script was good in almost all parts and the best part of the film is the directing.
Gibson's affect on this film started to shine a little less than halfway through. Private Doss and his unit enter battle in Okinawa, Japan. When the action begins, it hits you like a train. The first 30-40 minutes of the battlefield scenes were jaw dropping.
The shots are stunning and the action is powerful. The film is filled with the horrors of war and unsettling scenes. Gibson did a perfect job depicting the latter years of the war and the gritty battle.
The story continues to progress positively in the final act, which becomes the point where the viewer begins to truly see the hero Doss was.
Another bright spot in "Hacksaw Ridge" was the sound editing. The action sounds were surprising every time they jumped at you and added to the chilling war sequences.
Gibson directed what undoubtedly should be an Oscar nominated film. With all of his problems when it comes to the public eye, he continues to prove his worth as a filmmaker and the academy will be hard-pressed to not give "Hacksaw Ridge" a nomination for best picture.
Garfield is worthy of a best actor nod and, most importantly, Gibson deserves to be nominated for best director.
The only glaring flaw is that it ends abruptly and doesn't address a few things in Doss' life away from the battlefield. It was a minor issue and the film ended on a strong note.
"Hacksaw Ridge" is a gripping story of war, character and heroism and should go down as the best post-2000 war film and one of the best movies of 2016. It is a must see for film fans and will be talked about for years to come.
View Comments (2)
About the Contributor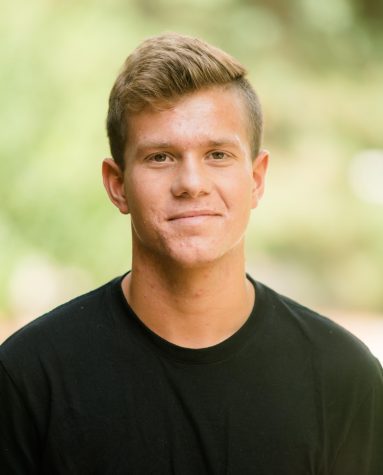 Nick Beach, Former reporter
Nick Beach served as a reporter for The Sunflower. Beach served as a sports reporter and columnist, as well as a movie critic. Beach is from the coastal...