Beach: New group of stars ready to shine
After the Shocker faithful watched their team nearly give away a 21-point second half lead to a hot shooting division two Augusta (Georgia) squad, it is no longer an elephant in the room that Ron Baker and Fred VanVleet are gone.
However, this game was nothing for Shocker fans to hang their heads on. Augusta guard Keshun Sherrill was nearly unconscious and as a team the Jaguars made 10 three-point shots.
It's unlikely Wichita State will allow 10 threes for the rest of the season. The newfound Gregg Marshall press can lead to some open shots, but a system built this heavily on defense can find a way to stop the lapses, not to mention teams don't often shoot that hot in Charles Koch Arena.
Marshall and Shocker fans should be encouraged by the way the team responded to the adversity. It was only an exhibition game, and in the long run it means next to nothing, but several players stepped up and answered the looming question in Wichita — who is going to perform for a Wichita State team entering the post Baker/VanVleet era?
Let's start with Conner Frankamp. Ever since the redshirt junior transferred from the University of Kansas, Wichita natives have been salivating at his potential to score from three-point range. Frankamp finished this contest with eight points and four key rebounds late. He made two three pointers and held his ground on defense.
He's a player who stays away from mistakes. He still needs to be more aggressive, but he knows his role and should step into it nicely.
Frankamp has a knack to make big shots that you can't teach, but what Shocker fans need to realize is this is a guy who looks solid running the point guard position, has improved his defense, and can contribute in more ways than just outside shooting.
Landry Shamet steps in as the presumed shooting guard in Marshall's rotation. Shamet can handle the ball, spot up, make long-range jumpers and defend at a high level. He's also a stellar athlete and makes his teammates look better with his young poise.
Where does this sound familiar to Shocker fans? Baker once entered this role in a Final Four season in 2013 and became a perennial Valley star for three more seasons to follow.
Shamet may even be more athletic, and he's the most likely guy to step into a Baker type role. This will be huge for Wichita State going forward.
Markis McDuffie is a budding star and should compete for a spot on the all-conference team. He's too talented in all facets to not help lead this Shocker team. Rashard Kelly should be a successful role model in his junior season. Juniors Rauno Nurger and Darral Willis will find their niche contributing down low and may well play a lot of minutes.
The potential most important piece to Wichita State's success this season will like be the play of redshirt junior Shaquille Morris. Morris is a highly talented big man who can outmuscle anybody in college basketball. The only problem is his history of foul trouble.
Anton Grady did a nice job filling in when Morris couldn't play as many minutes as hoped at times last year and while Nurger should help with that this season, Morris has to stay on the floor. He finished with 24 points against Augusta and was no question the best player on the floor.
With some focus on footwork and smarter defense Morris could easily score 15-plus points per game for the Shockers. Morris is a game-time player, and he proved down the stretch last year and in the NCAA Tournament.
He did a nice job starting the scoring for Marshall's team in many games last season and he could do it all game long for the Shockers this season. He's too talented in the post and too strong to be guarded on a consistent basis.
It's no secret that Wichita State has depth this year. They have the talent; it's just a matter of putting it together and staying efficient. The Shockers are in good hands in the post Baker/VanVleet era.
Leave a Comment
About the Writer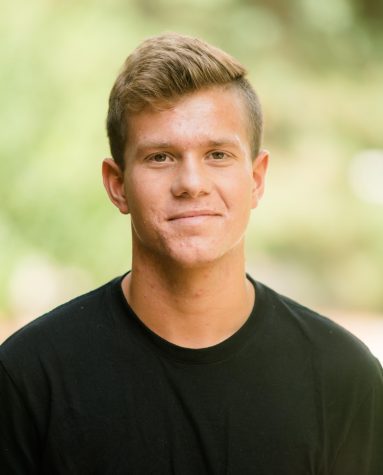 Nick Beach, Former reporter
Nick Beach served as a reporter for The Sunflower. Beach served as a sports reporter and columnist, as well as a movie critic. Beach is from the coastal...