Braced for injury: Athletic trainers stay on their toes to prevent, treat basketball injuries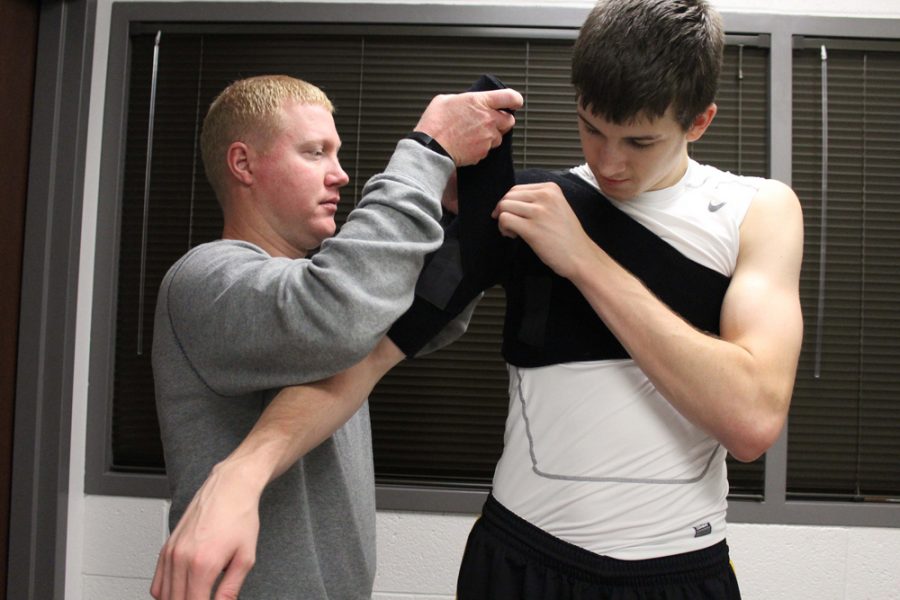 Wichita State's athletic trainers are braced for player injuries, head to toe, all season long.
"Because of our aggressive style of play and practice," Todd Fagan, athletic trainer for men's basketball, said. "I will have to treat a significant number of contusions throughout a season.
"Another common condition that I see through the course of the season are patella and quadriceps tendinopathies. Along with these ailments, I will see a number of wrist and hand injuries, minor strains, concussions and lacerations."
Fagan said one of the most common injuries basketball players encounter on a daily basis are sprained ankles.
It may seem hard to roll an ankle on a smooth, flat surface, but on a basketball court it goes with the territory. The sticky rubber soles of basketball shoes are designed allow a player to stop on a dime and change direction at full speed — and they do their job — but at a cost to players' joints.
That's why WSU basketball players are required to wear ankle protection at all times during practice and games — lace-up braces at practice and athletic tape, which is slightly more rigid, for games.
"This preventative measure cannot guarantee that we won't have any sprains," Fagan said, "but it does significantly reduce the severity of those sprains."
Besides rolling an ankle, a player can land on the side of their foot — or someone else's. Ten players on the court mean 20 big shoes. Around the basket, where players spend a lot of time above the rim, they come down in the most congested area of the court.
For example, when Shaq Morris dunks, the airborne, split second above the rim when he throws the ball through the hoop is only half the battle. The trick is to land. With his 6-foot-8, 265-pound frame, that's a lot of force coming down from the rim. Often, tape is the difference between a rolled ankle and a major sprain that could leave players out of the game for more than a month.
"Injury prevention is our first line of defense, and if we can prevent the injuries from occurring we are better off," Fagan said.
Fagan said he and the rest of the training staff for the Shockers are ready for any injury during a grueling, six-month season. They're present at every practice and game, keeping a close eye on the health of the players.
"Unfortunately we are not able to prevent every injury from occurring," Fagan said. "So when they do happen it is our job to assess the injury to determine the best course of action."
About the Contributors
Chance Swaim, Former Editor in Chief
Chance Swaim was the Editor in Chief of The Sunflower from fall 2017 to spring 2018.

Swaim was a graduate student in the English Department working...
Selena Favela, Photographer
Selena Favela is a photographer for The Sunflower.

She was the photo editor for The Sunflower her junior year. Favela is currently a senior majoring...