Former Shockers spread basketball across Wichita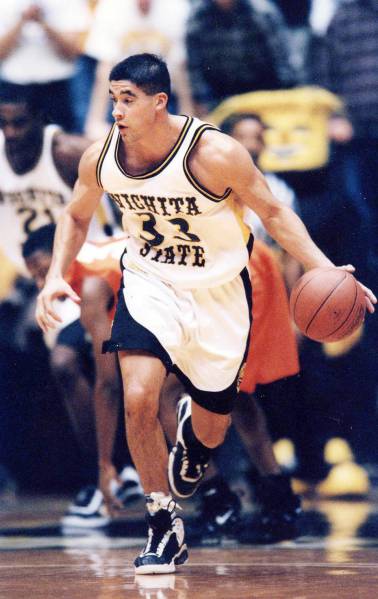 Advertisement
Hang on for a minute...we're trying to find some more stories you might like.
Over the years, Wichita State has produced players that have gone to play professional basketball.
However, some of the Shockers find homes elsewhere after basketball. Many former Shockers are coaching in Wichita, as they are able to continue the game they love in their college town.
Ryan Herrs was a forward from McPherson who played for four years at WSU between 1992 through 1996. He scored 744 points during his career and ranks eighth in three-point  history with 140 makes.
Herrs spent his four years under head coach Scott Thompson, who made the biggest impact on him at WSU.
"(Thompson) brought the same approach and he carried that mentality from day one to the end," Herrs said. "[His mentality] was this was our mission, this is how we are going to go about it through highs and lows, we're about this certain thing and he never wavered from that."
In 2000, Herrs moved to Mulvane High School, where he took over as head coach for four years. He later spent seven years in Derby as the head coach before moving to Wichita Collegiate for a year to be an assistant coach under Mitch Fiegel.
Herrs, currently an assistant basketball coach and weights teacher at Andover, enjoys coaching not for the score, or the actual game play, but what he is doing to build his players as athletes and people.
"Sometimes some of the best memories no one ever read about or ever saw," Herrs said. "When you have a student-athlete in a practice who learns to be a leader and you see it happen in front of your eyes, where they start taking charge in practice and they get guys to follow them.
"I can remember going home after a couple of practices where I had some players do that and saying 'wow that was really cool.'"
Jason Perez was the 27th men's basketball player or coach to be inducted in the Pizza Hut Shocker Sports Hall of Fame. He is the all-time leader in steals with 222 and he ranks sixth in points with 1,839.
After college, Perez went to Europe to play professionally in Germany and Belgium. When he returned, he began coaching as a head coach for the Wichita Defenders, a home school program. He later began a club team in Wichita, which led to the creation of Next Level Hoops Academy. He now coaches and operates NLHA while being the head coach at the Life Preparatory Academy in Wichita.
Perez said what he was able to learn from head coach Randy Smithson helped how he coaches his players today.
"What I observed (at WSU), I am able to apply [in my own coaching]," Perez said. "I learned how to study the game more, the players more, and the attention to detail."
Derek Brown is a more recent Shocker now coaching in the Wichita area.
Tad Boyle, a former WSU assistant and current Colorado head coach, reached out to Brown in his junior year of high school. Brown came to WSU as an invited walk-on with former coach Mark Turgeon.
After Brown's first year, Turgeon left WSU to take a job at Texas A&M, which tempted Brown to transfer. Instead, he stopped playing basketball for two years and still attended WSU as a student.
During current head coach Gregg Marshall's third year, Brown decided to come back to the Shockers.
"Marshall's teams are definitely a lot tougher and grittier and you have to be a whole lot tougher to survive in that system," Brown said. "You definitely had to have a little something extra to make it in Marshall's group."
Brown was an assistant at Newman University for the first five years after his playing career was over. This past summer, he accepted a job as an assistant coach at Sunrise Christian Academy, where he helps coach the college prep team.
Brown said his journey was unusual, but he would not change anything.
"In the end, I came back for those two really good years where we really started to get things rolling under coach Marshall and ended with the NIT championship," Brown said. "I ended my college career in Madison Square Garden, passing trophies and cutting down nets. That all led me to realizing basketball is what I want to be doing with my life."