Beach: Austin Reaves already a fan favorite; for good reason
]He gets a round of applause when he walks to the scorer's table. And it's a bit surprising to see that kind of appreciation for a freshman this early in the season. But it's no surprise that Austin Reaves is already a fan favorite.
It's a bit of the norm for Gregg Marshall to pick up underrated prospects and turn them into high-level and even NBA-level talent. Reaves is far ahead of schedule.
Reaves, a 6-foot-5 product from Newark, Arkansas, barely received any looks from Division I schools.
In fact, ESPN listed Wichita State as the only Division I school to have offered him a slot. How did a guard who averaged more than 43 points per game in a four-game state tournament get so overlooked? In what world can a guy who regularly scored more than 56 points be passed up?
Oh, there was also that time in high school he scored 73 points in a game.
In his first two games at WSU he averaged 11 minutes and eight points.
His minutes could come as a bit of a surprise. In Wednesday's game against Tulsa, Marshall subbed Reaves in after only three minutes of play. His coach's confidence in him seems to be growing by the minute.
While Reaves' minutes could be limited in this deep team, his role is cemented, and it's a big one.
Against South Carolina State Reaves ignited the crowd with a fast-break dunk. Even though the freshman has the height to do it, many fans doubted if he had it in him. Minutes later he dropped a big three.
He plays both sides of the ball. On defense he's a lock-down defender. He successfully stripped three steals last Friday.
Sunday Reaves must've felt like Marshall's leash had a little more slack released. He connected on four shots in five attempts — two from deep three-point range.
The biggest bonus for Reaves is that he has bought into Marshall's system — something sometimes hard for a freshman to do. Need him to dive for a loose-ball? Check. Play full-court press? Check.
Reaves has great court vision. Sometimes so good he doesn't look like a freshman.
His poise is lacking in almost no category.
An off-season shoulder injury may have delayed his progress in the weight room, but if he can put on 10-lbs, he's all he needs to be an NCAA star.
Marshall has always had success at building a culture of success for recruits who aren't touted as highly. Sometimes this starts by getting a guy started early.
First impressions mean the world. Austin Reaves sure has made the most of his.
View Comments (3)
About the Contributor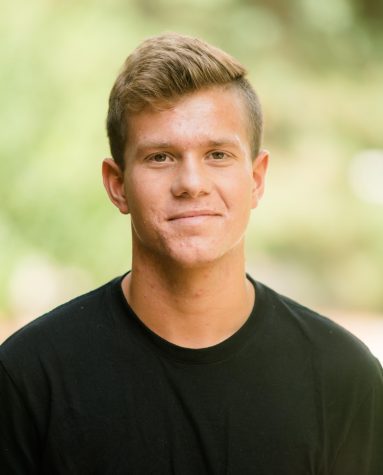 Nick Beach, Former reporter
Nick Beach served as a reporter for The Sunflower. Beach served as a sports reporter and columnist, as well as a movie critic. Beach is from the coastal...