Beach: 'Nocturnal Animals' a creepy, suspenseful tale
"Nocturnal Animals" may go down as one of the best films of the year. It is definitely deserves its praise.
The film is directed by Tom Ford — yes, the fashion designer — and is his second film. It's clear Ford is a perfectionist.
I mention this because I was once in an expensive retail store in Chicago, and one of the employees was trying to sell me on a Tom Ford fragrance. The employee said Ford is a perfectionist with all of his projects.
It shows in his filmmaking.
This movie shines in several ways. First is the cinematography. Seamus McGarvey deserves to be nominated for best achievement in cinematography by the Academy.
The story is exciting from the moment you meet the main characters. Amy Adams stars as Susan, an unhappy married woman suffering from severe sleep deprivation.
The audience comes to learn that Susan is failing to sleep because of a book from her ex-husband Edward (Jake Gyllenhaal, who also stars as Tony) titled "Nocturnal Animals."
When first introduced to Gyllenhaal, his character is Tony, the main character in the book, "Nocturnal Animals," which is written by Edward. As mentioned, Gyllenhaal also plays Edward. Susan's relationship with Edward earlier in her life is told through flashbacks.
Any more of the story would qualify as spoilers. Rest assured, it's a wild ride.
Let's go back to Gyllenhaal. What more is there to say at this point? He is one of the best actors working today and delivers yet another fantastic performance in two different roles.
Ford did a phenomenal job with casting. Adams also gives a stellar, reserved performance that is less notable than her performance in "Arrival," but still strong. Michael Shannon plays a cop in the book portion of the movie, and delivers an Oscar-worthy performance.
He never looks like an actor in the film. He embodies his character.
Aaron Taylor-Johnson also comes through with a solid performance in a smaller role.
The suspense builds greatly throughout the film. It makes you anxious to see what happens next and wonder how it could end, which leads to a gripe with the film: around the start of the third act the plot becomes a little too predictable.
It's easy to pick up hints to the ending. It's still completely entertaining until the credits roll, but it was disappointing that Ford didn't do a little bit more with the screenplay.
Nonetheless, "Nocturnal Animals" is a good film. Most everyone should be able to appreciate what makes it good. The direction, performances and suspense lead to a high quality theater going experience.
"Nocturnal Animals" should be nominated for multiple Academy Awards. It's one of the more gripping films of the year. It only lacks in one aspect — storytelling in the third act. This film is worth a watch for sure.
Leave a Comment
About the Contributor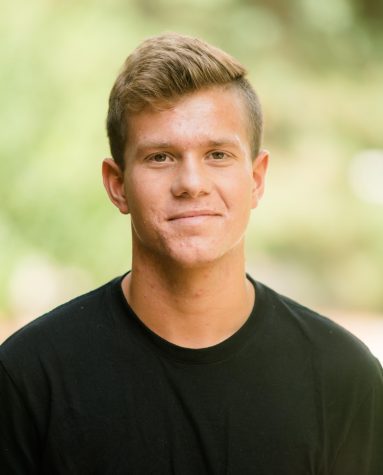 Nick Beach, Former reporter
Nick Beach served as a reporter for The Sunflower. Beach served as a sports reporter and columnist, as well as a movie critic. Beach is from the coastal...