Beach: 'Moana' fun animated film for all ages
Disney has released yet another box office winner — "Moana" is one of the year's most genuinely fun films, for any age group.
"Moana" highlights the adventures of the title girl and her family on an island and their ventures across the high seas. She is the daughter of the chief of her tribe, so she has a high standard to live up to. 
Her father has instructed her not to go past the reef when sailing. Moana disobeys his orders in order to find the demi-god Maui and retrieve what is known as "the heart" for herself and her tribe.
The high point of Moana is undoubtedly the animation. Disney has done it once again.
The shots were beautiful in "Moana" and left me longing for the next scene all throughout the movie.
I was also excited for this film because of the island and tropical vibe. Disney hasn't gone this route since "Surf's Up" and the new advancement in animation technology really shows.
The plot was also a fun experience. Kids definitely will have the most fun time with this film because the storyline is pretty simple and doesn't have much depth to it. It never strayed away from the main storyline, which worked to its advantage.  The plot was watered down for kids to enjoy and just complex enough to keep a smile on adult watchers' faces.
Auli'i Cravalho and Dwayne "The Rock" Johnson do a nice job as Moana and Maui who are the only two characters worth noting. They have great chemistry in their delivery.
The music of "Moana" is also of note. It's a key component of the movie. Cravalho does a nice job with her singing as Moana. The Rock was a huge surprise, carrying a tune more nicely than you'd think in one song in specific.
There are many solid movies in theaters right now, but "Moana" is definitely the most fun. It probably won't go down as a Disney classic like "Frozen" or "Finding Nemo," but it's definitely memorable. In terms of filmmaking, it's 100 percent the best made animated film of 2016. The animation is near perfect and could likely win "Moana" the Academy Award for best animated feature.
"Moana" should be seen in theaters and appreciated for just what it is — a fun, beautiful, music filled movie that will entertain those ages 6-96.
Final Grade: B
Leave a Comment
About the Contributor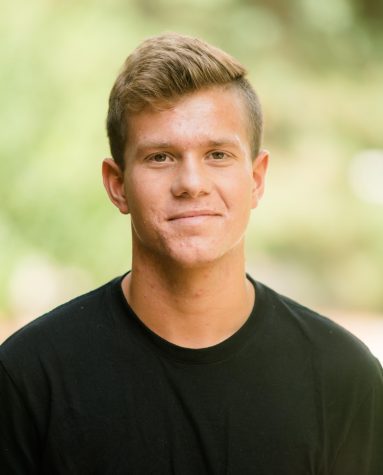 Nick Beach, Former reporter
Nick Beach served as a reporter for The Sunflower. Beach served as a sports reporter and columnist, as well as a movie critic. Beach is from the coastal...