Pflugradt: Wichita State's winning recipe left buried in the snow
Gregg Marshall searching for effort following 17-point falter to Oklahoma State.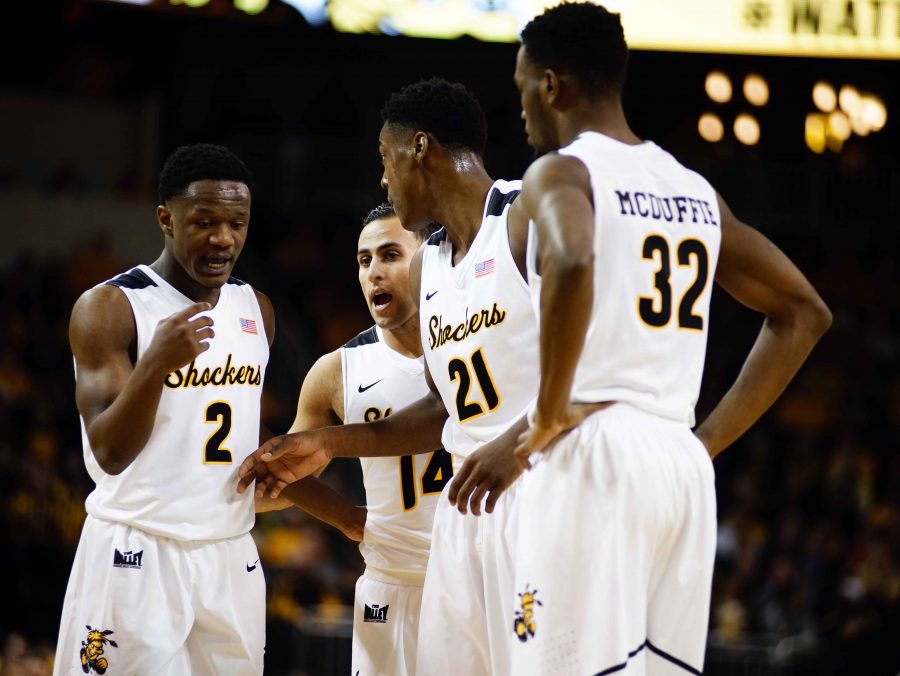 The last time Wichita State came to Intrust Bank Arena, nothing could hide the smile of a resurgent Fred VanVleet who walked his way downtown gleaming swagger. He and Gregg Marshall smiled as though the arena in downtown Wichita was their own hidden gem — which almost none could discredit considering they held a perfect 6-0 record there.
So it seemed Gregg Marshall had completed the perfect recipe to attract big-time Big XII opponents. He breezed past a depleted Oklahoma team in Sooner Country, and had a revitalized Oklahoma State team in Shocker Country in a home away from home.
It all seemed so fair for Wichita State, especially when you consider the Cowboys' 1-9 road record of a season ago, and a falling road record of 1-2 entering Saturday.
So it seemed.
But the result wasn't anything but.
Oklahoma State coach Brad Underwood learned the recipe and he didn't like it.
"We don't like letting teams do what they want to do," Underwood said.
Perhaps the Shockers couldn't escape the bitter cold as inches of snow mounted on the outside streets, for it was Marshall's 16-man rotation who wore cold shoulders Saturday night.
The Cowboys only added to the monstrous storm, raining 14 threes on downtown Wichita.
Zach Brown connected for two of Wichita State's three lonesome three-pointers. The Shockers dropped only one in the first half.
Conner Frankamp ended the first 20 minutes with a running two-point jumper. Doing so, he became the seventh Shocker to make a basket in the game's first half; no Shocker had two.
Junior forward Darral Willis, Jr. became the first Shocker this season to break the 20-point barrier with 24, his best in a Wichita State uniform. He scored 14 of his 24 from the free throw stripe.
Dismal shooting, insufficient rebounding and desperation free throw shots spelled the offensive flow — nothing that can compete with a team who's posted more than 90 in eight of their nine wins.
Gregg Marshall probably wouldn't have guessed that his guys would take 52 shots and have 33 of them fall off the mark. He probably wouldn't have guessed the sharp-shooting, Chris Paul-like Juwan Evans of Oklahoma State would come off to a fast start, either.
He won't look long at Oklahoma State, nor will he look long at the box score.
Instead he's looking at his rotation and searching for aggression — aggression that was seemingly left behind in Oklahoma City.
"There was a lot of less than ideal Shockers in terms of energy, passion, aggression and toughness," Marshall said. "If you're not making shots you can still play hard. We didn't tonight."
A bitter crowd of 15,000-plus hurled expressions of disgust.
"I think the crowd reacted that way because that hasn't happened," Marshall said. "Not to such a big degree; not on such a big scale."
Brown was one of three Shockers Marshall admittedly said brought effort to Intrust Bank Arena. Brown couldn't explain why his team fell, his teammate Willis couldn't say much at all.
It's as though the effort blew up in the winter storms.
"Effort isn't a skill," Brown said. "Effort isn't something you work on in the gym. Effort has to be something you bring every single game.
"You can't let your effort shrivel up and go away. I guess that's what happened today."
Willis seemingly forgot how to smile. He shrugged his shoulders and only answered questions directed to him.
"You can't teach effort. No one ever taught me effort," he briefly said.
The effort to seize the Big XII just wasn't there.
A prime time opponent "exposed" Gregg Marshall. His words, not mine.
"We're still a team of pride," Brown said. "We have to bring that effort — we're going to find it and get it back.
"That's what we have to do. That's all we can do."
Wichita State can only hope the lost effort isn't buried in the snow.
About the Contributor
Evan Pflugradt, Sports Editor
Evan Pflugradt is the former Sports Editor of The Sunflower.

Pflugradt past served as the publication's Editor in Chief, Opinion Editor and a reporter....