Jody Adams-Birch is out. What's next?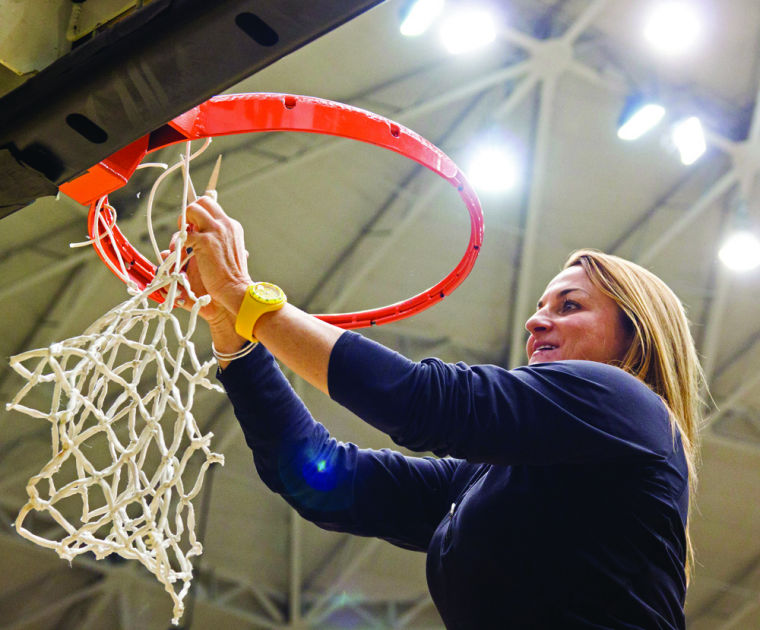 Jody Adams-Birch's compelling list of career accolades are often hidden by an investigation when four players quit following a 29-win season in 2014-15.
Now in 2017, another investigation and a mutual parting with the university overshadow her nine years of work as Wichita State's head coach.
After information was brought to athletic director Darron Boatright's attention regarding the overall atmosphere on Thursday, Adams-Birch was suspended for the team's two weekend games at Koch Arena and eventually was relieved of her coaching duties on Sunday.
When Boatright announced that Adams-Birch and WSU were parting ways, the feeling went from "here we go again" to relief. It is unfortunate that the greatest coach in the program's history had to leave this way, but the mutual agreement for departure ended what could of been a potential ongoing problem.
With Linda Hargrove running the show for the remainder of the 2016-17 season, there are some questions that still need to be answered: What does this mean for the university? How does this move affect the program now and its future?
Boatright and Hargrove will host a press conference on Monday. Here's what we know already.
In the two games that Adams-Birch was not coaching, Wichita State has cruised to two double-digit victories while also extending to a three-game winning streak. The players look to be playing more relaxed and look thrilled about their performances on the court.
"I'm excited, the players are excited, everyone involved is excited (about how we're playing)," assistant coach Kirk Crawford said. "Now we're not only playing with excitement, but confidence. I, personally, can't wait to get to work on Tuesday."
Instead of promoting Crawford or another assistant coach, Boatright handed the coaching duties to someone who had coached at WSU previously, but has not been involved with the team this season.
Hargrove had a successful 26-year career as the head coach for WSU in 1989-1998 and at Cowley Community College, compiling a record of 429-248.
Hargrove went on to be the head coach and general manager for the Portland Fire from 1999 until the franchise dissolved in 2002. She then became an assistant coach and scout for the Washington Mystics, where she became the general manager of the team in 2005.
The question, as with every change of leadership, is how will the players and coaching staff react?
WSU used Adams-Birch's game plan for their two weekend wins, Crawford said. So it is hard to believe that Hargrove will try to teach a completely new offense or defense this late in the season. Instead, Hargrove might learn the sets WSU has been running all season long, while aiming to improve them.
What about the current state of the program and its future?
Boatright said in a released statement on Sunday that he "will begin a national search for a successor in the near future." Meaning that Hargrove will most likely not continue to coach after this season.
Clearly, the athletic department does not want any more players to transfer from the program, at least not until after the season. WSU will have scholarships available after graduating five seniors this year, but recruiting will be very difficult, especially after the season.
The Shockers signed Lauren Brocke from Boise, Idaho, on Nov. 10, but she very well could decommit before she graduates high school. If WSU does not plan to keep Hargrove for a long-term contract, Boatright and WSU must find a replacement quickly so he/she can get started recruiting.
There's no guarantee that WSU will have those scholarships filled before next season, and they could be left under the scholarship limit of 15. Last season, the Shockers filled 11 on the roster.
It's clear that the program is not in a very good state right now. With a new head coach and a three-game winning streak, what happens next could be phased for a drastic turnaround.
About the Writer
Grant Cohen, Reporter
Grant Cohen is currently a reporter for The Sunflower. Cohen is a junior majoring in communications with an emphasis in journalism with a minor in sport...