Beach: Brady doesn't get fifth title quite yet
Don't think Tom Brady and the New England Patriots are a shoe-in.
Tom Brady and the New England Patriots are a shoe-in to play their classic clutch football and take the Lombardi trophy once again, right?
Wrong!
I've long been a believer that ever since Brady was given his four-game Deflategate-suspension and started the 2016 season inactive that he would come back so angry that he would lead them all the way to a Super Bowl victory.
Now not to discredit anything the Patriots have done. They went 11-1 with Brady at the helm in the regular season and ran over Houston and Pittsburgh in the playoffs.
New England has arguably their best defense in all of Brady's career led by Malcolm Butler and Alan Branch to go along with their superb running and passing games.
The Patriots face Matt Ryan and the red-hot Atlanta Falcons offense on Sunday. Ryan's unit will be the reason Atlanta hoists the trophy.
Brady is going to show up. No doubt about it.
New England's defense will struggle to stop the Falcons. Patriots' defensive coordinator Matt Patricia is known for shutting down a team's best player, which is Falcons' wide receiver Julio Jones.  Even if they do find a way to keep this physical beast in check, odds are that Julio still eclipses 100 receiving yards and likely finds the end zone a couple of times.
The Falcons have the best offense the Patriots have faced all year and they have too many weapons for Patricia's unit to stop. Not only is Jones virtually unstoppable on the outside, but the emergence of Taylor Gabriel and the veteran presence of Mohamed Sanu have been good security blankets for Ryan.
The Patriots front seven does a great job of stopping the run, but Atlanta has one of the best, most consistent and least talked about running games in the league. No other team in the league has two guys like Devonta Freeman and Tevin Coleman.
Now a big question still remains unanswered: how is Atlanta's defense going to stop the Patriots? The answer is they're not going to have to on as many positions as one might think.
New England will get off to an extremely hot start once again and Brady is going to fight back, which Green Bay couldn't do. But this is the game where Matt Ryan enters the ranks of the perennially elite.
Ryan is going to pass for over 300 yards in the air and multiple touchdowns, with Jones having a huge game and New England will not be able to stop him. Vic Beasley and the Falcons' pass rush will force the Patriots to punt just enough times.
Dion Lewis will have a significant impact for the Patriots, but it will pale in comparison to what Freeman will do. Ryan is going to be considered one of the best in the NFL and Dan Quinn will be a top five, if not a top three head coach.
Quinn deserves a ton of credit. This is a team that lost regular season games to the Philadelphia Eagles and San Diego Chargers, but they finally show resilience. Quinn got his team hot at the right time and that's huge in the National Football League.
Final prediction: Falcons win 34-28.
Leave a Comment
About the Contributor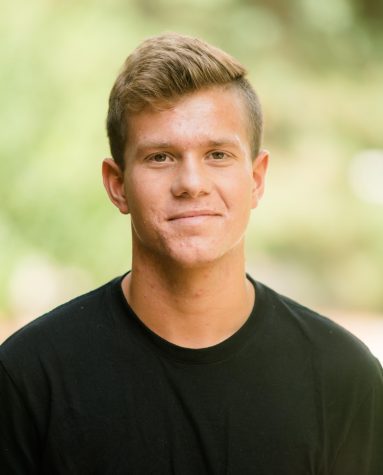 Nick Beach, Former reporter
Nick Beach served as a reporter for The Sunflower. Beach served as a sports reporter and columnist, as well as a movie critic. Beach is from the coastal...