Ron Baker living NBA dream, relishing in rookie season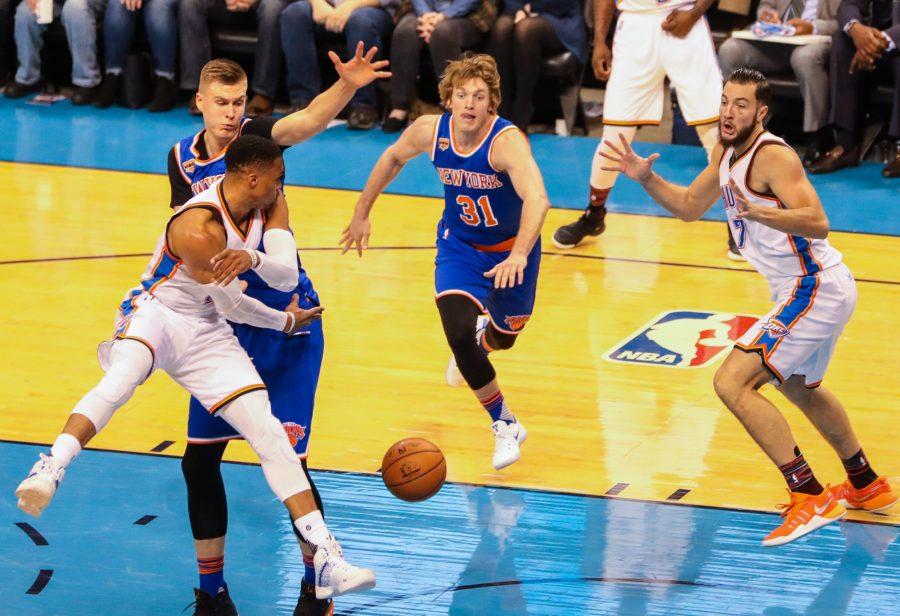 Ron Baker is living his boyhood dream.
The former Wichita State All-American returned to the Midwest on Wednesday for a homecoming. Baker, a shooting guard for the New York Knicks, played 18 minutes against Russell Westbrook and the Oklahoma City Thunder.
Life is much different for Baker, or "Burgundy," as he's known to his teammates.
Ron Burgundy is a mythological character, Baker said. He's a spinoff from the comedy classic "Anchorman," starred by Will Ferrell. Yet, when new teammate Carmelo Anthony first took glance at Baker, he thought Burgundy was the better fit for the NBA rookie.
"The first day he met me, he started calling me Burgundy," Baker said. "Melo said it on national television and it started gaining some publicity."
Baker didn't have much of a choice as the charismatic name he bears, it's just part of the business, he said. Anthony, a forward for the Knicks, is usually the first one to give Baker the "rookie treatment."
Being a rookie in the NBA means being the subject of the handfuls of pranks — having practice gear stolen, post-game meals picked up and hidden. Nothing to cause anything more than simple frustrations, but certainly enough to cause Baker's nerves to rise in his first few weeks with the team.
"I don't mind them," Baker said. "I'm just happy to have these guys on my team."
A chance of harmless revenge, that's out of the question for this rookie.
"There's no chance of that happening. Not this year," Baker said.
Baker's dedicated to making his hardworking abilities show for the Knicks. Driving his Hyundai from his home in White Plains, New York, to the Knicks' home court Madison Square Garden more than three hours before a tip-off is routine now.
He's proud to say that he can finally make the drive into the big city without GPS assistance. The Scott City product is more removed than his teammates tease him for, as they routinely joke around with strong Kansas draws.  
Life's different, but Baker said he's happy he still can play the game he loves.
"Another solid day in the NBA," he says every game, win or lose.
In his free time, Baker keeps tabs on his alma mater, Wichita State.
"I miss the people more than anything," Baker said.
He's seen two games this season. He said it's a different team this year, and he kind of likes watching the newcomers.
Baker's heard the comparisons to Shocker freshman Austin Reaves. He sees them, too.
"He's got the talent, the skill and a good feel for the game," Baker said. "You can tell his IQ is there. He's going to be good once he gets strong.
"He's fun to watch."
Weeks later, he said he's still in amazement to see his team defeat Illinois State by a spread of 41 points.
"Crazy," he said.
Creighton defeated the Shockers by 12 in Baker's freshman season. Baker remembered that particular game as being a large spread for two Missouri Valley teams ranked No. 1 and No. 2, but fast-forward to 2017.
"Forty points? That's a different story," Baker said.
The NBA life is a dream come true, and Baker cool, calm and collected said he's out having fun.
He scored six points, with two assists and a rebound in 18 minutes of play Wednesday.
What's next for Baker's breakthrough rookie season? Possibly a sponsorship deal with Hyundai.
"Pssssshhhhhh, maybe," Baker said.
"Business is coming" @Hyundai https://t.co/mllmY4cfdF

— Ron Baker (@RonBaker31) February 3, 2017
About the Writer
Evan Pflugradt, Sports Editor
Evan Pflugradt is the former Sports Editor of The Sunflower.

Pflugradt past served as the publication's Editor in Chief, Opinion Editor and a reporter....