Beach: Margin of victory could help sway selection committee
Fans and pundits alike are torn on where Wichita State currently stands in the eyes of the NCAA Tournament selection committee.
Where should they look for an answer?
Win margin.
The Shockers' average point differential in games this season is above 18. That's not only in victories, it's all 30 games they have played.
ESPN's Joe Lunardi currently slates the Shockers as a nine-seed in the Midwest region.
The Shockers' best wins at the moment? Illinois State by 41.
Illinois State is on the ropes and their NCAA Tournament hopes are hanging on by a thread.
The Shockers next most valuable win is likely a road win against Colorado State, who currently leads the Mountain West Conference. Shocker fans should be praying CSU wins the Mountain West Tournament for added comfort.
Should the Shocker faithful fear the fringe?
Yes, a team that's 25-4 should still be a little bit worried in terms of an at-large bid. However, they have one saving grace. Their winning margin, especially of late, has been astronomical.
In their current 11-game winning streak, the Shockers have played to an average winning margin of more than 23 points.
For the first time in decades the Shockers are averaging more than 80 points per game. Historically, offensive teams thrive in the NCAA Tournament.
Gregg Marshall knows he doesn't have the star factor on his roster that very well could have helped his team get into the tournament last season, yet he has not let his team take their foot off the pedal.
Marshall has made sure no matter what the score of the game is, he has not let his team stop from scoring on every possession during Valley play.
The Shocker have one conference game away at Springfield, Missouri, Saturday at Missouri State. They await a potential fall from the top spot from Illinois State who travels to Northern Iowa on Saturday.
If the Shockers can manage to win Saturday by 15-20 points at least, they'll be in good shape. They will have 27 wins and their lack of quality wins will matter less.
Led by the stellar guard play of Conner Frankamp and Landry Shamet of late, the Shockers remain the favorite to win the automatic bid in the Missouri Valley. They should becoming less and less concerned with the way their playing.
Leave a Comment
About the Writer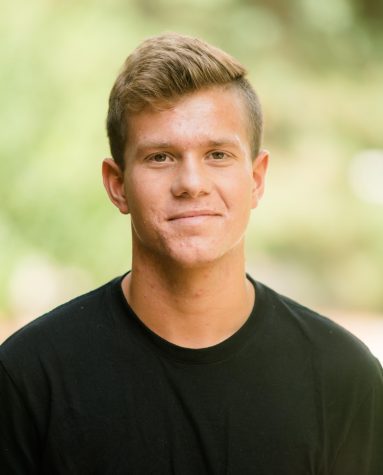 Nick Beach, Former reporter
Nick Beach served as a reporter for The Sunflower. Beach served as a sports reporter and columnist, as well as a movie critic. Beach is from the coastal...