Beach: Moonlight stuns La La Land to wrap up Oscars
It was going just like the book. All the favorites were running away with all the big categories and even some of the smaller ones.
"La La Land," a love driven musical taking place in beautiful Los Angeles, was long considered the favorite to take home best picture and did pretty well in its other categories after tying a record with 14 nominations.
Sure enough, we thought it was the winner. Warren Beatty wrongly announced "La La Land" instead of "Moonlight" before a correction, and the cast and crew of "Moonlight" crept on stage to claim their awards.
What a cap to a fantastic 2016 that brought the world of movies some serious gems. It's worth talking about some of the smaller awards as well.
"Manchester By The Sea" was one of the best films of the year and it took home the main two categories it deserved — best original screenplay and best actor for Casey Affleck.
Affleck gives the best performance on screen of any actor or actress from 2016 and he will enter the ranks of the greats now that he's been officially recognized on such a huge stage.
Affleck could not have done it without writer/director Kenneth Lonergan and his beautiful screenplay that so well accurately portrays real life grief in the lives of young people and adults.
Mel Gibson's Hacksaw Ridge took home trophies for sound mixing and film editing, which is great to see. It's one of the best war films in a long time and the battle scenes are amazing — the technical awards were well deserved.
Mahershala Ali (Moonlight), Viola Davis (Fences) and Emma Stone (La La Land) won the other acting awards for supporting actor, supporting actress and lead actress, respectively. All three were more than deserving but not much of a surprise here.
Damien Chazelle won best director for "La La Land" in lieu of multiple other victories such as cinematography and best original score.
Jimmy Kimmel was hilarious and had to be one of the best hosts in a long time. His back and forth with Matt Damon was great and I couldn't get enough.
The big storyline occurred at the end of the show when "La La Land" was announced as the winner of Best Picture but Moonlight had actually won. The cast and crew of "La La Land" literally had to hand their trophies over to "Moonlight" in arguably one of the craziest stories in Academy Awards history.
Warren Beatty is going to catch a lot of flak for this blunder but it wasn't his fault. They handed him the wrong envelope that was for Emma Stone's victory that had just been announced. Come on producers, how do you let this happen?
Why this matters? Even though "Moonlight" was probably the second most likely to win all along "La La Land" was such a heavy favorite and it won so many awards leading up to that it seemed inevitable.
In a perfect world I think "Hacksaw Ridge" should have won Best Picture but I acknowledge that "La La Land" was easily the best made film of the year and for that it should have won.
Nonetheless, "Moonlight" was a good film and deserves every honor it receives. Hats off to director Barry Jenkins. He created a stunning story of race, hardship and forgiveness beautifully shot in the slums of Miami.
So many great films were honored during this year's show and it just goes to show how lucky we are to have so many great movies to see.
What a fitting end to awards season. Until next year, Oscars — you were one heck of a ride.
View Comments(1)
About the Contributor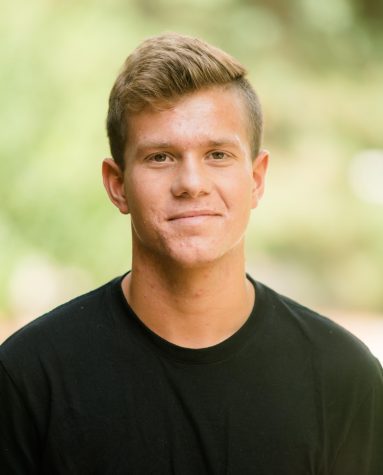 Nick Beach, Former reporter
Nick Beach served as a reporter for The Sunflower. Beach served as a sports reporter and columnist, as well as a movie critic. Beach is from the coastal...