SGA Debates: A disappoinment
What should have been a heated debated about contrasting viewpoints on key issues at a turning point on campus Friday night turned out to be a friendly, positive, amicable and largely apolitical presentation of each ticket's platform. And it was disappointing.
It wasn't the strength of the questions that made it a weak debate. There were 57 questions asked, including pointed questions from the audience about the sit-in protest, Innovation Campus, guns on campus and Black Lives Matter. There were plenty of opportunities for disagreement.
But the debate was filled with what seemed to be both tickets' attempts to seem like the "No Trouble" ticket at a time when the university administration has said it wants to "really focus on a relationship" with the winning ticket after the elections. No one disagreed. The tickets complimented each other at every turn and passed on most of their opportunities for rebuttal.
There was very little disagreement, so there was very little clarification. Both tickets vocalized support for similar student-first causes, an appreciation of diversity and the need to involve more students on campus. No one was challenged the entire debate.
The Sunflower invited the candidates to attend a debate hosted and moderated by our editors Sunday afternoon, but Banuelos and Hungate both turned down the offer. 
Tensions between SGA and the administration are at an all-time high. Anyone paying attention to SGA has a gut feeling about where each side stands, but I don't think any of the 700 people — 200 at the CAC Theater and 500 online — who watched the debate came away with a clear sense of who was who.
It's hard to say what I really wanted out of the debate. A challenge? An exchange? Anything resembling a competition?
Whoever loses this election will look back at the debate as a missed opportunity, a failure, a surrender. Whoever wins will look back and smile, relieved they didn't have to fight to convince anyone.
Leave a Comment
About the Writer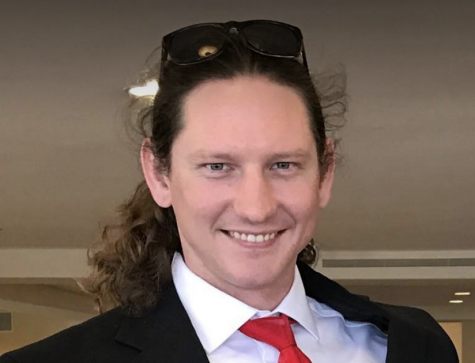 Chance Swaim, Former Editor in Chief
Chance Swaim was the Editor in Chief of The Sunflower from fall 2017 to spring 2018.

Swaim was a graduate student in the English Department working...