I finished the damn thing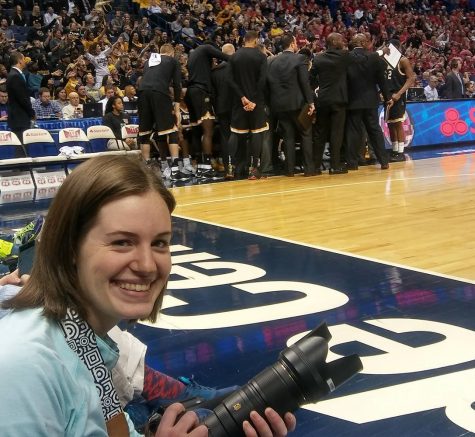 From photographing Shockers basketball courtside to traveling to D.C. for a journalism conference, college has given me more incredible experiences than I could have ever imagined.
The irony is I didn't want to go to college. I didn't want a four-year detour to the rest of my life.
I never could've imagined the ways college would shape my future.
Early in my sophomore year, I made a decision. I chose to say yes to trying anything new that interested me. In contrast, growing up I had rarely tried new things because it meant possible failure.
Stepping out of my comfort zone to embrace new adventures turned out to be the most important decision I made in college.
My sophomore year I took a rock climbing class. Junior year I joined Wichita State's Shooting Sports team, both with no previous experience.
Later, I became an officer in both clubs. These activities have helped me de-stress after school, taught me perseverance and given me great friendships.
I challenge you to seek out something new and jump in with both feet. Who knows? It may turn into a lifelong hobby or even a job.
Junior year I realized I had no idea what I wanted to do after school. My major was entrepreneurship which I enjoyed, but it gave me little direction.
I sat down and made a list of everything I loved. Photography made the list, specifically telling people's stories through photographs. This discovery led me to add a communication minor in the spring of junior year. In the fall of my senior year, I began working for The Sunflower.
My time at The Sunflower has taught me to never settle for doing something less than what I love. It's also taught me that everyone has a story.
I'm grateful for the opportunities and career direction The Sunflower has given me. Almost every assignment pushes me to try something new.
My advice for college students is to find out what you love and pursue it. No dream is too big if you are willing to put in the work. Let your dreams change and grow, just never stop dreaming. Never let a fear of failing stop you from trying.
Leave a Comment
About the Contributors
Hannah Roberts, Photographer
Hannah Roberts is a photographer for The Sunflower. Roberts is a senior majoring in entrepreneurship and minoring in communications. She was born and...
Sam Belsan, Reporter
Sam Belsan is a reporter for The Sunflower.