'All is new here': Freshmen bond over international student experience
From ornate castles to gourmet foods, France is world-famous for a multitude of things. Basketball isn't one of them.
Alyssia Faye, a freshman forward for the Shocker Women's Basketball team and a native of Valence, France, has found her sport of choice to be exponentially more popular in the United States.
"The people here really, really enjoy basketball, and in France, we don't have that culture," Faye said.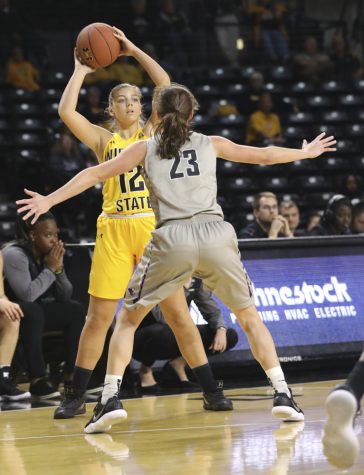 Fanny Hakanson, a Shocker freshman guard from Stockholm, Sweden, said basketball was the driving force behind her decision to come to the U.S. for college.
"[Basketball in Sweden] is so much smaller than here," Hakanson said. "That's one thing that made me want to come here, because it's so big here and it makes it more fun."
Both Faye and Hakanson had only been to the U.S. once before committing to Wichita State.
"It's a really big difference from Sweden, but I like it," Hakanson said. "People are so nice and the team is so nice, so everything is good so far."
Teams are almost always tight-knit units, but, when players are far from their loved ones, they can also serve as de facto families.
"I think that [the team is] really important because it's all that I get here, so I really enjoy being with my team and all that because I don't have my family here," Faye said.
Besides Faye and Hakanson, there are two other international students on the women's basketball team — junior Cesaria Ambrosia from Fully, Switzerland and sophomore Khady Sene from Mbour, Senegal.
Faye said she has formed a special bond with Hakanson over their shared experience as freshman international students.
"We have a lot of things in common because we're from Europe too, so we share the same experience," Faye said. "We are freshman. All is new here — it's a new country, new language."
Hakanson said she and Faye help each other through the hard times as they continue to adjust to life in a new coutry.
"We can talk about everything — like when we miss home and something is really different here," Hakanson said. "It's really good because we can talk about it and we have each other."
Leave a Comment
About the Contributors
Matthew Kelly, Former Editor in Chief
Matthew Kelly is a former editor in chief and managing editor for The Sunflower.  Kelly graduated in 2020 with a bachelor's degree in political science...
Matt Crow, Former Sports Editor
Matt Crow is the Sports Editor for The Sunflower. Crow is a senior at Wichita State majoring in communications with an emphasis is electronic media. He...