Behind the lens: Team photographer Jeff Tuttle talks photos, basketball, memories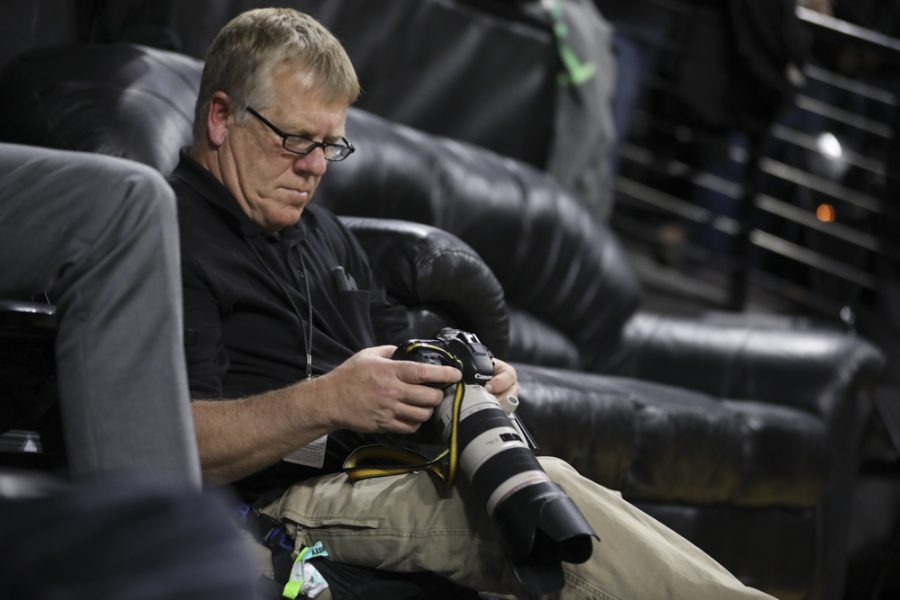 Wichita State Men's Basketball photographer Jeff Tuttle is a freelancer from Augusta, Kansas. A graduate of Kansas State, Tuttle was a staff photographer for the Wichita Eagle for 20 years and the Herald in Jasper, Indiana, for two years. He left the newspaper industry eight years ago to start his own photography business. Here, Tuttle explains why he got into photography and shares his experiences documenting men's basketball for Go Shockers and Wichita State Strategic Communications over the last six years.
What inspired you to pick up photography?
"I was 21 before I ever picked up a camera. My wife bought me a camera for a wedding gift. I loved sports photography, but I never looked at the pictures as anything other than 'That's a cool action shot.' I didn't really think about the photography part of it."
"After I got the camera — this was about 1981 — I would go out to WSU and shoot roll after roll of film, trying to get good shots of the baseball team. And then I shot a few Wichita State basketball games with Antoine Carr, back in those days. I'm not even sure how I got down to the floor to shoot that — I don't think I had a pass."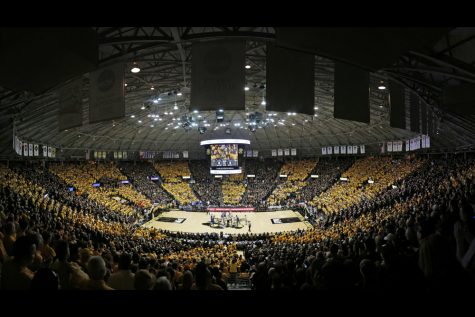 How long have you been shooting men's basketball?
"I didn't shoot basketball again until I started at The Eagle in about '88 or '89. Back then, the Eagle's photo staff was pretty big, so we had beats. Fernando Salazar and I would share Shocker Basketball and Baseball. I also shot Kansas State Football. I was just a beat photographer, and Wichita State was the local team, so several of us shot that."
"I'm old enough that some of those pictures that are on the outside of the arena on the concourse are mine. And then baseball, the big mural, most of those are mine. So yeah, that's my portfolio at 21st and Hillside."
How have you seen the team change and grow over the years?
"I'm old enough to remember how it was in the early '80s with coach Gene Smithson. And then I remember of course Eddie Fogler's teams. They were really good. I noticed a change in Mark Turgeon's teams — they went above and beyond."
"But we were in the tank. We were pretty bad. We had some good players but it never worked out, and then the whole thing changed when coach Marshall came. People probably don't remember or think about it, but he's won everywhere he's gone. He was very successful at Winthrop for 10 years. He came here and was kind of handed a rough deal, but Shocker Nation was hungry enough to be patient. From that first year when they won the NIT, it has just grown from there. I've noticed more than anything how the community has gotten really, really excited about Shocker Basketball, which has really helped our town and our city. That's what I see."
"Obviously, [Marshall] is gonna win, but it's not just that — he's really helped our city and the university too. It's been a great deal. He's done a great job and he's awesome to work with."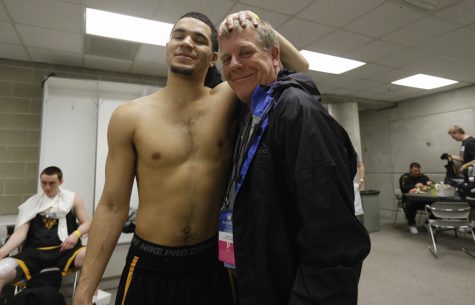 What does the team photographer get to see that no one else does?
"Other team photographers from other schools, rarely do they get to go into the locker room before the game. They may get to go in after a win, but rarely before, because it can be a distraction. I've been doing it long enough with these guys that they kind of don't even notice me."
"I was there when Marshall wrote 'play angry' on the chalkboard for the first time. Seeing what that grew into was awesome. I was there before the Final Four when he gave the pregame speech. I don't go in at half time. I figure I don't want to be there for that. But that also means you're in there for some pretty big victories. When we beat Gonzaga, the pictures were amazing."
"Before the game, they talk a lot about basketball, and I didn't play. I played in my front yard, but I have no idea what they're talking about. Baseball guy here, you know. I just don't get it. I've played sports. I wasn't very good. So it's kind of cool to hang out with a bunch of thoroughbred athletes. I'm just a short old guy with no basketball skills at all."
"I've also been in the locker room after some great wins and through some tough losses. And that's really, really hard. I work in the locker room after the game, so I find a little hole and kind of hide and send my pictures back to the university. So that's tough. Kids and coaches, after they lose a big game, that's a tough thing to see. And I don't photograph that. I usually go hide. It's a hell of a lot nicer when we win, you know? But that's part of the sports. You want to hug those kids, and I have. I've had really good relationships with all the players, and I've had my favorites that have been my guys. And not all of them were the stars."
Who are some of those favorites?
"Tekele Cotton was a quiet kid, but very, very, very funny. He loved my camera equipment and would get that stuff out and play with it. He loved all that stuff. He was a good kid."
"Fred VanVleet — I got to know him really well. Fred was a real great basketball player, but also a really solid kid. The day my mom passed away, I got a text from Fred, and one from another kid, J.R. Simon. And those kids — J.R. and Zach Bush from last year — just great guys.
"Right now, Shaq's my guy. For whatever reason, it's great to have the biggest guy on the team on your side. He's just a sweet kid. Coaches too. Coach Marshall lets me do pretty much whatever I want. Hopefully I'm documenting some things that will be in Wichita State history forever — long after I'm gone, long after Marshall is gone. That's why we're doing this."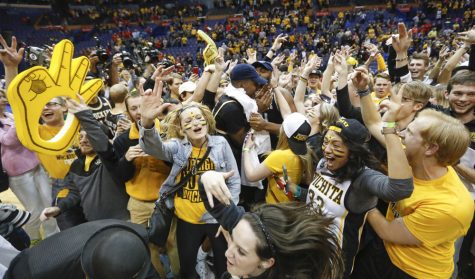 What have been some of the most defining or iconic moments that you've shot at a game?
"Beating the big teams. When we beat Ohio State to get to the Final Four. Obviously the Final Four was the highlight, but the win over Gonzaga, oh my gosh, that was insane. Beating Kansas, I'm a K-State guy so of course I loved that, but it was big to Wichita State — fans stick their chests out a little bit like, 'We beat big brother.'"
"To travel with these guys and get to know them a little bit helps you to understand that they're just kids. They may be 6'9", but they're just kids. And they're a lot of fun. And they work hard. They work really hard. The tournaments are probably a little bit more fun for me than them, because they get very little free time. And I've seen probably a lot of things I can't tell you about. Let me just put it this way — I know when to walk out of the room."
Outside of basketball, what have been some of your proudest photography moments?
"I'm proud of what I did at the newspaper, at The Eagle. We just had such a great staff. We did some really neat things there that, unfortunately, are maybe in the rearview mirror for that industry, which is a lot of the reason I got out of it and went out on my own. When I left the newspaper business, I didn't have a whole lot to bank on, but I wanted to stay a photojournalist. And I don't make a ton of money, but I've been able to maintain what I need to keep my head above water. I put kids through college, I have a house, I made a living with a camera — and I still love doing it. And sports is probably just 10 percent of my business. I work for the Kansas Leadership Center, and they publish a quarterly magazine called The Journal. And I'm really, really proud of it. It's my baby, and I'm constantly working on photo stories. It's an amazing thing."
What's the key to photography?
"It's tougher now. When I started, there wasn't a phone you can take a picture with. And now I'm editing pictures on my iPad now, so it's changed. If you want to do it, you have to live and breathe it. I don't think there's any shortcuts. I think you get better by, just like anything, practicing and failing and realizing why you failed."
"And to a young photographer now . . . I don't know. My son is 22 and he's very good, a very good photographer. But there's nowhere for our kind to work anymore."
"There were 17 photo positions at The Eagle when I started. Now there's four. They're still doing a great job with four, but it's harder. You don't get to do some of the things you used to do when you had a full staff, and then there's the business side. It's' tough. It's tough. You gotta work hard. You gotta work hard. You have to love it or it's not going to work — that more than anything. You gotta want to do it."
About the Contributor
Andrew Linnabary, Digital Managing Editor
Andrew Linnabary is the 2018-2019 Digital Managing Editor of The Sunflower.

He is a senior studying journalism and minoring in English. Linnabary is...