Two stress fractures won't define Shocker point guard Landry Shamet
Wichita State point guard Landry Shamet is set for what could be a breakout season
Before college, sophomore Landry Shamet hadn't experienced much injury in his life.
His mother, Melanie Shamet, said Landry never experienced anything more than a jammed finger or a rolled ankle — nothing that would sideline him for more than a day or two from basketball, baseball or dirt biking.
But in less than two years at Wichita State, Shamet, 20, has endured two stress fractures on his feet. He underwent surgery to repair the fifth metatarsal on his right foot on July 31 after sustaining the injury in a scrimmage at the Under Armour All America Camp.
But Shamet said it isn't a setback. He said he considers the titanium in each of his feet a motivation tool.
Sitting on the sideline can be the most painful part of an injury.
Back on the court, Shamet made his presence felt in 12 minutes of action during Monday's charity exhibition game with city-rival Newman, going 3-3 from the field for eight points while picking up two assists and two rebounds — a selfless performance.
"I'm back  . . .  I'm at Coach's full disposal for what he needs Friday and games there out," Shamet said post-game Monday.
In three years, Shamet has learned lessons about patience. He watched All-Americans Fred VanVleet and Ron Baker from the bench his freshman season. Now the NBA pros watch him.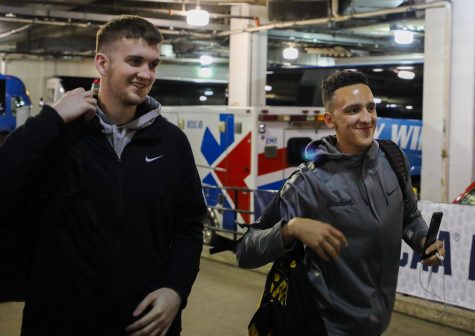 Even off the court, bearing crutches, Shamet worked on his game during the offseason. His goal, he said, was to be more vocal.
"I've been working on being more engaged and involved when I'm not on the floor," Shamet said. "I don't think it will take me long to get up to speed."
National pundits agree, predicting a bright year for the sophomore point guard.
Shamet was one of 32 players named to the Oscar Robertson Trophy watch list, which is awarded to college basketball's player of the year, as voted on by the U.S. Basketball Writers Association.
Shamet was also named to the Bob Cousy watch list, which recognizes the best point guard in college basketball.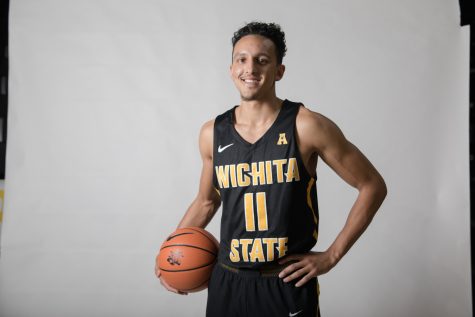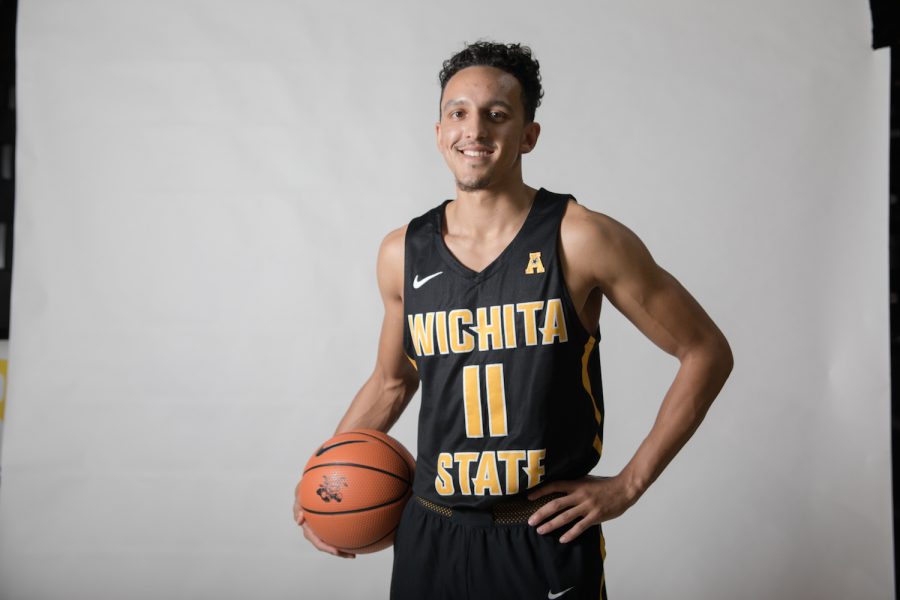 Individual awards aside, Shamet said he wants to approach this season as a team challenge.
"We don't have guys saying they want to be player of the year or national player of the year," Shamet said. "It's all about what we can do as a team, and we're going to let that carry us as far as we can.
"We're approaching this season with our eyes on a National Championship."
"
We're approaching this season with our eyes on a National Championship."
— Landry Shamet
Taking Point Guard
Landry Shamet is naturally a shooting guard.
Following VanVleet's departure, Wichita State had an opening for a leader to command the point. Shamet admitted to coaches that he believed his talents would better fit the two-guard spot.
Gregg Marshall and the Shocker coaching staff experimented, placing sharp-shooting off-guard Conner Frankamp and Daishon Smith in the point guard role. After the Shockers fell to Illinois State by double digits in a battle for the top-spot in the Missouri Valley Conference, coaches took a hard look at the team. They realized they needed Shamet as point guard.
Shamet flourished, averaging 11.4 points per game and posting a 3-to-1 assists-to-turnover ratio — the third best among freshmen in college basketball. UCLA's Lonzo Ball finished marginally better. Shamet scored in double figures 23 times and topped 20 points in three appearances.
"The move opened up a lot for us," Shamet said.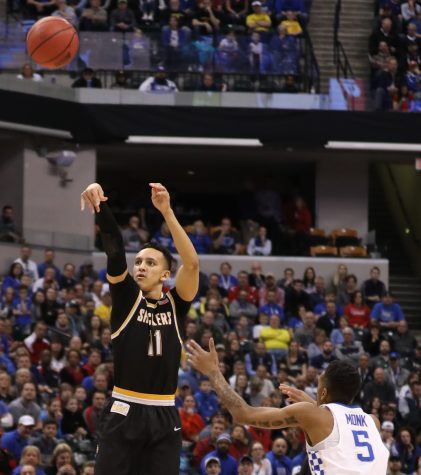 Following Shamet's move to the point, WSU went 16-1, with just one, three-point loss at the hands of Kentucky in the NCAA tournament.
Shamet finished his redshirt-freshman season averaging 44 percent from three-point range and boasting an active streak of 25 games with a three, just two games shy of a school record. Against Missouri Valley competition, he shot 52 percent from long distance.
Shamet led an offense that averaged 1.21 points per possession in conference play, slightly better than a Lonzo Ball-led UCLA team that posted 1.20 points per possession.
"I think I hit a point where I took a lot more of that on my own plate, took pride in it, and wanted to take up more of a role offensively and more of a leadership role," Shamet said.
Leave a Comment