Artist Series features violin professor
Emotions full of complexity, beauty, colors, energy and heat are a few ways Betul Soykan, violin professor, describes her upcoming performance with the Wichita State Artist Series.
In collaboration with Brad Baker, pianist, and Ben Cline, cellist, Soykan will perform in a Violin and Piano Trio Recital at 7:30 p.m. on Tuesday in Wiedemann Hall. The concert will feature works of Rachmaninoff, Shostakovich and Higdon with new life and purpose.
"I am in love with Rachmaninoff and all his works," Soykan said. "That's why I have decided to transcribe the cello sonata for the violin."
Though Soykan's love for the composer flourishes, his works for violin do not. According to Soykan's research, Rachmoninoff had intentions of a violin composition that ultimately transformed into a cello sonata.
"This work is highly emotional and full of colors, known for one of his most beloved chamber works," Soykan said.
Soykan hopes that the same colors and emotion transfer in her transcription of the cello sonata to violin and overall performance. She hopes to give the violin a unique voice that a cello does not have, and enhance the overall piece.
"The first draft of the transcription was easy," Soykan said. "Later on I had to find many different ways to bring out the violin qualities without trying to imitate the cello."
Complementing the colorful tones of Rachmaninoff, Higdon's two-movement trio features "paling yellows and fiery reds."
"The audience will certainly hear the lush colors of pale yellow in the first movement while the second movement heats up the air in fiery red with continuous sixteenth notes in all instruments," Soykan said.
Soykan is excited about this performance of the Higdon trio because it will be the premier for Kansas. This performance also marks the beginning of diversifying music across the state, as the group is booking a midwestern tour next season.
As simple complexity marks the contrasting elements within the program, the trio finds a balance between pieces in their set.
"We aim to introduce more than just traditional repertoire, looking to bring out neglected composers, their works as well as contemporary and local composers to the Kansas audience."
Leave a Comment
About the Writer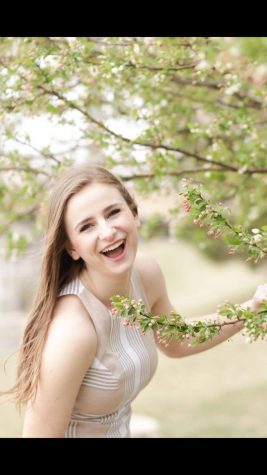 Abigail Faflick, Former reporter
Abigail Faflick was a reporter for the Sunflower. She is from Wichita, Kansas.