Farewell from Byrne: Love into livelihood – Be proud, be brave, believe
It's weird to realize the past seven years of my life have led up to writing a farewell column for The Sunflower, especially when I've only been on staff at the newspaper for two.
But it's impossible for me to consider the conclusion of my time at The Sunflower without reflecting on the past near decade because that's how long people have been scoffing at my choice to earn two degrees, a bachelor's of fine arts (UMaine Farmington) and a master's of fine arts (Wichita State), in creative writing. Seven years of people telling me I was wasting my time and money, that they hoped I enjoyed employment in food service, or just straight up laughing at me.
If you've ever said some variation of the above to me, if you've ever said some variation of the above to anyone pursuing a "worthless" degree, eat shit.
If you're currently pursuing a "worthless" degree, listen up.
I refused to major in something I didn't love. I refused to allow my passion to be reduced to a hobby in my life. I refused to let anyone's notion of what my life should be dictate what I would make my life be.
I squeezed extra classes into my schedule. I enrolled in classes that I knew I would struggle in, and then barely made it through to finals. I went after internship, after internship—I've completed six. I've worked jobs I loved and slugged through jobs that I needed to make ends meet. Some of those jobs have turned out to be the most valuable.
I didn't join The Sunflower as an aspiring journalist. I didn't join because I wanted career experience. I applied in May of 2016 because I needed an extra paycheck due to the fact that Wichita State decided that my monetary value as an English graduate teaching assistant was only $8,500 per year.
All that work adds up.
This past Monday, a full two weeks prior to graduation, I worked the first day of my dream job.
The position wasn't handed to me because of my degrees. I earned it because I took hold of my time in higher education, put my head down, and wrung out every opportunity I could take.
If you love a subject hard enough, you'll find a way to turn it into a livelihood. If you can't figure out how, the hard truth is maybe you didn't love it as much as you thought.
There's no shame in realizing that. Rather, you have the responsibility to be honest with yourself.
College students hear "be responsible" a lot, but the true responsibility of earning a degree isn't about turning in papers on time, taking notes in class, or reading the syllabus (although speaking as an instructor, it is appreciated when you do). It's about taking charge of your life and the actions that shape it in both the present and the future.
Metrics for "success"— GPA, salary, title, degree — are all lies. The concept of success is fluid and unique to every individual. Define personal success however you want and reevaluate it often. Be proud of yourself when you fulfill goals. Be brave enough to admit when you failed. Believe in yourself to change what you need to.
The only person who can judge your success is you — tell anyone who says otherwise to eat shit.
Leave a Comment
About the Writer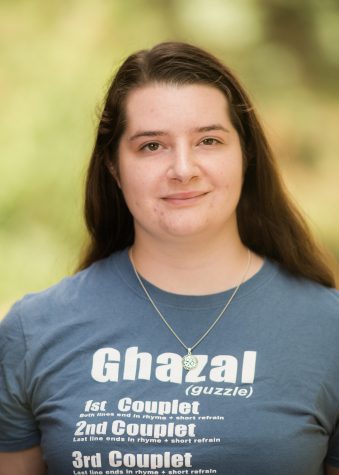 Nicole Byrne, Former digital editor
Nicole Byrne was a digital editor for The Sunflower. Despite her better judgment, she developed a crippling addiction to poetry. She self-medicates with...