Farewell from Swaim: I don't do goodbyes
If I'm not going to see someone again, it's probably for good reason. This bunch at The Sunflower — I'll be seeing them around.
I'm thankful for a lot of different people who have come into my life at Wichita State, and I will make sure they all know it before I leave.
To the readers who stuck with The Sunflower through this hectic year, thank you. It has been my honor to serve as editor in chief of the student newspaper, and thank you, everyone, for the awesome ride.
To my teachers, including my former editors, Shelby Reynolds and Evan Pflugradt, thank you for giving me room to grow as a journalist and a person.
To the people who made my job tougher than it had to be, you taught me how to find answers even when no one is willing to talk.
What a year. I did the best I could, and I trust that my successor, Matthew Kelly, who I admire big time, will continue the hard, serious work required of an editor in chief. Kelly: don't back down, trust your instincts, and keep your composure.
The first time I stepped foot on Wichita State's campus, I was 9 years old. My brother was taking a summer class, mostly for the library access, and one day he took me to Ablah Library. The number of books lining the shelves astounded me, and I remember the healthy but panicked feeling of being completely out of my depth.
So many stories — I would never be able to read all of those books, no matter how good I became at reading.
That frustrated me, and it made me feel sad. I feel that way now.
The hard part about life is that it has to end, and as a corollary to that mortality, the need to discriminate, to choose what books to read, where to spend time, and the way to live life. That's also the hard part about journalism.
With a limited staff and the clock ticking each second of the year away, The Sunflower had to choose wisely what to cover. That means some important stories went untold, stories I'll never have the pleasure of writing or reading. If we missed something this year, know that I'm as sorry as anyone.
But I'm damn proud of the stories The Sunflower did tell this year.
If you took the time to let me or any of my stories in to your life the last few years, thank you.
Signing off,
Chance Swaim
Leave a Comment
About the Writer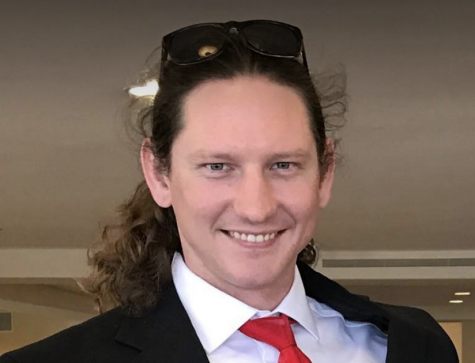 Chance Swaim, Former Editor in Chief
Chance Swaim was the Editor in Chief of The Sunflower from fall 2017 to spring 2018.

Swaim was a graduate student in the English Department working...