Column: Questions about conflicts of interest on Innovation Campus set the tone for this year
As my time with The Sunflower ends, I feel it's important to share the interview that essentially started my year as editor in chief.
Wichita State had just announced it would move about 300 students from Fairmount Towers to The Flats on Innovation Campus after four out of five beds in the expensive dorms remained unfilled, despite rate adjustments and a marketing campaign. The situation was complicated by the fact The Flats was owned, in part, by the chairman of the Kansas Board of Regents.
The Flats was originally to be geared towards upperclassmen and graduate students and run like a private apartment complex by its developers. At an Innovation Alliance board meeting in February, Vice President for Strategic Communications Lou Heldman paused the meeting and asked me if I had any more questions about The Flats. I asked about the arrangement and was cut off by Wichita State President John Bardo.
Now, the university said it would be operating the private apartment complex like a dorm through a lease agreement, guaranteeing payments to The Flats. That threw up a lot a red flags for me and many of my friends and colleagues, and I had some basic questions I wanted to ask President Bardo and Vice President for Technology Transfer John Tomblin, who are both in charge of awarding contracts to Innovation Campus developers, about their relationships with those developers and potential conflicts of interest.
I went to Morrison Hall, where the president has an office, and asked to speak with him. It was the middle of the summer and I thought it was worthwhile enough that President Bardo would want to meet with me. His secretary said he was in a meeting. I told her it was important.
She said he was in a meeting all afternoon. I gave her my cell phone number and told her to pass it along to President Bardo and tried to stress it was important I speak with him. As I learned throughout the year, after email after email went unanswered, President Bardo had no intention to talk to me about anything.
I went an entire year as the editor in chief of the university newspaper without speaking to President Bardo, aside from an elevator interview in Topeka following a Kansas Board of Regents meeting in June. That's too bad, but I'm sure I'm not the only one he ghosted this year (when's the last time he addressed the student body?).
President Bardo's secretary wrote down my cell phone number and insisted I speak to Heldman, the university spokesman. She led me to his office and we set up a meeting for the next day. Andy Schlapp and David Moses showed up for the interview, too. No Bardo. No Tomblin.
I truly believe the questions and concerns raised in this interview led to the cut The Sunflower's budget received this spring.
The audio of that interview and a complete transcript are available below.
———
Full transcript of interview: (HTML): Questions about conflicts of interest on Innovation Campus (PDF): Questions about conflicts of interest on Innovation Campus
Leave a Comment
About the Writer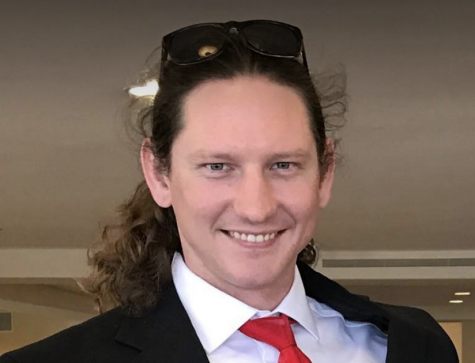 Chance Swaim, Former Editor in Chief
Chance Swaim was the Editor in Chief of The Sunflower from fall 2017 to spring 2018.

Swaim was a graduate student in the English Department working...