Drake: Cutthroat killer and gushing crooner — or so he'd have you believe
Aubrey Graham isn't just upset. He's bored — or at least he sounds like it.
Is he bored of us? Are we bored of him?
It doesn't seem like the latter. He recently found himself on the receiving end of a scathing Pusha T diss, and came out mostly unharmed, proven by the numbers "Scorpion," his latest album, is racking up. It just broke the all-time single-week streaming record.
But with each new release, Drake sounds increasingly bored. "More Life," his latest before "Scorpion," worked in spite of Drake, not because of him, and he seems content with putting out the same songs to diminishing returns.
And yes, "Scorpion" lacks much of a sting.
Before getting into that, let's look to one of the actor-turned-rapper's earliest charms — now the prevailing trope of the Drake brand — relatability.
The guy knows his audience. It's the people that made "Scorpion" go platinum in less than 24 hours — the streaming generation. The Vine generation. The meme generation. Coincidentally, Drake has more or less devolved into a meme himself, through songs, pictures and, really, his overall presence.
Enter "Scorpion," his fifth LP. "Scorpion" is split into an A and B side — the former largely rap, the latter R&B. At 25 tracks, this thing is hefty. And yeah, the baggage shows. Drake becomes a caricature of his signature moody style throughout.
The A side is rap in the vein of "If You're Reading This, It's Too Late," or "Views," or "More Life" — really, all of Drake's recent output. It's disappointingly familiar — reminiscent of the oversaturation his "What a Time to Be Alive" collaborator, Future, has occasionally fallen into.
And despite his multi-album campaign to prove how hard he is, Drake is still unconvincing when delivering lines like "I f**k with the mob and I got ties."
But still, it's the new Drizzy Drake, bro. It's the rap your friends who don't like rap music will download.
To balance out Drake's coldness on the trap cuts ("Nonstop," "Mob Ties," "Can't Take a Joke"), we're treated to his reflective, insightful alter-ego ("Emotionless," "Sandra's Rose," and more).
Here, Drake's like so relatable it's crazy, right?
"I know a girl whose one goal was to visit Rome," Drake raps on "Emotionless," "Then she finally got to Rome/And all she did was post pictures for people at home."
He then goes on to describe more women who are definitely real, not created to be part of a Drake song, including "a girl happily married 'til she puts down her phone" and "a girl that saves pictures from places she's flown."
Does he actually know these women? Maybe. Did he or his ghostwriters write these lines because everyone in this generation knows someone who lives and breathes through social media? Probably. Faux-deep lyrics like these pervade Drake songs when he's being "raw" or "insightful."
It wouldn't seem so factory-made if he hadn't been saying these same things in slightly different ways for years.
And yes, as Pusha T revealed, Drake has a child — "I wasn't hiding my kid from the world/I was hiding the world from my kid," Drake raps on "Emotionless" (He ventures from topic to topic on the track). It's one of a handful of references to his son, Adonis, peppered throughout the 25 tracks.
So, at least he has one new thing to rap about, even if it's hard to not wonder if he'd be rapping about his son without Pusha T's diss. "You are hiding a child, let that boy come home." Weeks later, Pusha's fatal stab on the "The Story of Adidon" diss still resonates more than any of Drake's lines about Adonis.
The B side, while interspersed with the occasional melodic banger, is slower, showcases singing Drake — and has a Michael Jackson feature! Which is … okay? Jackson's vocals sound like they were pulled from a rough take, even with the slathering of studio magic thrown on them.
Similar to the A side, much of the second half of "Scorpion" sound like filler material. The 13 tracks are chock-full of moody, atmospheric production — largely courtesy of Drake's right-hand producer, the uber-talented Noah "40" Shebib — that carries the weight of Drake's millennial-age love stories. He's playing "Summer Games." He's "In My Feelings." How old is this guy again?
Thirty-one, to be exact. Here are some choice lyrics from "Summer Games":
Yeah, you say I led you on, but you followed me
I follow one of your friends, you unfollow me
Then you block them so they can't see you likin' someone just like me
Drake can relate to everyone. He can have it both ways. He can be both the cutthroat killer and the gushing crooner. Or so he'd have you believe, it seems.
It's as if, as he raps on "Nonstop," he just flips a switch: one moment he's a hopeless romantic, the next a heartless savage. The more the two fight for the album's identity, the more they seem inauthentic. C'mon Drake, just be yourself, jeez. We've been doing this how long? I thought you'd really open up to me by now.
Grade: C-
Essential cuts: "Nice for What" (the best song here), "Nonstop," "In My Feelings" (only because you're about to hear it any time you go out for the next couple of months), "Talk Up" (if only to hear Jay Z rap "Y'all killed X and let Zimmerman live, shhh, s-streets is done)," and "March 14" (where Drake fully addresses the topic of his son).
Leave a Comment
About the Writer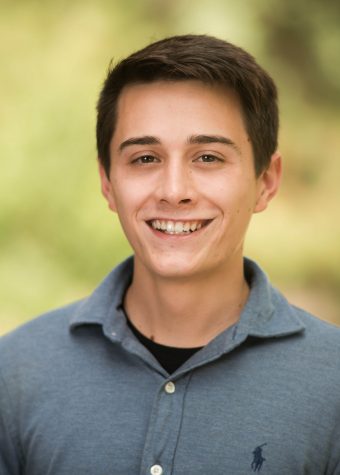 Andrew Linnabary, Former digital managing editor
Andrew Linnabary was the 2018-2019 Digital Managing Editor of The Sunflower. He studied journalism and minored in English. Linnabary is from Wichita, Kansas.