Kansas author pens story collection, kills goldfish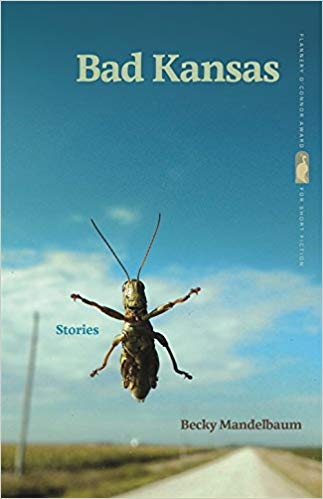 When any author openly admits to strange behavior — say, crafting decorative dolls out of human hair — you should begin reading their work immediately.
Becky Mandelbaum, author of "Bad Kansas," is one such storyteller. She effortlessly shapes the morbidities of life into laughter. In one especially memorable story, "Bald Bear," a pet goldfish named Goldie Prawn is killed via insecticide. The incident is both darkly funny and provocative, forcing readers to question the reality of bizarre yet feasible events. Furthermore, she utilizes such humor to interrogate social dynamics that drive people towards awkwardness and division.
Mandelbaum, winner of the 2016 Flannery O'Connor award for short fiction, has been published in 13 heralded literary journals throughout the U.S. Her acclaimed "Bad Kansas" showcases her authority as a writer in terms of wit and cultural understanding. Most often, she uses her affinity for incisive humor to explore how gender dynamics affect characters' procurement and defense of their convictions.
The aforementioned "Bald Bear" opens with two college-aged women sunbathing on a Kansas beach who are approached by a pair of haggard cowboy types. The two are agreeable to the proposition of leaving with the two hyper-masculine men to attend a party, but doubts grow as dialogue reveals the men's backwards attitudes.
One of the men, Jackson, questions the main character's vegetarianism when she refuses to eat buffalo chicken wings. "He looked at me as if I'd confessed to something shameful, like a case of chlamydia," Mandelbaum writes of Jackson. Yet the narrator doesn't relent, thereby asserting that it is paramount for maintaining one's moral identity to ignore the distaste and judgements of one's peers.
Later, the narrator expresses frustration towards Jackson as his misogyny becomes more apparent: "If they (men) had their way, every woman would be an orphan."
Though the narrator seems open to sexual interaction throughout the story, she maintains a persistent intuition that Jackson would greatly benefit from a shift in his outlook on roles of the opposite gender.
Mandelbaum's narrator maintains a dualistic mindset wherein they are open to promiscuity yet actively cognizant of sexist privilege. This is completely vital for readers, especially those in a college environment where sex and inebriation are common. "Bad Kansas" ultimately offers a sharp discourse on the subject of inherent misogyny.
"Bad Kansas" isn't the first work through which Mandelbaum has investigated the phallic behavior of misogyny. In the 2016 excerpt of comedic prose titled "17 Nicknames for the Modern Penis," Mandelbaum crafts a seemingly endless barrage of quips concerning the male genitals. While her literature invokes laughter, Mandelbaum's works also consistently challenges readers' core beliefs regarding identity and sexuality. 
"Bad Kansas" continues in Mandelbaum's tradition of writing stories that are empathetic, culturally aware, and funny as hell to read. Throughout the collection, Mandelbaum crafts an environment wherein the reader is entertained while simultaneously being shepherded via the medium of creative prose. The result is a literary arena perfectly suited to the generation of cultural understanding.
Check out Bad Kansas for yourself here.
For additional readings of Mandelbaum's work, visit their full site here.
Leave a Comment