Choreographer gives dimension to Seussical through dance
Courtney Wages is focused when she's on stage dancing — almost like a laser, she said. She doesn't get nervous. She gets passionate.
"When (the performance) is clean, it's that laser beam," Wages said.
Wages, a sophomore majoring in musical theater, is the assistant choreographer, dance captain and a member of the ensemble for the Dr. Seuss mashup musical "Seussical."
Wages has been focused her whole life, whether on school, sports, or dancing.
Dancing became a part of Wages's life in the 7th grade. Before that, she spent her time on sports.
"I always liked sports, but in 7th grade I told my mom and dad I wanted to dance," Wages said. "I went to my first ballet class in soccer shorts and a soccer jersey with no shoes on."
"My teacher had to explain to me that in ballet class you wear pink tights and a black leotard."
Wages quickly started channeling the energy she spent on sports into dancing and eventually fell in love with it.
"It's passion and energy, and no matter what show it is, you're telling a story and you are making people leave their seats at a different perspective than when they came in."
In "Seussical," Wages plays a fish, a Who, a military cadet, and more.
It's a show with "a lot of imagination," she said. And the show's message is universal — "Turn your can'ts into cans and your dreams into plans," Wages said.
Auditions began in August, and rehearsals began in September.
Those rehearsals meant a lot of late nights for Wages and her fellow cast members.
"We all have went to our 8 a.m. [classes] tired because we were at rehearsal late," Wages said. "You can't go to sleep because you just want to do it again."
"Seussical" performances begin Thursday.
Before the shows, Wages won't be exercising or doing vocal warm ups. She'll be bonding with her castmates.
"Whatever you do before will show on stage," Wages said. "So it's important to make those relationships and have fun in the dressing room. That chemistry will show in the show."
She and 20 other cast members are ready to tell the "Seussical" story, Wages said.
"We've been so excited and we're so close."
Leave a Comment
About the Writer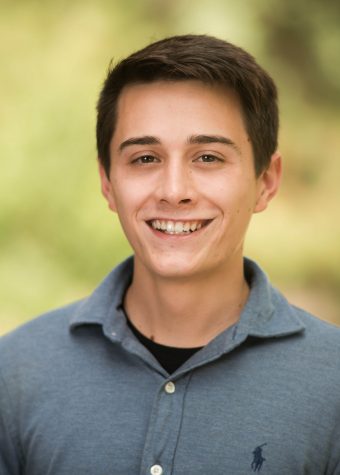 Andrew Linnabary, Former digital managing editor
Andrew Linnabary was the 2018-2019 Digital Managing Editor of The Sunflower. He studied journalism and minored in English. Linnabary is from Wichita, Kansas.