Student campaign workers want to see young voters turn out at the polls
Despite the fact that colleges are a hotbed of political activity and a place for the open exchange of ideas, few college students participate in politics or vote — especially in midterm elections. A select few students go the extra mile and volunteer their time to campaigns.
"The importance of getting young people involved in the political process cannot be overstated," said Brayden Homan, chair of the Wichita State College Republicans.
"It's extremely important to get out and vote and to volunteer with the candidates that you support."
Hosman volunteers for Republican Ron Estes, who is running for reelection in Kansas's Fourth Congressional District. For Hosman, campaign work is a part of his civic duty.
"I like phone banking, but I much prefer to do the door-knocking because it really gets you to interact with the voters and to really connect with them and to see some of their viewpoints, and make sure that their concerns are heard," Hosman said.
On the Democratic side, Olivia Babin wears many hats in her work on a campaign. She started as an intern for Estes's opponent, James Thompson, working with finance and campaign management. Babin was later promoted to call-time manager and is now working on Thompson's communications team.
"I also canvas for about four hours a day," Babin said. On top of her classwork, she's clocking about 30 hours each week with the Thompson campaign.
"Even if he loses, I would do it again," Babin said. "I'm a firm believer that if I have an opinion, I should do something to make sure that's the standard. If I believe something, then I need to stand up for it and do something about it and this is the best way that I can think of."
Ashlyn Parrish works on Republican candidate Pete Meitzner's campaign for Sedgwick County Commissioner in District One. Like Babin, she started as a volunteer and moved into a formal position — creating Meitzner's social media content and designing his graphics.
"I really like Pete," Parrish said. "I know what he's done for the city and I know what kind of person he is, so I was happy to help him out with whatever he needed."
Parrish said her work makes her feel responsible for the campaign's successes and failures.
"I do feel responsibility even though I'm a very minute part of this campaign," Parrish said. "Any time there's a flaw or any time something I post doesn't get the kind of reach I expect, it's kind of like 'darn it.' Maybe I could have done something better."
Babin said get-out-the-vote efforts are the big focus in the final push before elections.
"There are 40,000 new registered voters in Sedgwick County and all of those people, this is their first time voting." Babin said. "We hope that we can get those people actually out to the polls and get to vote."
Parrish said working on campaigns makes her look at elections differently.
"It kind of humanizes the campaign and even the candidate," she said.
Babin said she wishes more students were aware that there are many opportunities to volunteer that are easy. She says for introverts, "there are all different types of things that you can do to volunteer that don't involve social interaction."
According to the Center for Information and Research on Civic Learning and Engagement, only 21 percent of 18-29-year-old students voted in the 2014 midterm elections, compared with about 37 percent in the overall population. These students hope that all their efforts will improve those statistics.
"I personally have registered about 500 voters, as well as talked to so many friends who are like, 'I probably wasn't going to vote but because you've been talking to me and I see how much you care, I'm going to go vote,'" Babin said.
Hosman said that though our political system is imperfect, it's worth taking the time to get to the polls this year.
"No vote is a wasted vote," Hosman sais. "I'm a firm believer that if you voted, you did something to try and solve a problem, and not all problems can be solved, but at least you're doing something to try and attempt to solve it."
Leave a Comment
About the Writer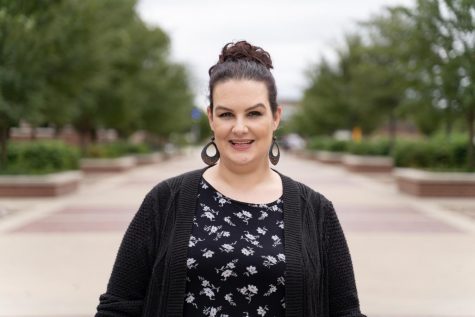 Audrey Korte, Former opinion editor
Audrey Korte was a reporter and the opinion editor for The Sunflower. She hosted The Sunflower News Podcast.