Early storylines in this year's Shocker rotation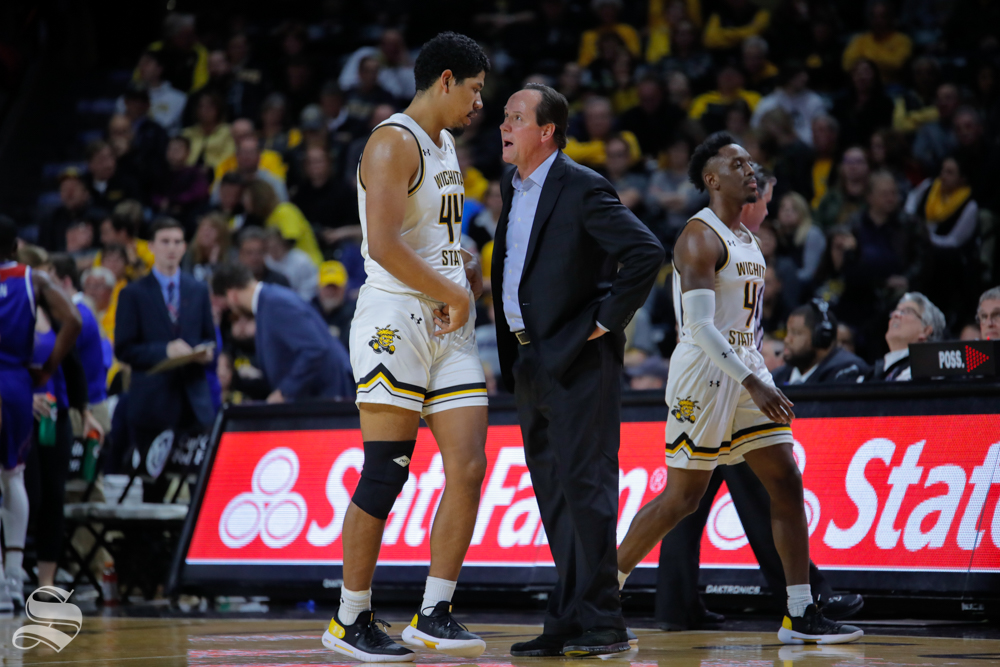 The Shockers replaced nine of 13 scholarship players this offseason, and the rotation going forward is entirely experimental while the newcomers get their footing.
The Sunflower looks at some storylines that might be in play as the team regroups and rebuilds.
Rod Brown's role
Going into his freshman season, Shocker fans were stoked to get a look at Rod Brown.
Brown was seen as possibly the next big thing to come through the doors of Koch Arena.
However, Brown was undersized for his position. During his redshirt season, Brown was only 190 pounds. Over the summer, he packed on 15 pounds of muscle, fitting him for the AAC level competition.
Brown's role this year will be to play good defense and run the court in transition. That means he'll have to sacrifice his urge to score the ball consistently. At 6-6 and 215 pounds, he has the natural build to defend the wing and the interior, as well as good speed to run and finish the break.
Brown's a natural small forward, but don't be surprised to see him playing the four at some point this season. Playing time may be somewhat limited, as he finds himself behind Markis McDuffie on the depth chart. Brown's job this season is to fill in as a defensive role player.
Maximum occupancy at forward
Gregg Marshall has plenty of lineup options with tons of different players at the forward position, but that's because of the lack of depth at the position.
Another issue that presents itself is the fact that Teddy Allen hasn't been cleared by the NCAA. Without his size, the team just gets smaller.
A season ago, Marshall rarely placed McDuffie at the four position. This season, McDuffie has already shown that can and will play the four.
Dexter Dennis, a two-guard, started at the forward position in the exhibition, showing that this WSU team will be playing a lot of small ball this season. It'll be interesting to see what Marshall can do with the limited size at the forward position, and expect some two-guards to even see some time at forward this season.
Jamarius Burton poses lineup problems
Jamarius Burton has shown that he deserves a role in the starting rotation, thanks to his versatility on offense and tenacity on defense.
But where does Burton fit in? He's been in the mix with Samajae Haynes-Jones and Ricky Torres, but Burton's best-showcased his abilities when he's in control of the offense. Burton could pose a problem for Gregg Marshall when he cuts the rotation from 10 players down to eight or less. Will Marshall gamble on the freshman or opt to trust the experience of Haynes-Jones and Torres in crunch time?
Erik Stevenson will be utilized for defense
Erik Stevenson is a "hard-nosed" player, according to Gregg Marshall.
Stevenson is a step ahead of his teammates on defense, and his tenacity on both ends of the floor should translate well to Division-I basketball. Don't expect to see him in the starting lineup, though, as WSU is loaded with options in the backcourt.
In situations when shots aren't falling, Stevenson will likely get minutes. In high school, Stevenson had 40-point games. If his shot's falling, he could be more than just a role player.
About the Writers
Evan Pflugradt, Sports Editor
Evan Pflugradt is the former Sports Editor of The Sunflower.

Pflugradt past served as the publication's Editor in Chief, Opinion Editor and a reporter....
Marshall Sunner, Sports Editor
Marshall Sunner is the Sports Editor for The Sunflower. Sunner is a sophomore majoring in communications with a journalism emphasis. He was born and raised...