Wichita's best songs of 2018
Wichita's music scene is incredibly vibrant, and 2018 has seen the release of many excellent songs from artists across the city. To celebrate the end of the year, we bring you some of our favorite tracks from local artists ranging from pop to hip-hop to rock.
Marrice Anthony – 'workinonit'
With his masterful flow and unflinchingly emotional raps, Marrice Anthony is a strong candidate for the most overlooked artist in hip-hop. From his excellent "ain't got time to die," "workinonit" features just about everything that makes the tape work. The three-part track introduces the overall concept of the record, runs through a relentless verse from Anthony, and ends with a spoken-word biographical crash-course on the artist. The beat rattles and shifts with a hopeful melancholy that perfectly matches the track's content.
By the time Anthony closes the track out with a barrage of confessions — "When I was 25, I discovered that God is not a choice for me" — the listener is drawn in deep enough for each sentence to hit with emotional devastation. It's only a matter of time before the world falls in step with his rhythm. – JD
William Bloom – 'The Poetry's Not Working'
A frequent performer, William Bloom's heartful odes can be heard filling any local coffee shop in Wichita. Bloom comes at his craft as a musician from all angles. Nowhere is this more evident than on his most recent release, "Keys with No Teeth."
Experimenting with synthesizers and different layering techniques, "Keys With No Teeth" shows that Bloom doesn't rely on replicating his sound for each track that he releases. The only continuous elements present in his music are the efficient piano melodies he utilizes. His piano playing is the strongest aspect of his music, and it often tells his stories as vividly as his lyrics.
The piano introduction in "The Poetry's Not Working" is almost fanciful, but quickly doubles back into a more somber reality. "The Poetry's Not Working" is an exploration of Bloom's relationship with not only his art, but those that matter most to him. A painful plea, "The Poetry's Not Working" is a song for anyone who has tried relentlessly to fix a problem that simply doesn't have a solution. – PD
Caleb Carnell & Waiting Room – 'CALL ME'
A core part of Wichita's DOTWAV collective as a producer and lyricist, Caleb Carnell has released a plethora of tracks this year across the hip-hop spectrum. His collaboration with Californian singer Waiting Room (aka Audrey McNamara), "CALL ME," stands as the most beautiful song to his name yet. Over a gorgeously groovy flip of Miles Davis's "Blue in Green," McNamara delivers a soulful performance that's both aching and distanced. It's a match made in heaven and one of the best summer jams of the year. – JD
Crisis Casanova – 'The Fool's Ballet'
Crisis Casanova lets their freak flag fly high with this haunting folk song from their 2018 EP, "The Fool." With intricate melodies by Cecilia Raheb and duel trumpets by Brenna Beeson and Josué Estrada, the track somehow feels like medieval dance music and New Orleans jazz all at once. It's sure to put you under its spell. – RC
Finer Spirit – 'Wednesday Night' & 'Miles Northwest'
Finer Spirit's "Well as You Pretend" EP captures the essence of a blurry memory. Ambient and authentic, this first release is a win for the local newcomers. The tempo begins to build in the opener, "Wednesday Night." While overall this EP is characterized by slower songs, "Wednesday Night" preserves the intensity and emotion necessary to keep an album with a slower tempo engaging.
Finer Spirit is not nailed to a genre. While "Wednesday Night" tiptoes around surf rock, "Miles Northwest" clings to deeply western origins. The noticeable twang in "Miles Northwest" gives this song some definite personality. Together, these two songs are complementary opposites, but Finer Spirit manages to pull it off. – PD
MAXXJAMEZ & Caleb Carnell – 'Very Toasty (Too Hot)' & 'Crew'
Maxxy and Caleb have done it again! On their brief record "Ice Cream Truck," they came back more cohesive than ever with some of their most gloriously child-like anthems yet. Among their best songs yet are "Crew" (featuring BLACONATOR), a track produced by Carnell that has one of the catchiest, and goofiest, choruses of the year.
Following this is the hilarious "Very Toasty (Too Hot)" featuring tight synths by Frank Bravo. Jamez delivers one of his hottest (or coolest?) vocal deliveries while throwing out vocals such as, "Damn, dude. It's so f***in' hot outside. I don't even really wanna go outside. Unless you got that s**t for the low. I'm talkin' bout the ice cream truck coming down the road." The tracks take the listener directly back to the school bus. – RC
Tommy Newport – 'My Woman'
Tommy Newport, FKA Milmine, has made quite the leap in the last year. His debut LP, "Just to Be Ironic," is full of summer jams that get their potency from quality songwriting and pristine production. The best of these, "My Woman," boasts a dark, weird edge in its strange delay effects and timpani fills. Newport's sensual voice is a perfect match for the instrumental. It's easy to see why he's taking off as one of Wichita's most imminently successful artists. – JD
Old Man Creaky Bones – 'Talk to Gods'
While Danny Echo, aka Old Man Creaky Bones, creates recordings that are unabashedly lo-fi, the last track on his "Dive Bar Celebrities" EP is delightfully stripped down. Featuring vocals and acoustic guitar, the track showcases his poetic lyrics and tantalizing vibrato. Echo's sweet melodies operate both as a diss track and a beautiful farewell as he whispers "bye bye bye bye bye" into our ears and quickly follows it up with a bittersweet, "screw you, dude" as the track fades out. – RC
Old News – 'Everyone's a Minimalist'
When it comes to Old News's "Castro" EP, there's nothing more memorable than "Disappointed but Not Surprised," whose riffs and video made the band stand out from fellow Wichita garage rockers. However, the true gem of the record is its opener, "Everyone's a Minimalist." The layered track contains Beau Harris' signature emo-pop vocals with lyrics that are startlingly direct. There's a fascinating passion at large in Old News's moody, millennial math rock. – RC
Jenny Wood – 'I Can Relate'
Wichita musical legend Jenny Wood brings a lot of power into the studio. Her relentless guitar riffs and dynamic vocals are in full force in her last EP, "Truth Has Legs," a power pop triumph infused with some gorgeous atmospheric tendencies. Among the many standouts on the record, "I Can Relate" marks its place with the perfect mixture of structural complexity and infectious melodies. Wood's vocals veer to fulfill a dozen purposes over the course of the track. She tackles call and response sections, beds of gorgeous harmonies, and skyscraping choruses with ease.
There's an amazing amount of emotional and instrumental ground covered in less than six minutes, and yet the track passes far faster than most pop jams half its length. That's not even mentioning the crazy, cathartic guitar riffing that fills each nook and cranny in the track's arrangement. If you're already waiting for the next record from Jenny Wood, well, I can relate. – JD
Leave a Comment
About the Writer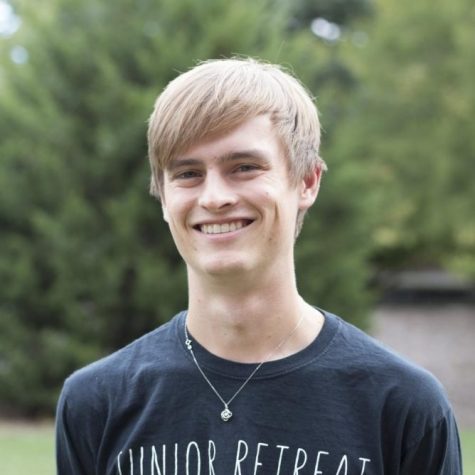 John Darr, Former culture editor
John Darr was a reporter for The Sunflower. His main interests were local art, student life, experimental literature and ambient pop music.