A Gand-Wu love story: Trish and Bobby Gandu love each other, WSU
Wichita State has been a cornerstone of Bobby and Trish Gandu's relationship.
"A lot of our momentous occasions have ties to WSU,"  said Director of Admissions Bobby Gandu. "We met on campus. We also were coincidentally engaged on campus."
They also were married on campus.
But long before their wedding day, Bobby and Trish were co-workers and friends.
"We both worked in the office together for a few years before we ever dated," Trish said. "I was in a different relationship. He was in a different relationship. We just became good friends."
The two had overlapping friend groups.
"We just kind of socialized together, but that was really it for quite a while," Bobby said.
After Trish got out of a seven-year relationship, she was single for awhile, and that's when the opportunity for love finally knocked, Trish said.
"I was trying to figure out who I was, and what I wanted. We just started hanging out more as friends and then it just kind of developed into a relationship."
Trish said those early days were full of fun and freedom.
"We went out a lot to dinner, and to go see movies, and have drinks and hang out with friends. We made spontaneous trips if we wanted to," she said.
In 2011 Bobby and Trish were at dinner watching a Shocker basketball game in the NIT tournament, before the NCAA Shocker basketball successes. The Shockers won. The two were surprised and excited.
"I was like let's go to New York City and watch the championship. And right there we booked a flight," Bobby said.
In less than 24 hours they were on a plane to New York City to see the Shocker basketball game in the NIT championship against Alabama. The Shockers won 66-57.
"We had quite a lifestyle before we had kids," Bobby said.
In addition to basketball games, the two have seen a lot of concerts including Jay-Z in St. Louis, Kansas City, Chicago and Oklahoma City as well as Beyonce and the Black Eyed Peas.
But the biggest show they've been to was their wedding — and the opening act was their engagement.
"We'd been talking about marriage and that kind of thing. We were at that place where we were ready to take that step and I bought the ring but she didn't know when it was going to happen."
"One of the things that we had always shared was going to Shocker basketball games together," Bobby said. "I arranged for us to have access to Koch Arena. I pretended like I needed her to come over to Koch Arena to help me with a project. She came and sat down at the arena and before she knew it a video of her and me started playing. It was just pictures, obviously memories of our moments together."
The song he had playing was "Meet Me Halfway" by the Black Eyed Peas, one of their favorites.
"As the video was wrapping up I kind of appeared out of one of the tunnels and asked her to marry me," Bobby said.
"I was shocked," Trish said. "I really thought I was going to a meeting. I had no idea what he was going to do. I was completely not expecting it at that time."
Bobby and Trish got engaged in December 2012 and were married in July 2013.
Bobby said they had a large friend group they wanted to invite to the wedding and they were trying to make money efficient decisions.
"We shopped around for wedding venue and the reception venue. We ended up being married by the then University minister at the Marcus Welcome Center," he said.
And then Wushock made an appearance at their wedding reception.
"I had a groom's cake and of course I wanted to have WuShock on the groom's cake so we had a baker bake the Wu. But I had to do a little something extra so I figured out a way to have Wu roll out the groom's cake at the wedding reception," Bobby said.
"So much of what we do now and who we are is our kids and Bobby's just such a great dad," Trish said.
Trish said she considers fatherhood and friendship to be two of Bobby's strengths. She wants her children to know and appreciate those aspects about their dad.
"The kind of person that he is with them (the kids) is the kind of person that he is with everyone. He's a very good friend and he'll always be there for you. That's one of the things that I always liked about him."
Bobby said one of the things that initially attracted him to Trish was her professionalism.
"In the office she had a great work ethic. She was respected by her peers," Bobby said.
"People knew that if she said she was going to do something she'd get it done and she do it well. I really admired that. And it is something that has carried forward to her being a mother. She's very selfless, often she has patience with the kids when I don't and she's just very giving with them."
So when Trish was pregnant with their first child they decided to include WuShock in the announcement just to carry the Shocker theme forward with the next generation.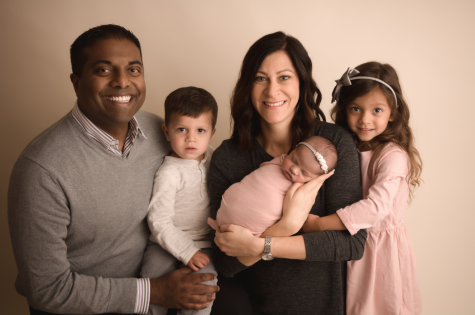 View Comments (6)
About the Contributor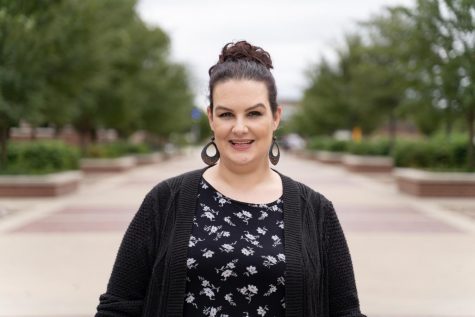 Audrey Korte, Former opinion editor
Audrey Korte was a reporter and the opinion editor for The Sunflower. She hosted The Sunflower News Podcast.