'I just got blessed last year:' Council ready to open more lanes for himself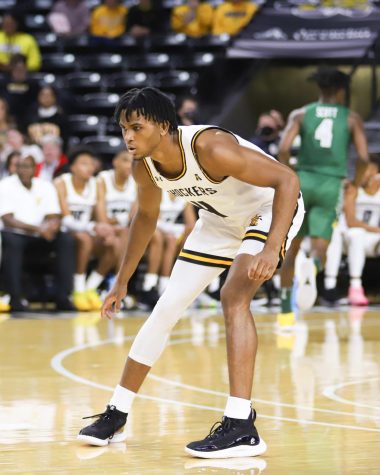 He made an impact in his first year as a Shocker but second year freshman Ricky Council IV wants to take his role in the Wichita State Basketball program to another level. 
Last season, Council was named to the American Athletic Conference's All-Freshman team. He became one of the American Athletic Conference's top bench scorers by averaging 18.2 points per-40 minutes. 
In terms of goals for himself this season, Council said he wants to help his team move further into postseason play. Last season the Shockers lost their play in game to make it into the first round of the NCAA Tournament.
 "You know last year it was exciting like I was amazed last year like I don't think people noticed how amazed I was," Council said. "Last year just going to the tournament seeing some of the people I've been watching since I was like a sophomore junior in high school just to get back there and actually advance. Like last year was oh yeah we made it. I'm happy now I just want to play in it more." 
Last season, Council said the game  he started to have more of an impact for the Shockers during its first conference game against Tulsa. Council made use of his opportunity coming off the bench by scoring 13 points and eight rebounds in 16 minutes. 
"I wasn't trying to do to much I was just playing my role and it just came to me," Council said. "So no last year I was not expecting to get playing time but after that game like Coach Brown just started trusting me and my role started expanding and yeah I just got blessed last year for real." 
On media day in October, Head Coach Issaac Brown said Council has improved his game in several areas. 
"He's a better defender," Council said. "He knows our system. He's a really talented guy who can create his own [shot], and now he's starting to buy into the system more. Running in transition. Knowing how to run our sets, and he's much better as a defender. We're looking for a great season from him." 
Council said he is predicting himself to be in the starting lineup this season. However, he said if he's not in the starting lineup he feels confident in coming off the bench and still having an impact. 
"I'm just trying to play and compete. I mean with the things that I can do I feel like it's hard to keep me out the lineup either with scoring or facilitating," Council said. "Coaches will make the right decision so I'm not really worried.
"I think that's one of the reasons I shined last year was focusing on Dex [Dexter Dennis] who was the starter in my positon and I come off the bench and I help the team a lot," Council said.
Leave a Comment
About the Contributor
Emmie Boese, Sports Editor






Emmie Boese is in her third year with The Sunflower and her first as Sports Editor. Boese is excited to start her senior year next semester....