McCarty poised for leadership role
Junior DJ McCarty has an impressive college career already behind her.
McCarty has played for WSU all three years. Last season, she played 15 out of 18 games and made eight starts. McCarty also had a career high of 20 points in a win against Tulsa. 
McCarty has learned many important lessons throughout her Shocker career on and off the court.
"I say acceptance because they took me in, made me family when they didn't have too and it feels good being part of a family knowing that you're loved," McCarty said. 
McCarty has come to love all of her teammates like sisters and coaches as mentors that take care of her. She also believes that perseverance is a big takeaway from playing on the basketball team.
"Perseverance because if you know about last year we had 7 players playing some 20 games, it taught us to push through it as a team," McCarty said.
McCarty graduated high school from Cedar Hills High School in DeSoto, Texas and was a two time captain and lettered all four years. She is now looking forward to being a leader on the team.
"I'm trying to grow into that role of being a leader and I'm more of a vocal leader because I am a returner," McCarty said. 
With this season comes the return for normalcy after having an entirely different season last year due to the COVID-19 pandemic. 
"Last year we didn't know if we were going to practice a certain day or certain week but this year we're going through certain protocols to keep ourselves safe and protected," McCarty said. 
This year the team comes in knowing that they will have a full practice. During the offseason McCarty has been working out and getting to spend more time with the team. 
"It feels so good knowing we're gonna play and feels good having 15 players, having people we can share our experience with and teach the newcomers and freshman," McCarty said.
McCarty is very excited for this season because there are more players and the return to normalcy brings a chance for her family to come out and watch her play.
"I'm so excited because for me, my parents didn't come to any of the games last year because of covid. But now that we're allowed to have fans it is just going to be good to see all the people that support us," McCarty said.
Leave a Comment
About the Contributor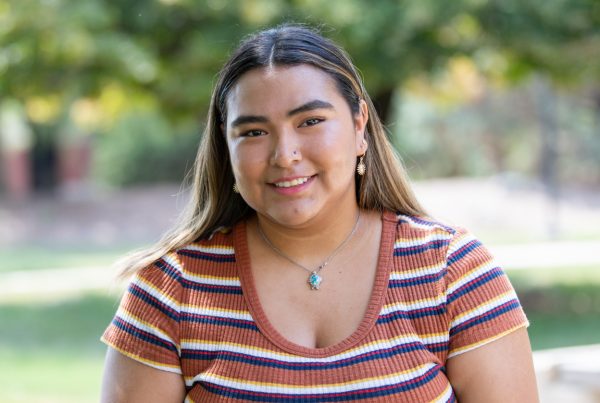 Melanie Rivera-Cortez, Sports Editor














Melanie Rivera-Cortez is the sports editor for The Sunflower. She is a senior pursuing a degree in journalism. Rivera-Cortez...