'Gutsy:' Former journalist honored in College of LAS Hall of Fame ceremony
When Elvira Valenzuela Crocker stopped by the library after school, she always visited one section: Hispanic literature.
It was always small.
A first-generation Mexican American, Crocker decided to contribute to that shelf by becoming a journalist, after discovering her knack for writing in third grade.
"I won my first essay contest, and there was money behind it, and I thought, 'wow, what a way to make a living,'" Crocker said. "Doing something you loved and then getting paid for it."
The 1961 Wichita State graduate approached this goal with laser focus. Growing up in Garden City, Crocker took writing courses, lettered in high school debate and wrote a column for her local newspaper. For her accomplishments in journalism and public relations, Crocker earned a place in the Fairmount College Liberal Arts and Sciences Hall of Fame.
Third grade also proved formative for Crocker beyond writing. When she and her younger brother weren't allowed into swimming lessons, she asked the teacher to explain.
"I guess I was very gutsy," Crocker said.
The reason: they were excluded for being Mexican. After community members learned about this, they "raised hell" to the city officials, Crocker said. That summer, the pools opened to Hispanic people.
Crocker was grateful that her experience resulted in integration, but found it even more helpful being part of a large family that openly discussed politics and racism.
"We were able to take whatever happened to us, discuss it at the dinner table, and try to rationalize what happened," Crocker said.
With her political mind and passion for writing, Crocker entered Wichita State as a transfer student. There, she earned her degrees in journalism and English literature, working as a student assistant in the public relations office and writing for The Sunflower.
"We had a lot of fun (at The Sunflower)," Crocker said. "It was a close-knit group."
After graduating, she landed her first full-time job at the Dodge City Globe, where an apartment complex refused her housing. By then used to exclusionary experiences, Crocker took it in stride. Her editor helped her find somewhere else to stay.
"At some point you just decide, 'Okay, you're going with the flow. This will either work out or it won't,' and it did, which was great," Crocker said.
After a year, she reported at The Wichita Eagle. Then she spurred change as the women's news editor. With the women's rights movement at its height, Crocker shifted their coverage from social-based to issues. Other women within the department were thrilled with the change.
"Things were changing so fast that you had to make that shift," Crocker said.
While at the Eagle, Crocker met her husband, first becoming good friends when they shared a desk: her working in the daytime, him at night.  
"Which is a great way to be married, let me tell you now," Crocker said. "You don't have time to fight."
Crocker didn't waste time, either. After her son was born, she did freelance for public relations and taught journalism classes at Wichita State.
When her husband got a job as a news editor at the Washington Post, the family moved to Washington, D.C. It was a smooth transition, Crocker said. Her liberal arts education gave her a well-rounded background and helped her thrive.
"People would make fun of where I was from and they'd mispronounce Wichita, and I never thought that was terrible," Crocker said. "I thought, 'you can say that now, but wait until you can see what I do.'"
She dove into public relations positions, writing and editing reports at the U.S. Commission on Civil Rights Mid-Atlantic and the National Council of La Raza, a nonprofit Hispanic civil rights organization.
Then Crocker earned a spot in the U.S. Department of Education. She worked as a special assistant to Liz Carpenter, the assistant secretary for public affairs. Their shared sense of humor made working together a blast.
"There were times where'd go to Lord and Taylor's, when she needed to buy something, and I'd pretend I was her clerk," Crocker said. "We'd have such a good time, doing a lot of crazy stuff like that."
In her free time, Crocker got involved with the Mexican American Women's National Association, an advocacy organization for Latinas. She wrote newsletters and served as president.
Crocker also wrote a book on the organization's history, fulfilling her childhood aspiration of expanding literature on Hispanic women.
It moved the president at the time to tears. Another young woman kept it at her bedside.
"I think it's because what (the book) said to them was, 'I exist, I count and I can do cool things,'" Crocker said. "It was so important to them to read about themselves and to know that they were a part of this nation."
Retired, Crocker has since returned to Wichita. While she was surprised to learn she'd be inducted into the Fairmount College Hall of Fame (she wasn't aware it existed), she hadn't strayed from Wichita State. She takes classes there at the Adult Learning Center.
Crocker, along with fellow inductee Louis Sturns, was inducted into the Hall of Fame on Feb. 7.
Leave a Comment
About the Writer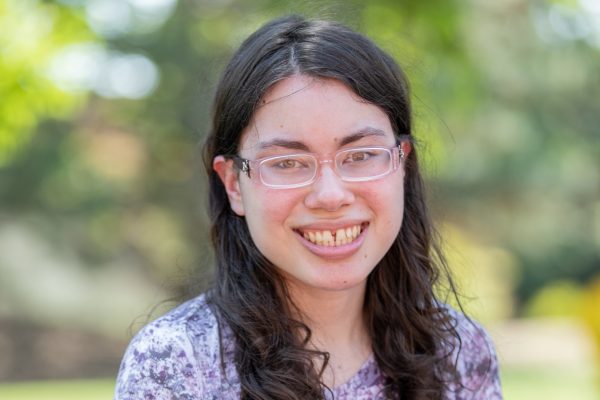 Courtney Brown, Investigative News Editor
Courtney Brown is the investigative news editor for The Sunflower. Brown previously worked as a reporter and assistant news editor.