OPINION: 'Triangle of Sadness' sports strong ensemble, middling script
If your Instagram explore page has looked anything like mine since the middle of December, I'm sure that you have run across the Balenciaga-H&M clip from "Triangle of Sadness."
When I finally decided to sit down and watch the 2 hour and 20 minute film in January, I was expecting a harrowing tragedy about the cutthroat and superficial nature of the modeling industry. I couldn't have been more wrong.
While the clip is certainly interesting and did its job as an advertisement, it was disappointing when I realized that I had actually sat down to watch yet another class satire that joins the growing list from the past two years.
Now, I believe that "Triangle of Sadness" is best enjoyed if you go in with as little knowledge and as low of expectations as possible. If you'll indulge me, feel free to stop reading here, go watch and come back
Like many of those other films, "Triangle of Sadness" doesn't know how to quit when it's ahead. As a pack, they are generally good films for the first hour-and-a-half to an hour-forty-five but they keep going and genuinely spoil themselves.
Unlike a lot of those other films, "Triangle of Sadness" is broken into three chapters: Carly & Yaya, The Yacht, and The Island. Breaking it into these sections is helpful but they don't stop this one from feeling like a gauntlet.
Despite the timing issue, which is proving to be a pervasive problem in Hollywood (cut the fat, not every movie has to be some three hour long cinematic experience), "Triangle of Sadness' "cast carries the movie's middle-of-the-road script on their backs and run with it.
From top to bottom, they all have a deep understanding of their characters and play through the plot of the movie as naturally as can be.
Dolly de Leon is a revelation as maid-turned-survival leader Abigail. Tough and vulnerable, de Leon navigates the class lines that inherently divide her character from the rest of the castaways extraordinarily well until the bitter and ambiguous end.
The duo of socialist sea captain Woody Harrelson and capitalist, Russian oligarch Zlatko Burić are wickedly sardonic as they, as I saw on Twitter, "start the world's worst political podcast and force everyone to listen to it."
Harris Dickinson does well in tracking Carl's journey from douchey, broke perfume model to regular person. In all seriousness, Carl has to give into his powerlessness in order to survive and Dickinson handles that steady descent with a delicate and well-trained hand.
The late Charlbi Dean's natural warmth and brightness adds layers to Yaya that the movie doesn't require, but it certainly benefits from. She does well to hide it through the first act, but by the movie's end, as Yaya is sentimentally offering Abigail a better life, you can't help but yell "Look behind you."
If you're into mildly interesting conversations about class and strong ensemble performances, block out some time for "Triangle of Sadness." And, if you have a problem with bodily fluids, good luck.
Leave a Comment
About the Contributor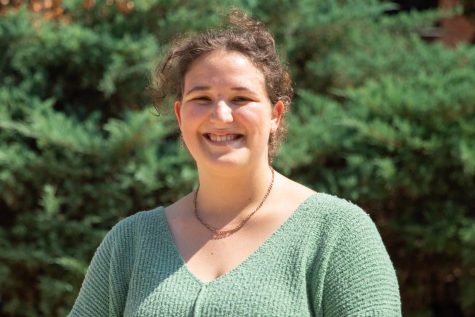 Trinity Ramm, Managing Editor
Trinity Ramm is the managing editor and former sports editor for The Sunflower. This is her second year on staff. Ramm is a senior English Lit major and...