OPINION: 'Air' has a lot of sole for just another biopic
I don't know if it's because my tastes are maturing or because I have developed a slightly unhealthy obsession with HBO's "Succession," but I am firmly grounded in my financial dramas era.
Slightly less dramatic and far less Shakespearean, "Air" is the story of how Nike, a running shoe company in the 1980s, did the unthinkable in signing the No. 3 pick in the 1984 NBA draft who would becomes one of the greatest players of all time, Michael Jordan and creating the most recognizable shoe line in the world, Air Jordan.
Think of this as basketball's "Moneyball" where the underdog company is trying to game the system with an undersized budget, a little innovation and a bad gambling habit without the potential for longevity.
The movie pulls together an ensemble of Matt Damon, Viola Davis, Chris Tucker, Marlon Wayans, Jason Bateman and Ben Affleck, who also directs.
Ensembles are hard to manage, but everyone plays together well. No role is over done nor does anyone really phone it in.
With this cast, I expected the movie to be funnier but it still made me laugh out loud a few times and all of the little, intimate jokes felt natural and landed well.
The movie emphasizes how little Michael Jordan was actually involved in making the decision of where to sign by never showing his actor's face. We see his reactions but his face is often covered by his hands or not shown at all.
This was an interesting choice and I wonder if they didn't want to deal with finding someone who looks enough like Jordan or if it was a deliberate choice to show how much this decision was driven by his mother.
A worry I have about movies like "Air" or any other biopic or historical fiction type movie is how does a film build suspense or similar mechanisms that drive the plot when the audience already knows how it ends.
We already know that Nike does sign Michael Jordan in the end, so what does the viewer get out of this? Beyond a trip to the movie theater or about two hours of entertainment at home, I'm not entirely sure.
Of course, not every movie has to make you think, but maybe I just expect more out of the Damon-Affleck connection since their last collaboration on this level was "Good Will Hunting."
I think "Air" does well enough at not spoiling itself, but I don't know how healthy it is to have a movie market saturated by stories that when I describe them to people, they ask "Oh, is that a documentary?"
These questions make it seem like I thought the movie was awful, but it wasn't. I enjoyed all 112 minutes of the movie and was genuinely interested in the way they decided to tell a piece of His Airness' story.
Leave a Comment
About the Contributor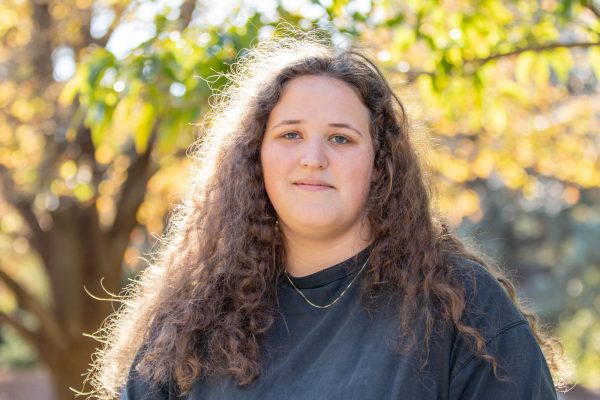 Trinity Ramm, Managing Editor
Trinity Ramm is the managing editor and former sports editor for The Sunflower. This is her second year on staff. Ramm is a senior English Lit major and...