'Rejuvenating and fresh:' KVersity hosts first ever 'Dance Dance Kvolution'
Jisoo from Blackpink, Bruno Mars, Le Sserafim and others visited the CAC theater on Saturday night — at least through the speakers.
KVersity hosted "Dance Dance Kvolution," a dance competition with 14 groups performing to a variety of artists, with a surprise performance by the KVersity executive team.
Audience members had glow sticks, given to them at the front upon arrival, and light sticks, a unique sign that represents different k-pop groups, that they could wave in support of the groups performing.
Emily Ha, a WSU alumni, came to the show to support her friend, Olivia Link. Link performed solo and in the group Gecko.
"The whole community was really special," Ha said.
There were games in between sets, such as trying to guess a song within three seconds of hearing it, and trivia, where winners received a sticker or t-shirt.
Brookelynn Robinson, a member of KVersity, performed with the group Dream Team. The team decided their medley of songs by first picking the "vibe" they wanted.
"We wanted more like upbeat (music), but also we wanted to have … chill, laid-back clothing as well," Robinson said.
When asked about the atmosphere, Robinson wanted to say "slay," but didn't know if that was a descriptive word.
"The vibes are just so good and you know, some places you go to perform and like 'this person could be judging,'" Robinson said. "But it's more like everybody was a community and it was very rejuvenating and fresh."
At the end of the performances, audience members were asked to vote on the three categories: Full out (best energy), best facial expressions, most synchronized group, ult group (favorite group).
While the superlatives were being decided and the judges were picking their own set of winners, performers and audience members were invited to the stage for "Random Dance Play," where popular k-pop songs played and people were invited to dance to the choreography. Songs like 'Blood Sweat & Tears' by BTS, 'Feel My Rhythm' by Red Velvet and 'Wannabe' by Itzy were just a few of the 18 songs danced to.
Superlative winners
Full out = Dream Team
Best facial expressions = KU Karisma
Most synchronized group = DPS
Ult group = Too Dudes
After the superlative awards were announced, judges' scores were ready. The third place winner would receive $50, second place would receive $100 and first would receive $300.
The judges were Quang Nguyen, the assistant director for the Office of Diversity and Inclusion, Nick Johnson, a professor and director of dance, and Sabrina Vasquez, a program director and senior educator of dance.
Judges' Awards
1. DPS
2. Nix
3. Oblivion
Co-founder of KVersity Destiny Primer, currently a freelance choreographer in Kansas City, came to the event tonight to show her support and love for her "babies."
"They're literally my children," Primer said. "I love them so much."
Primer's been to a lot of showcases and dance competitions in the area, and said this one was "so much fun."
"Everyone was so loving, everyone was cheering each other on and everyone just really did amazing and brought their A-game," Primer said. "I'm really am happy for the winners tonight and just for the perfo
Leave a Comment
About the Writer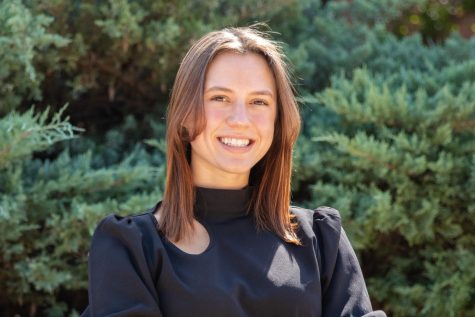 Jaycie Nelson, Former editor in chief
Jaycie Nelson was the Editor-in-Chief for The Sunflower during the 2022-2023 academic year. Before becoming editor, Nelson was opinion editor.