Farewell Column: My last Sunflower byline, Crist signing off
I hope you all know this column was turned in at the last minute, like every single thing I have ever turned in during college.
My college experience can be summed up in two words: fast and chaotic, from start to finish.
I started at Hutchinson Community College when I was 15, and since then I have been doing nothing but school and work. I just wanted to get out and get going with my dreams as soon as possible. And I kept with that mentality for the next five years.
But because my time as a student was so fast, I never got engaged with the campus or community around me. I would just breeze through, the only places I had were the newsrooms.
I joined student journalism on a whim, after attending a day camp at HutchCC for the journalism program. I walked into that camp completely uninterested, and I walked out with a 10-year plan for my life and so much enthusiasm.
Since then, I've been on two fantastic student newspapers, The Collegian and The Sunflower, and had opportunities to work in the field outside of school.
Without these opportunities or the people I met through them, I wouldn't have a place on campus. They gave me at least a small sense of belonging when I was on campus, through the connections I made there or just a place I could microwave my lunch and work in peace.
I didn't understand the value of a community on campus until this last semester, a little too late. But I can offer some advice — don't make my mistake.
To any incoming transfer students or any students at all — get involved. Find your people, a community. Somewhere you can go reheat your chicken nuggets and vent about the parking.
You know that activities fair you go to at the beginning of the year, then trash all the pamphlets? Keep those and sign up for things. Make your mark on the campus.
We can't let them put us in debt and forget about us.
I'm going to wrap this up with a few thank-you's to those who were in my community and helped me get to the cap and gown. Thank you to my parents, Brad Hallier, Avery Guffey, Rachel Rudisill, Emmie Boese, and the staff of both newspapers over the past couple of years.
It's been real you guys. I've no idea where this tornado is spiraling toward, but hopefully somewhere on a beach with lots of books.
View Comments(1)
About the Writer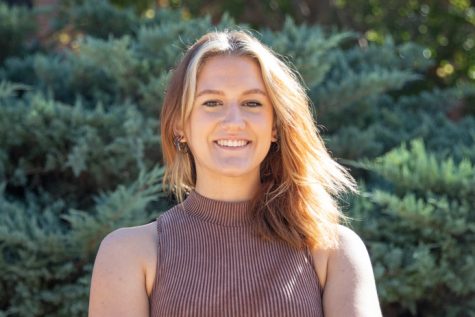 Kyran Crist, Reporter
Kyran Crist is a reporter for The Sunflower, this is her second year on staff. Crist is a senior majoring in communications with an emphasis on journalism...