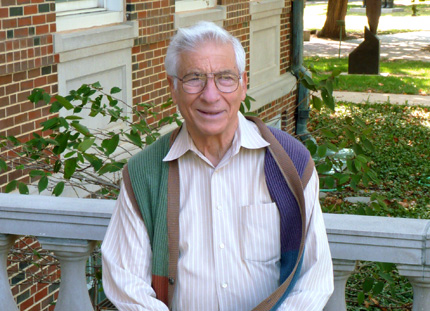 Wichita State Emeritus Professor Melvin Kahn had an unconventional style of teaching political science; he would dress up as the historical figures he was lecturing about. 
The former professor, who had taught at WSU for over five decades, died of natural causes at the age of 92 on Sept. 13. He was described by colleagues as a dedicated educator and held his students in high regard. 
Chris Hex, Kahn's former student and a Wichita State graduate, described him as an incredibly welcoming person to anyone who had questions or simply wanted to debate something they heard in his classes. 
"He was always excited and his office was a train wreck, but if you walked up to his door, he would throw more papers into a pile and talk to you," Hex said. "He truly had that vibe of 'my door is always open.'" 
Kahn was known for taking his former and current students to lunch, and a few were invited to his home for dinners and discussions. 
"I had many of those coffee lunches with Mel and had dinner with him and his wife a few times," Hex said. "He was just always the most engaged person and curious to hear what was going on (with us)." 
Kahn had many lunches with alumni throughout his career. 
"He knew students going back decades … He could remember their names and things they told him," Carolyn Shaw, political science professor, said. "He just kept those relationships alive for years. It's powerful." 
Kahn also inspired his coworkers. Shaw said she hoped to be like him as an educator, touching students' lives. 
"He helped hire me when I came into the department as a new professor and served as a mentor when I came on board," Shaw said. "As a new faculty member, I was so jealous – I wanted to know students like he did, and I aspired to that." 
Kahn was well-known for dressing up as historical figures in his classroom, especially in his political theory classes. 
"He decided he was going to make history come alive for students," Shaw said. "And theoretical writers like John Locke and Plato, they're very abstract and hard to connect with, so he decided, 'Well, I'm just going to make this very real and personal.'"
When Kahn dressed up as these characters, he put on a persona and answered questions as they would in their time period. He also took these personas to local high schools, answering questions for students there. 
Alongside teaching, Kahn created the WSU Washington D.C. and Topeka Student Internship Program. This program sends students to Washington, D.C. or Topeka to work with various political figures in Congress, the executive branch or embassies. 
Throughout his career, Kahn's many awards include receiving the Regents' Award for Excellence in Teaching in 1982, the Carnegie Foundation Kansas Professor of the Year in 1989, the WSU Academy of Excellence Teaching Award in 2007 and the Marquis Who's Who Lifetime Achievement Award in 2018.
A graveside service for Kahn took place on Monday, and a memorial will be established by the Circle of Friends at Larksfield Place Independent Living.