Former Shocker sends Giants into NLDS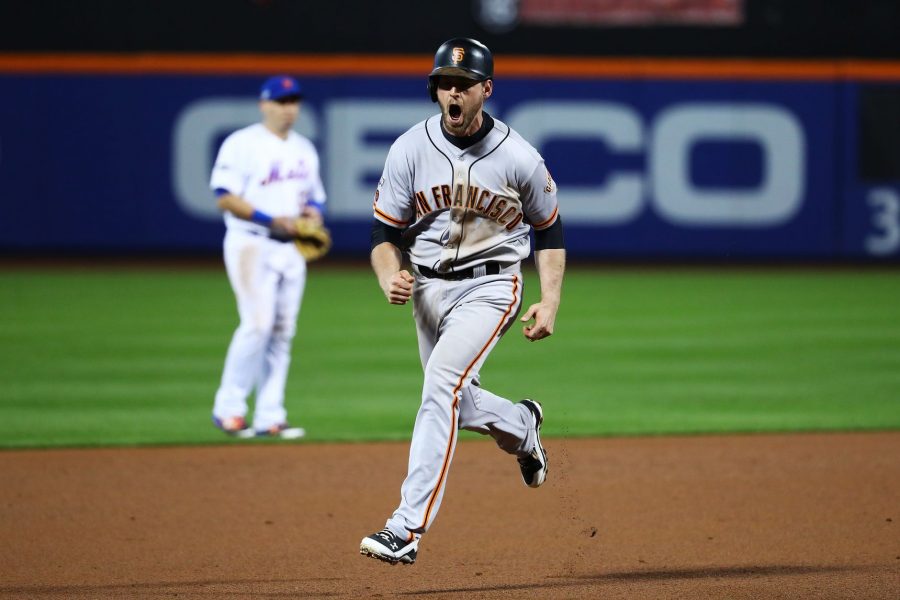 Former Wichita State baseball player Connor Gillaspie advanced the San Francisco Giants to the National League Division Series of the Major League Baseball Playoffs on Wednesday.
Gillaspie's three-run home run in the top of the ninth inning in the NL Wild Card gave the Giants a 3-0 win over the New York Mets in Queens, New York.
"I was trying to get something elevated," Gillaspie said in a post-game interview with ESPN. "You put in all this work to do your best to have your best swing come out when it matters."
Starting at third base for the Giants on Wednesday night, Gillaspie had two hits in four at-bats.
"I'm not a very fired up guy, but I let some frustration from the first six innings with that swing," Gillaspie said. "That's all I'm here for, to win games for the Giants."
Gillaspie hit six home runs with 25 RBIs this season for San Francisco, hitting .262 on the season.
Gillaspie played for WSU from 2006-2008, hitting .362 with 58 doubles and 24 home runs in a three season span.
The three-time All-Missouri Valley Conference helped the Shockers advance to two NCAA Super Regionals before being selected 37th overall by San Francisco in the 2008 MLB Draft.
The Giants will take on the Chicago Cubs in the NL Division Series, with  first pitch set for 8:15 p.m. at Wrigley Field. The game will be televised on Fox Sports 1.
About the Contributor
Grant Cohen, Reporter
Grant Cohen is currently a reporter for The Sunflower. Cohen is a junior majoring in communications with an emphasis in journalism with a minor in sport...