REVIEW: Affleck leads fulfilling action ride in 'The Accountant'
Ben Affleck stars in the crime-drama thrill ride "The Accountant." The film does not disappoint.
The film is directed by Gavin O'Connor, who is best known for "Miracle" and "Warrior." The film had mysterious marketing — I first saw the trailer over the summer and had no idea what it was about.
All I knew beforehand was that I love Ben Affleck and O'Connor has been an impressive director in the past. I found out from TV ads that this could be Affleck's version of Jason Bourne — even more reason for excitement. 
Let me say that the Bourne movies are great, but "The Accountant" does much more from a film-making standpoint than any of those films.
As a movie buff there are several things that I think make the best type of movie.
First, crime is my favorite genre, and it seems that we are lacking good crime flicks these days, mainly due to the Academy's reluctance to consider them for awards.
Another thing that's tough to find is a crime flick that also has great acting, a unique storyline, and something that makes you say 'wow.' "The Accountant" has it all.
Ben Affleck is phenomenal. He's funny, he's reserved and he takes complete control of his autistic-yet-genius role perfectly.
Anna Kendrick is fantastic. She has great chemistry with Affleck. The writing for her character was great. Kendrick is legitimately worthy of a best supporting actress nomination — I've never been so stunned by one of her performances.
J.K. Simmons and Jon Bernthal were both good in smaller roles that were important to the plot as well.
But where the film really wins is in its storytelling.
"The Accountant" takes time to fully develop its characters, which helps you really begin to wonder what Affleck's character was up to.
The plot follows a non-linear style and utilizes flashbacks well to build suspense. It creates a moment of revelation when all the pieces came together. The movie world is seriously missing films that have fun, unpredictable twists like this one.
I won't spoil anything, but I will say the story is very fulfilling. "The Accountant" is more than a popcorn action flick, but at the same time the action is fun and effective.
This film won't be for everyone. It's a bit drawn out, requires full attention and has a lengthy run-time, but the end result is worth it. Affleck continues his huge year with this one, but the real MVP of this film was O'Connor.
The direction of this film is near flawless. The cinematography wasn't perfect, but everything else I look for in a film was there.
There was great acting, writing, music, storytelling, action and creativity. I left the theater feeling better about the film than I expected.
I don't see this one contending for an Oscar (because of the genre), but I think it deserves consideration. I think this could either earn a franchise (unlikely because of the way the story plays out) or become a classic of sorts a couple years down the line when viewers have more time with it and can appreciate how almost every aspect of this film is good if not great.
Go to the theater and see "The Accountant." It's my favorite movie of 2016 so far. Oscar season is upon us, friends, and Affleck is helping us get started.
Final grade: A
View Comments (3)
About the Contributor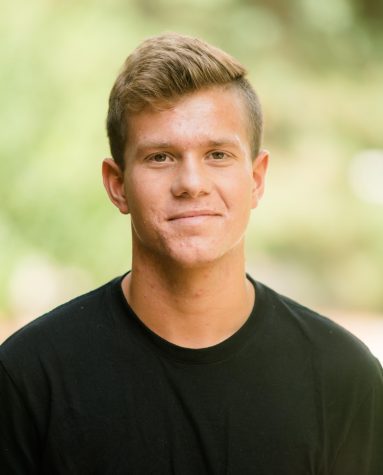 Nick Beach, Former reporter
Nick Beach served as a reporter for The Sunflower. Beach served as a sports reporter and columnist, as well as a movie critic. Beach is from the coastal...